The MGA With An Attitude


MGA Guru Is GOING MOBILE - (December 1 - December 15, 2016)


Thursday, December 1, 2016: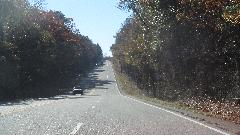 Good morning, waking up to heavy frost in December. After breakfast heading seriously west from Culman, Alabama, then the sun popped out and temperature was rising, making for a very nice day.

By mid day we were visiting Dolan's Garage in Caledonia, Mississippi. This place is particularly important to us, as we currently have only two shops listed in Mississippi, with the other one located way south on the Gulf Of Mexico. Therefore, this one seems to have a British car service monopoly on most of the state. Or, if you live in the northern 3/4 of the state, you may have to drive (or be towed) a long way to get your car serviced here. Dolan has been operating in this location for 50 years, and we can hope he stays on a while longer. Say hello to J Dolan and his technician Dustin Goff.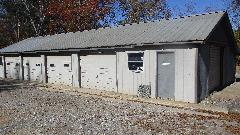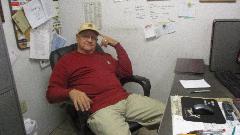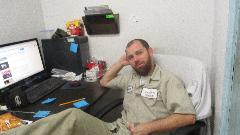 Today there is an MGB and a Jaguar XJ (V12) in the shop. Since the decline of British cars after 1980 they work on other things as well, like almost anything that rolls, but they still like British cars. They have a working relationship with a couple of paint shops nearby, so they can provide complete restoration work if needed.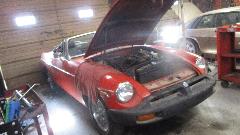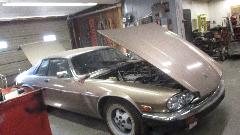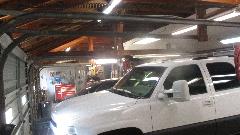 In another shop space we find Dolan's custom built Harley Davidson and his daily driver BMW Z4. Care to guess which one was more expensive? -- Hint: .... It's just a car.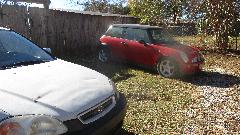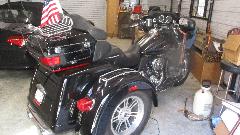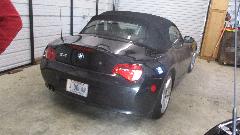 Friday, December 2, 2016:
Making a new web page with drawing of a bracket for MGA Coupe side window guide lower bracket. If you are missing this part you can make your own.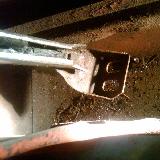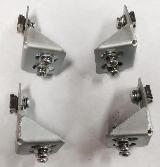 Saturday, December 3, 2016:
One appointment today for a Holiday Party with English Motoring Club of Mississippi in Vicksburg, MS. We were last here February 21, 2015, for a tech session at same location. This warehouse owned by Pat and Barbara Cashman used to be a car dealer about 30 years earlier. So we drive in and rattle around inside.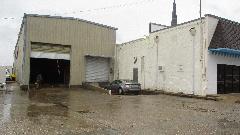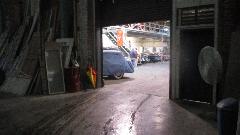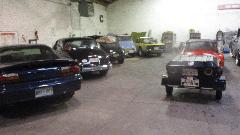 Good to see the old friends, and some friendly people too.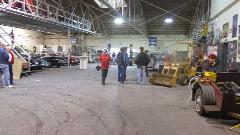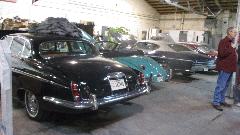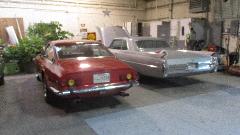 There was the Armstrong Siddeley Station Coupe (common in Australia) and the Gordon-Keeble (only 501 built, and we would like to steal the pin drive wheels for an MGA Twin Cam).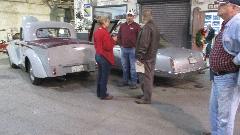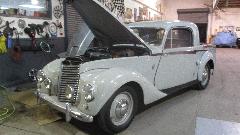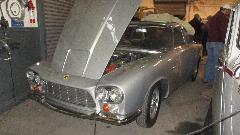 Plenty of opportunity for tire kicking and socializing and party, and no work to do today. Always fun to visit a few of the more unusual toys.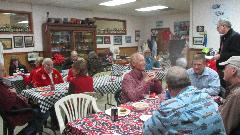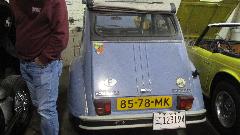 After the party back on WiFi, then late night cruising farther south.

Sunday, December 4, 2016: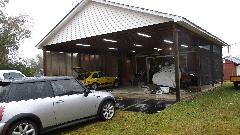 Found another WiFi spot in Magee, MS in the morning. Just getting some work done when Charlie Durning (whom we had seen at the club party the day before) walked in to say Hey. Turns out he lives here so in mid afternoon we wandered over to his place to see what the guys were working on, as they get together regularly on Sundays. The MGB GT and Morris Minor are resident here.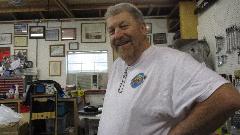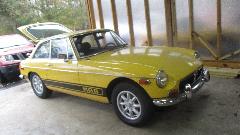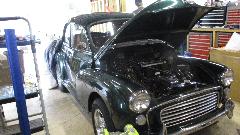 The MG ZB Magnette is also resident here, a nice daily driver type with upgraded engine, brakes and electricals. The wood dash was done because it was missing parts. The MGB front seats were a matter of long drive comfort. And the velour rear seats, well, they came with the car.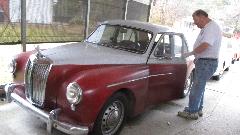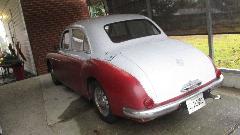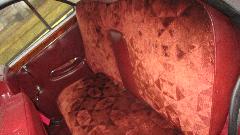 The new aluminum (Chinese) radiator is for the Morris, picked from eBay for cheap. The 10.5" laser cut brackets are for mounting brake calipers for 10-1/2-inch rotors on the Magnette. The other brackets are for installing disc brakes on the Morris. The Magnette disc brakes are documented elsewhere on this web site. For the Morris Minor brakes, ask Charlie. I think the MGB, the Morris and the Magnette all have four-wheel disc brakes.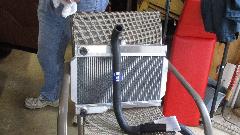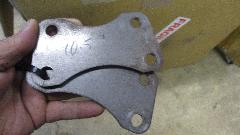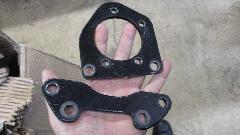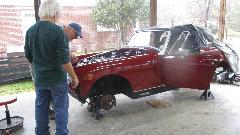 The real project going on today was a visitor MG Midget 1500. This one belongs to Steve Waitlow, who bought it new in the late 70's. It has been gradually evolving for two years and is approaching rebirth as nearly new. They were patiently filling the oil cooler with oil, followed by replacing drop links for the rear shocks (where I finally got a hand in to help). The rain held off long until the sun dropped and things were chilling out, when it was time to call it quits (and get back to the WiFi work).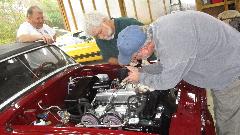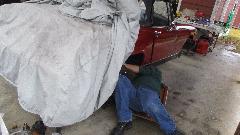 Once again late night heading farther south. We've been getting regular rain for five days now (and not quitting yet), but it's not bad after seeing no rain for four or five months.

Monday, December 5, 2016: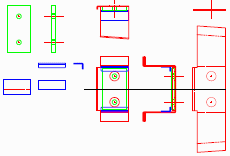 Sitting in Ocean Springs, MS, pretty close to the Gulf. WiFI catch up day, and I hardly made a dent in the backlog of tech articles, some of it backed up since July. Took a second pass at refining the striker plate bracket that I started two weeks earlier. Also posted a 1987 magazine article for an MGA "Deluxe" rally car from 1962. Still raining. No rush to go anywhere at the moment. Kind of laying low, maybe get caught up a little more before we get "obligated" again.

Tuesday, December 6, 2016: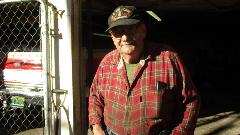 This morning we hit I-10, and it dawns on me that it has been 10 months since we last left the Gulf coast. By early afternoon we had shuffled over to Mobile, AL to visit Fontana Import Auto Service. Greeted at the gate by a Jeep with the bonnet up, recipient of a little electrical attention. Waddaya know, the thing has a Lucas distributor as standard equipment. In the front garage, quite a stash of Lucas parts (among other things).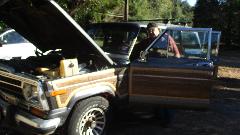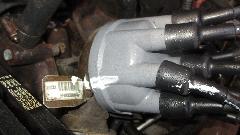 Around back we found an E-type, inside an MGB and a Jaguar, and they all have stories about their stories. The short of it is, this is a one man shop with personal service for British cars (and others). Best take advantage of it while it may still be here.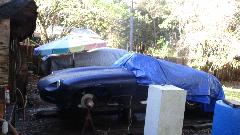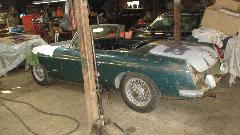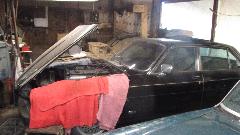 Then we were on I-10 again. Not my first choice, but going through downtown Mobile on I-10 is about the only practical way to get around Mobile Bay. And HEY, we have warm and sun again, first day in a week without rain. We were heading for Darby Classic Restorations in Loxley, AL. We caught Mike Darby painting trim on his house, but that didn't take too long. Seems like we were here before for different reason, in February 2015 (day after a tour with British Motoring Club of Montgomery and the evening Mardi Gras Parade). When we last dropped in there were five MGA here, now only two that I noticed.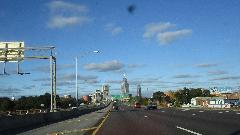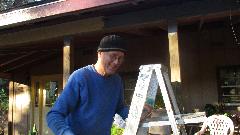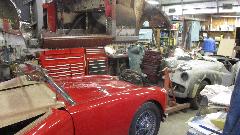 The red one is one of his daily driver cars. The frame in back belongs to the body that is double stacked over the red one. The MGB is a customer car about to be revived after 30 years of slumber.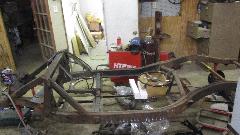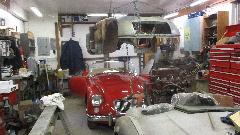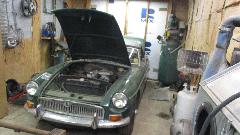 The Jaguar 240 is resident here, while the TR4 is muddling through restoration work. The TR3 nose is a side project for another customer, trying to get it straight after a minor mishap. These car also have stories abound, so time flies until after dark, and it is time to get back to work. Another vintage one man shop still serving the vintage car hobby.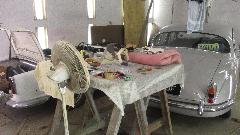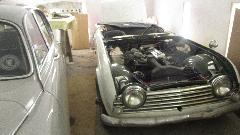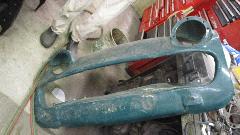 Wednesday, December 7, 2016: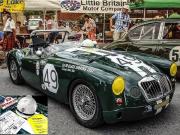 A quiet day catching up some backlog of web site work. Posted a copy of the Options List brochure for MGA 1600, and a magazine article (from 1989) on a MGA "Deluxe" Coupe works rally car. Then late in the day, a message revealing the existence of one of the remaining "long lost" Sebring race cars. This one is not a "barn find", but has apparently been in regular use in vintage racing in recent years. Just that whoever knew what and where it was hadn't bothered to mention it to the rest of the world. See mgtech/variants/VT104D

Thursday, December 8, 2016:
Aside from the normal chores, today we were spinning the bottle again. Not much happening to the east in New Orleans, and we don't need to be on the east coast until spring. Also, time between the holidays (the whole month of December) is generally dull with not much club activities. So this seems like a good time to go shop hopping in Florida, which incidentally has about 40 known shops that work on vintage British cars or otherwise support the preservation hobby. So much of the day was spent arranging this list in some semblance of planned travel sequence. Late in the day we fired off a couple of inquires to see if anything was happening with the clubs in northern Florida, in case we might catch something on the way by. Late night we pointed it east (but not very far).

Friday, December 9, 2016:
Electronic copy of the CMGC newsletter arrived today, which means there is now about one long day additional work backlog in the queue, to be done sometime soon. By mid day we got a message that called for immediate phone call, another appointment this evening a few hours away, so we were off in a flash.


At 5-PM we joined Bay British Cars in Panama City Beach, Florida for their holiday party. Seems like this is habit forming. We joined these folks for a club meeting in January 2015, and again in February 2016. This time there is less business and more socializing, a nice change. Being somewhat chilly, I believe our MGA was the only LBC present with a group of about 40 club members, so it was well received, and a good time was had by all.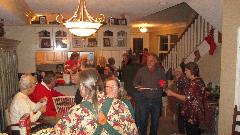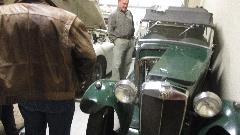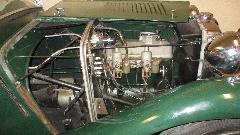 Meanwhile, out in the garage we were ogling the really nice MG PA which the owner bought for $750 when he was 14 (about 60 years ago). His father thought he was nuts, as the car was a rust bucket at the time. Apparently some kids may have more foresight than their parents.

Saturday, December 10, 2016:
Two days in arrears, I don't recall everything I did, but it was half a day of WiFI work, and half a day of CMGC newsletter work. Day by day we are working our way slowly eastward toward Tallahassee.

Sunday, December 11, 2016:
Start with the good deed for the day. Pull bolt and nut and tools out of the magic trailer to reattach this guys battery cable. Quick change from dead to running again.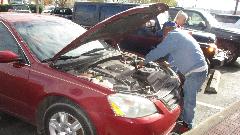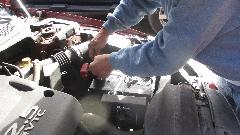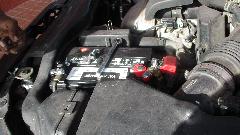 Only a little WiFi work today, but several hours to finish converting the CMGC December newsletter to web pages and get it uploaded to the club web site.

Monday, December 12, 2016: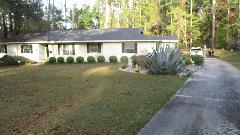 Not a lot happening today, but we did get to visit one shop in Tallahassee, Florida. The Classic MG Shop is (was) a small family business catering primarily to MG T-types, but also servicing other MGs. The elderly owner is currently in declining health, so the business is (for now) essentially out of service. His son is (was) closely invoved in the business, and thinks it may be revived later (but not for now).

Tuesday, December 13, 2016:
One programmed stop today to visit BMC Enterprises in Orange Park, Florida. Say hello to Wayne Snook. This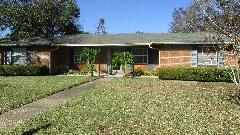 "division" of the company is at his home in Orange Park with limited garage and shop space. But there is another larger shop facility with a partner nearby. These folks do mechanical work on vintage British cars, but no longer doing body or paint work.


Wayne has a few personal toys here, beginning with his 1979 MGB converted to earlier chrome bumper style, with Rover 3.8L V8, 4-bbl carburetor, air conditioning, 4-wheel disc brakes, and wide low profile 16-inch tires. There is a nice electrical load center with lots of fuses and relays and circuit breakers in a covered box in the engine bay. Might be overkill but thoroughly modern.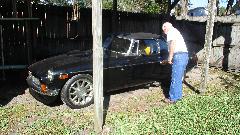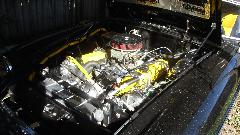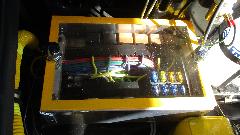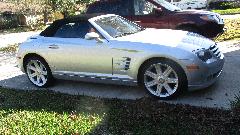 Around the side, this modern sport model caught my eye as something different. It is a Chrysler Crossfire, essentially a Mercedes with the Crysler badge attached. Inside there was a TR4, kind of stuck half way through restoration. There were also parts of an MGA 1600-MK-II being restored, with the rest of the car residing at the partner's larger shop.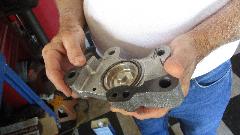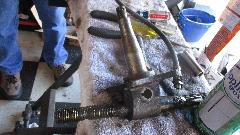 On a recommendation from Wayne, we took a trip across town to meet Stuart Etheridge, at Vintage & Classic Car Restoration, also in Orange Grove.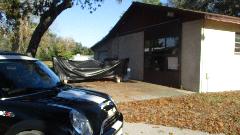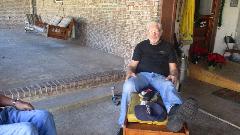 No more restoration work done here, but Stuart does welding for the vintage British cars occasionally. The shop is currently closed while Stuart is recovering from a bit of an accident, but will hopefully be working again soon.

Wednesday, December 14, 2016:
Having moved a bit farther south, we were off to a late start and spend part of the day on WiFi in Ormond Beach, Florida. I spent some time dealing with a tech problem of a failed felt oil filter which destroyed an engine (not the first time, and not mine). Being somewhat time and distance sensitive, I had the local Walmart do an oil change for for MGA (just a coincidence). No lube job yet, not exactly full service shop here. Also still needing to change oil in the gearbox and differential.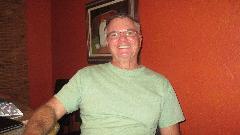 Shortly after dark we got an email message and made a phone call. By coincidence we were sitting 10 minutes away from a friend with a hand up, so off we went. Say hello to Doug Widnall in Ormond Beach. He has a nice 1960 MGA 1600 (bought in 1971). I think Doug has been trying to flag us down for two years with some odd misconnections. Late night chat was a nice way to kill what was left of the day. More about this tomorrow.

Thursday, December 15, 2016:
After a late start, we got a look at Doug's MGA. Intention was to investigate some odd hissing/sputtering sound thought to be perhaps some kind of vacuum or exhaust leak. That turned out to be a non-issue, no apparently problem. But we did identify a nasty whining sound that turned out to be a bad ball bearing in the generator (which was very recently rebuilt). Off with its head!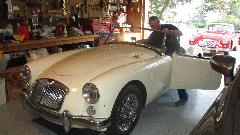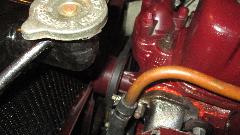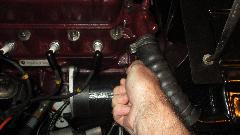 Fairly easy to remove the pulley, but the bearing didn't want to pull or pry off. Having been recently serviced, the bearing retainer plate was secured with screws rather than rivets, so just remove the screws to extract the front cover. Then the Dremel grinder with cut-off abrasive wheel made short work of cutting through the bearing outer race.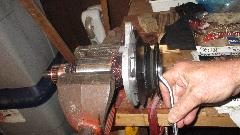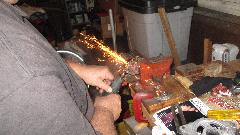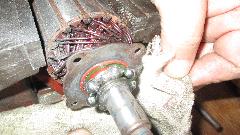 This was followed by grinding mostly through the inner race, then splitting it for removal, leaving the bare shaft. By coincidence, Doug had a new bearing close at hand, which he may have been saving for many years.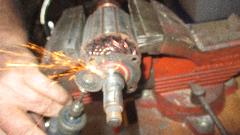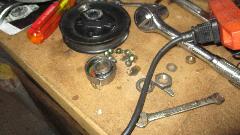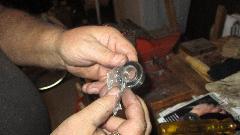 We tapped the new bearing gently into place using a deep well socket (do not forget to place the retainer plate on the shaft before the bearing). Then place the front cover over the bearing and reinstall the screws (tightly please).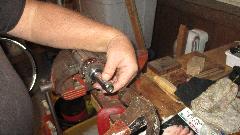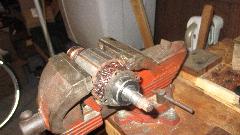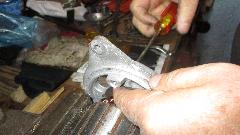 Reassembly is easy-peasy, reinstall the short tube spacer, shaft key pulley, lockwasher and nut (again tightly please). Then line up the pins on the end plates with notches in the housing, push back the carbon brushes to offer up the end plate, and install the two long screws. Reinstallation in the car was just three bolts, tighten the fan belt, and reattach two wires. On restart the ignition light stayed on, which it did not do prior to our fiddling with it. Repolarizing the generator and revving it a few times got it working again (even though we were not quite sure why it didn't immediately work or what we did to fix it). It now runs quite; score one for the good guys.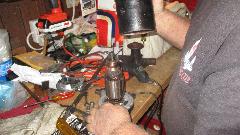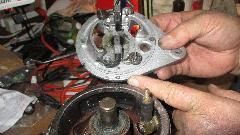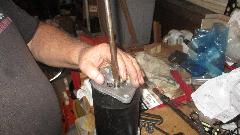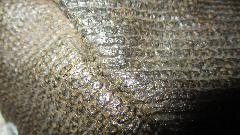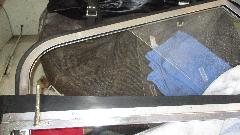 Doug would like to show off his original Hondura spare tire cover. Notice the nubbly texture (which can be found in some modern replacement parts) and the printed blue pattern (which cannot be reproduced today).


Doug would also like to share a new part which he has assembled himself. This is an MGA rear axle rebound strap made from Kevlar fiber strap and a pair of bolted clamps, which is derived from materials used in professional exercise equipment (think Nautilus). I'm sure it will work very well.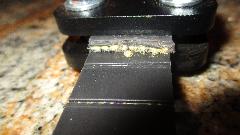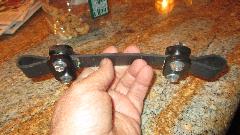 It takes 15 inches of strap for each part. The strap is a few dollars per foot, and the clamps a couple dollars each, all parts off the shelf and not very expensive. His source for these materials was National Gym Supply. There are multiple distribution centers but this one was at 5500 W 83rd St, Los Angeles, CA 90042 - Ph: 310-410-4200. Must see if we can find the part numbers.