The MGA With An Attitude


MGA Guru Is GOING MOBILE - (December 16 - December 31, 2016)


Friday, December 16, 2016:
Today we were going shop hopping again in Florida. First up was one of my favorite places, Crane Cams in Daytona Beach. This is the source for the Fast Street Cam I had installed in my MGA around turn of the century (and which was retired two years ago with the last major engine repair). Their web site has some contact information, but not the street address, which we had to find from a different source. The front door was open into an unattended visitors lobby with the inner door locked. No window, no door bell, just a phone on the table with a short directory and a sign that says, essentially, don't bother us. So we won't. This is the production factory, not a retail outlet. If you want a Crane Cams camshaft (or any other Crane product), go find a speed shop or some other retailer who will order the parts for you. And if you have any questions or problems with these parts, check back with the retail shop. It's just their way of doing business, so make of it whatever you like.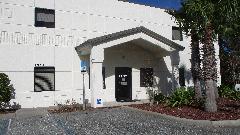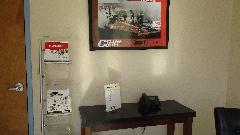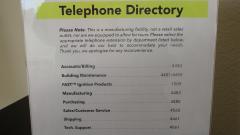 Then a coincidental run past Daytona International Speedway. Historical place, amusing grin, and move on.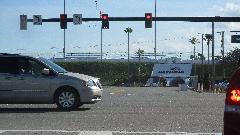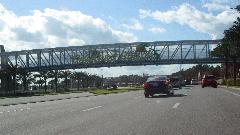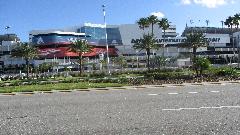 Next was an interesting misfire. We were going to visit Aero Dynamics on Cessna Blvd in Port Orange, FL. First we had to talk our way past the gate security guard for the sub-division. Then make our way past the private golf course, and around the neighborhood to the private air park. Here we found the intended hanger building,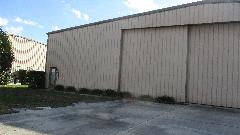 which was locked, apparently unattended, and no sign on the building. Aero Dynamics was supposed to be (among other things) a repair shop for some vintage things, including vintage British cars. Upon calling the designated phone number, still in service, we were informed by a gentleman who used to work here that the business was closed two years ago. Okay, that's why we're here, to clean up the data list. Log it in and move on.


Then we finally found a winner. I had another big grin as soon as I saw the little bear on the sign. I had previously commissioned the services of Bear Automotive (in Moline, Illinois) to do a front end alignment tweak one of my MGAs (in 1969). This sign we found today was actually installed in 1963,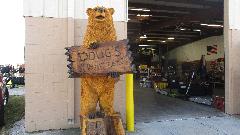 and the shop has been a Bear Automotive franchise ever since. The Most Trusted Name In Wheel Alignment, since 1917. Pushing 100 years and still serving the world. Doug's Alignment Service in Sanford, FL will be happy to do a front end alignment on your vintage British car, or almost any other car ever built. Also consider other suspension work if needed.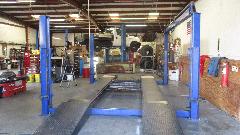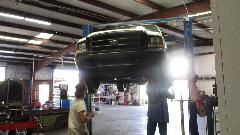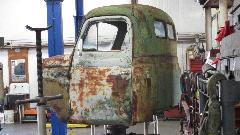 Then we were off to visit Maranello Autosport in Eustis, FL. The owner is Bruce Anderson, and he dearly loves to work on exotic Italian sports cars, but also services vintage American stuff (like the '63 Galaxie 500 with a T-bird engine) and other vintage cars (under the right circumstances). He will build show winning concours cars.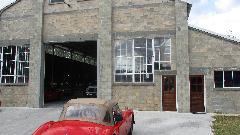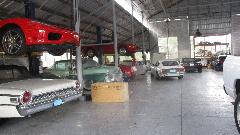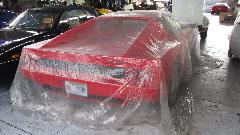 Today there is an MG Y-type in the middle of a full restoration. The chassis is mostly finished, the body is at another shop for restoration work, and the engine that was reported to be rebuilt needs a rebuild (go figure).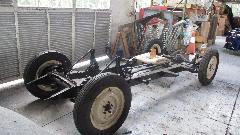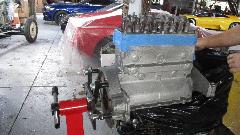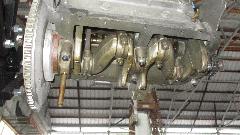 The item below left is vintage Ferrari gearbox. It caught my eye because of the hydraulic manual shifter mechanism. I recon there are two hoses for every servo, looking somewhat overly complex to my eye, but reported to work quite well. The '55 Fairlane was more to my taste, as I had driven similar cars when I was young. When we arrived it appeared to be a slow day in the shop, as a Ferrari gearbox was delivered without a rubber mount and could not be installed. So Bruce was amenable to a long chat, and even made a phone call to summon a friend who should like to meet me. Within an hour, there were a couple of incoming phone calls, more jobs lined up (including the yellow Ferrari that just drove in), and the work load changed from slow to hectic.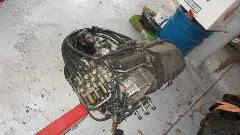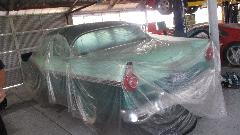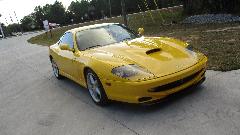 The summoned "friend" who arrived about that time was "Pete" Rogers, retired from his company Sterling Equipment Manufacturing Company, aftermarket truck tubular accessories.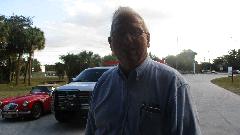 Pete likes to restore vintage cars to concours show winning condition, including vintage British cars. So we now have another entry for the ever growing Shops list. His "home" restoration shop is in Tavares, FL. Additionally, Pete is a prime motivator for Lake County British Car Group in Tavares, FL, who just happen to have a breakfast meeting tomorrow. Since we used up some time here the day is getting late, so it looks like we will stick around for breakfast. Oh, incidentally, even though Lake County British Car Group has been around for more than a decade, they were laying low under the radar, so I need to add them to our British car clubs list. Looks like we will be making more new friends tomorrow.

Saturday, December 17, 2016:
Up at a reasonable hour today with a 9-am appointment with Lake County British (and other) Car Breakfast Group. It is what it sounds like, a group getting together for breakfast once a month. If you have an interest in British cars, you're in. They insist this is not an organization, not a club, just a group of friends. Apparently they do very little else as a group, although a few may get together privately to tinker with a car on occasion. This group has been "under the radar" for a long time, at least since 2002 (and maybe earlier) when I found a mention of them on another club's discussion group. But I will add them to my Clubs list so some prospective visitor or new arrival in town might be able to find them.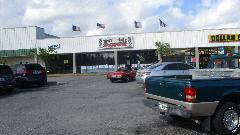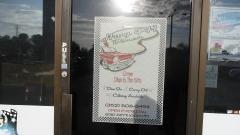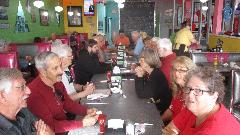 After the group feed we followed "Pete" Rogers home (in Travares, Florida). Remember Pete from the day before? He regularly drives the silver MG TF 1500, at least in nice weather. His daily beater is the Ford truck which is sporting the nose frame, winch and brush guard that his company manufacturers.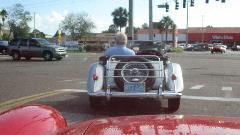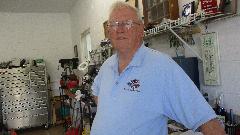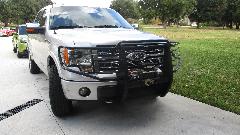 This is a car guy with his priorities in the right places, beginning with the three car garage attached to the house. Out back is the two car workshop where he parks the TF, and is currently working on restoration of a TD, one of many T-types in years past. This one has a long way to go.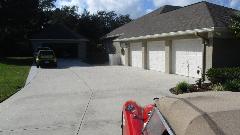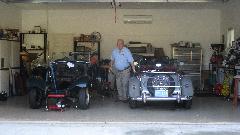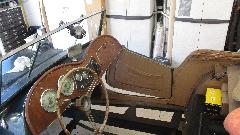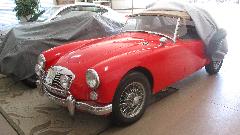 There are a few more toys in the attached garage, including the red MGA 1600 with fully detailed concours award winning finish. This one may be for sale, as Pete thinks it's too much work getting in and out of it.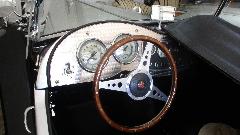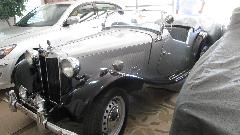 And there is the eye catching MG TD (not concours trim combination) that does get driven occasionally. Gotta love the engine turned dash panel. If you were so inclined, you might get Pete to restore your car. He was just added to the Shops list.

Sunday, December 18, 2016:
Catching up posting three days in arrears, I don't remember what I did on Sunday, other than killing the rest of the week end, but it involved a lot of email. Something about faulty rebound straps, and Twin Cam head photos for Wikipedia (from existing web page),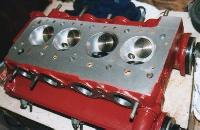 repairing rear axle hub nut threads (web page update),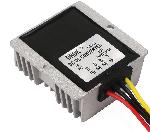 a higher power converter for negative earth radio in positive earth car (web page update), a request for visit from someone coincidentally very nearby, Leyland N.A. Dealer directory 1974 (new web page), core plugs in a ZA Magnette, and a non-MG 1622 engine. In other words, just another 15 hours of grunt work on "free day".

Monday, December 19, 2016:
Weekend is past, so now we get back to some serious shop hopping. The first stop was supposed to be Ye Olde MG Shop in Orlando.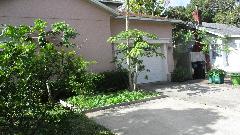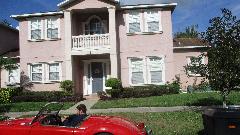 An MG T-Series expert, vintage parts, sales, service. No one home today, and no voice message available for the designated phone number. Discovered later this was "the house", and the shop is at a different address, so will have to call back later for this one.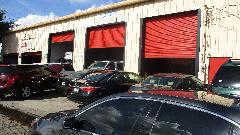 Next up was supposed to be Safeway Automotive in Orlando. Mixed luck here, as that shop has been gone for at least five years. The good news is, in its place is High Care Collision Center (next door to D&N Auto Repair), and they also work on vintage British cars (along with lots of other stuff). Vintage Mercedes on the rack, Sunbeam Alpine out back, along with an Alglia (hiding somewhere). The vertical tail is fiberglass from a Kaiser Darian (woo-hoo).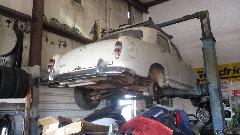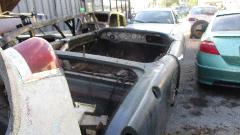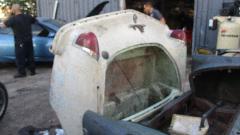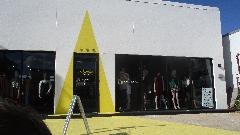 Then we were after British American Motors Ltd, but struck out there. That place turned into a Granite sales facility six years earlier. No problem, that's why we're here.



Pearson's British Car Repair was no better, now replaced by a women's clothing shop. Oh well, scratch off the Shops list.



On the next stop we thought we struck out again with a closed building, but a phone call worked, and a friendly voice was calling to us from across the street. This was good news, as J.F. Davis Automotive (Ye Merrie Olde Motorcar Shoppe) in Winter Park, FL had outgrown the facility a moved into larger quarters. Say hello to Jeff Davis. He knows his stuff, and he loves vintage British cars.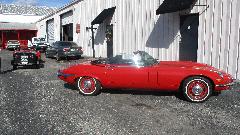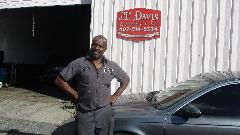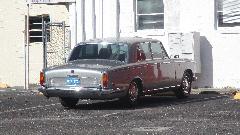 On Jeff's recommendation we just had to go see Southeast Performance (also in Winter Park), so we did. Sometime later we figured out why this shop was not on our shop hopping list today, because we were already here two years earlier. Well it was close by and fun anyway. Say hello to Robin Reddy who works on these things regularly, and there are a few Brits in the shop today.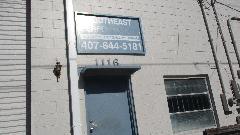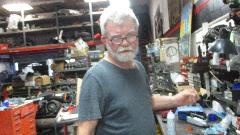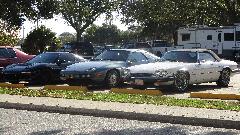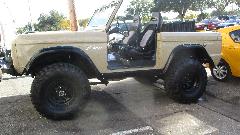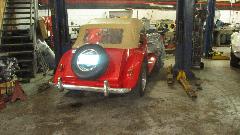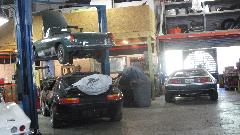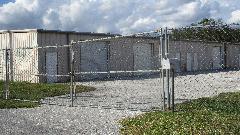 This next one didn't actually require a visit, as we got the news in advance, but it was just down the street. Photo at right is the prior home of Coventry Classics in Orlando, Jaguar repair shop, now closed due to death of the owner. Scratch this one off the Shops list.

Next up was Vantage Sportscars, visited today on a recommendation. Door was locked, but a phone call revealed the details. One of the prime operatives is now deceased, a partner moved on and the sole remaining operator is doing a sort of hobby business for himself, an only works on British cars for a few friends. So effectively scratch this one off the Shops list as well. There were a few interesting cars at the shop next door, but nothing to do with MGs.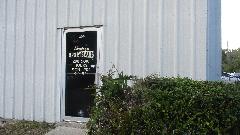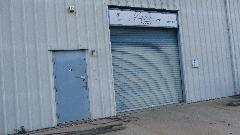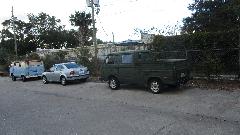 Then we had better luck at Imagination Engineering in Apopka, Florida. Meet Richard Smith Jr, Vice President. This place is very active in repair and restoration of vintage British cars. We killed more time than necessary here, but it was a fun chat and photo session.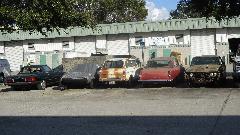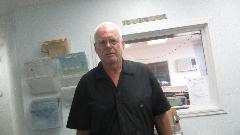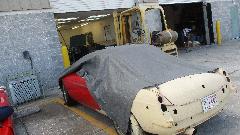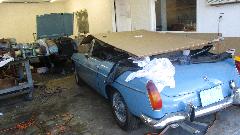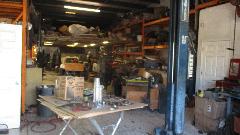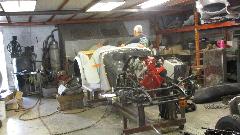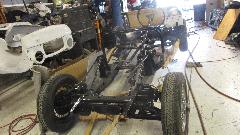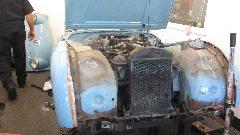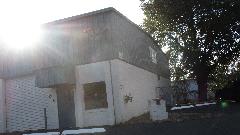 Then another dead end with Sports Cars of Orlando where we found a locked building with no sign. There is still a Facebook page with prior photos, but the owner is apparently deceased just a few months earlier. Scratch another one off the list.

Then we went hunting for Better Auto Interiors in Altamonte, FL. We found a post box with the right number, then followed a gravel drive back into the woods a bit, and there it was. Say hello to the owner Larry Curtis. They do "VW to Rolls Royce", which does include interiors for vintage British cars (and maybe convertible tops and tonneau covers too).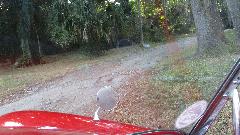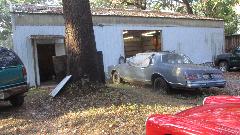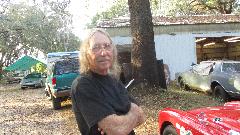 Not finished yet, we motored around to visit Museum Motorsports Company in Longwood, FL. Very nice place with the motto, "We make the past go fast". The sign says, "Jaguar XK 120-140-150 the fastest production cars in the world" (and maybe they were, back in the day). But this place is not just about Jaguar. Meet the owner Bill Condron (on the left here), a long term veteran of British car service. And then the fun began.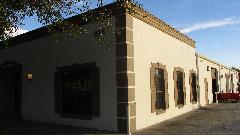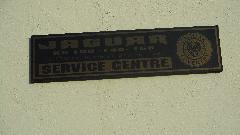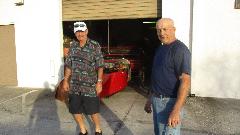 MGB, Jaguar XK-150, Facel Vega (the one with Chrysler 383 V8 engine),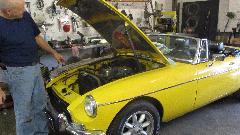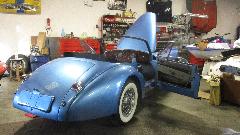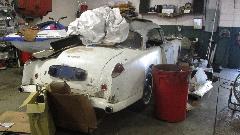 Sunbeam Alpine, and not sure what, except it has V-12 engine with 6x2 Weber carburetors.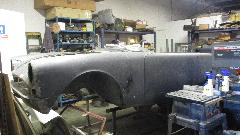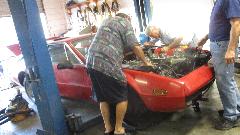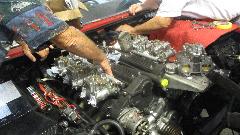 On the wall some trivia, and at the door a Morgan Super Sport 3-wheeler.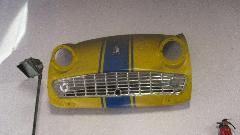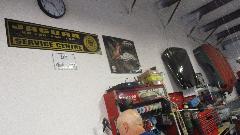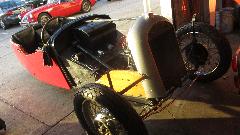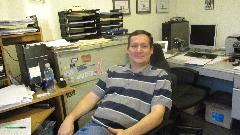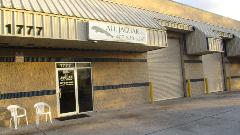 One more stop, hustle on to All Jaguar in Longwood, FL before closing time. Say hello to Bill Sutter, and just as the name says, all Jaguar means only Jaguar, full service.

Tuesday, December 20, 2016:
Sort of late start today, but we were off to visit Safari Heritage Parts in Orlando, FL. Did it say parts? Shoot, this is a full service shop for Land Rover. Nice customer lounge, personal attention.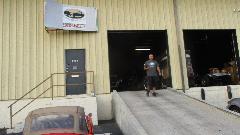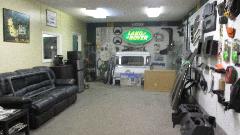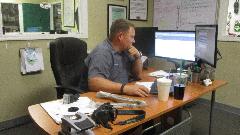 Land Rovers all over the place. The on in the middle is a Series-III with Corvette engine. No Land Rover should ever go that fast, scary even before you hit 100-MPH.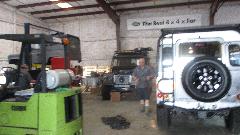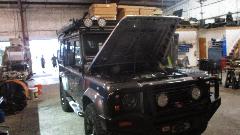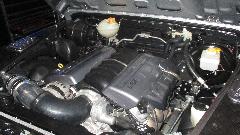 Having stayed a little too long at the last place, we were worried the next one might be closed. But we locked out with the lights still on at Mr. Transmission in Altamonte Springs, FL. The sign out front might be a disguise, as their first love may be vintage British cars. Nice toys inside. Get them serviced here.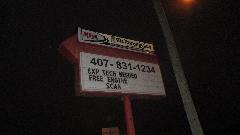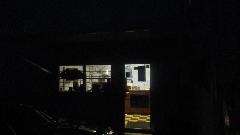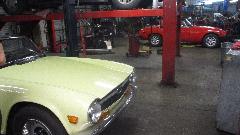 Then we had a late night appointment with Tony Wattwood at Sunsight Instruments in Maitland, FL.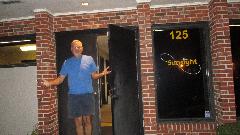 Tony likes to chat about cars and travel and clubs and history, and before long it was really getting late. The store front is a real business, but Tony keeps some toys in the back. One of his favorites is the Bugeye Sprite with custom dash panel and a nice bolt-on hardtop. Underneath is an uprated 1275cc engine with Weber side draft carburetor, alternator, PCV still in tact, Datsun 5-speed gearbox, front disc brakes, uprated springs and sway bar. Think "fast".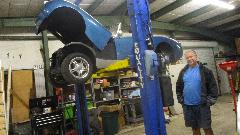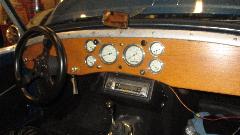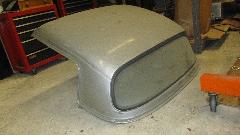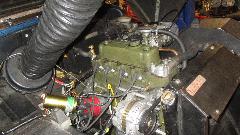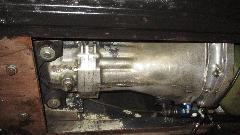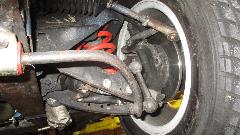 Across the room is a Lotus Elan in process, complete rolling chassis with the body currently separate. I don't know what the Corvette engine is for, didn't want to ask. Any engine tht is wider than it is long is scary.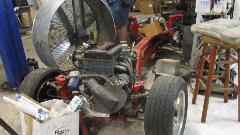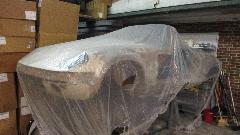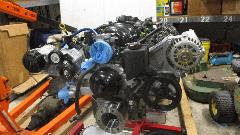 Wednesday-Thursday, December 21-22, 2016:
Sheesh! Got tied up for two long days catching up with WiFi work, email, tech questions, web page updates. Spent time researching brake shoe cross reference numbers and posting a new web page with templates for MGA Coupe headliner. Spinning my wheels some with a guy worried about installing a modern radio in an old Positive earth Jaguar, but he'll get it eventually.

Friday, December 23, 2016:
Finally back on the road again, this time with a bit of backtracking to Ye Olde MG Shoppe in Oakland, FL. We missed this one on Monday (having gone to the home address rather than to the business address). The backtrack was well worth the time. Meet Will Bowden, the owner (left) and a friend sharing the shop space today (center). This shop used to work on lot of vintage cars, mostly MGs, but more recently is a MG T-type specialist.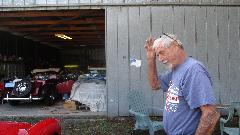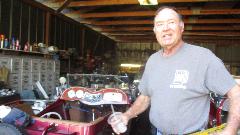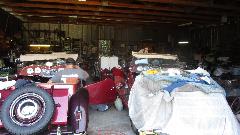 Plenty of T-types in process here. The black TF in the middle was a replacement for his wife's car, which was sold to another enthusiast. Wife since deceased leaves this one floundering for now.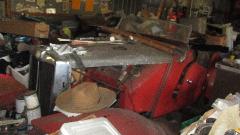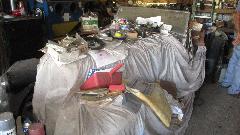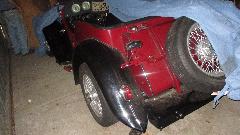 In the yard, an MG TF that was a "field find". The chassis is rusted so badly that this can only be a parts car.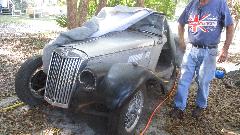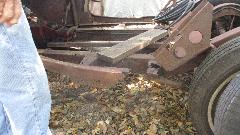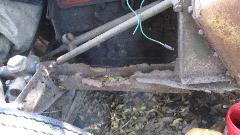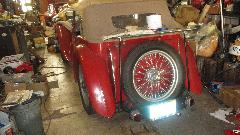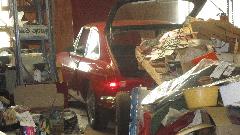 The MG TC is very nice, finished and driving. Up front is an MGC-GT in pretty good condition, waiting patiently for service (but may be the black sheep with lower priority).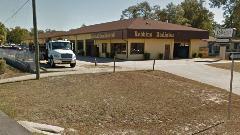 After fighting our way back east through Orlando traffic, we were backtracking more northeast to visit Robbins Radiator in DeLand, FL. This was on a personal recommendation, but it is a remote branch of Robbins Radiator Works in Daytona Beach, FL. Together they make up Robbins Service Centers (confused yet?). This location didn't seem to be particularly interested in a cell core radiator, kind of swap-it-out with modern radiators I suppose. But the next stop was better.


Toddling along, we went to visit Robbins Radiator Works in Daytona Beach. Much better here, being a family owned business that has been here since 1922. It is now third generation, and they do know their business, including being familiar with cell cores. A recent hurricane took a porch awning off the front of the building, but didn't stop their business. This is the place that did the friend's radiator re-core with a new cell core from Maine Radiator. Good service, all praises, and of course the cell core works wonderfully in the MGA.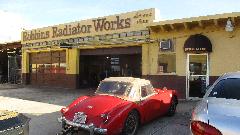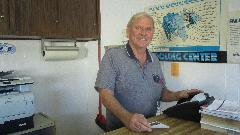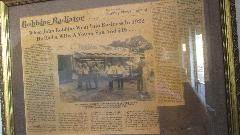 One more stop today, a visit to Bob Sellers Auto Clinic in Daytona Beach, FL. This is a new line on our Shops list, being a recommendation from a friend. The friend called it Bob Seller's Jag. The sign says "Jaguar Service Since 1976", but it is much more than just Jaguar. Say hello to Bob Sellers. My First impression was, "Nice Fleetwood" (below left), and they had restored that one.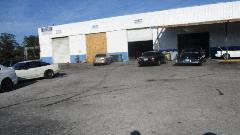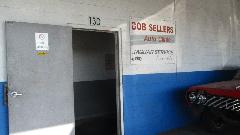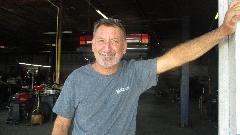 Inside, a 1947 Chevrolet truck, and a fire breathing race car (just for fun). And some British stuff, like the Rolls Royce and Jaguar E-type, and more entertainment when you poke around a bit.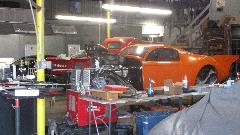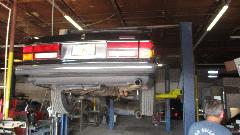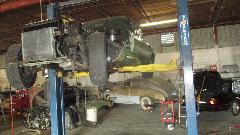 Outside, a sampling of some British stuff hanging around the lot (but certainly not everything). For your British car, everything from service and repairs to full restoration available.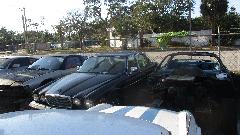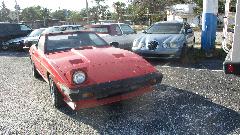 Saturday-Monday, December 24-26, 2016:
Finally had the time to catch up posting the trip photos and notes from prior days. Otherwise the primary objective here was to kill the holiday weekend by doing something productive. The common chores (BBS, email, tech questions) were a little slow, so I spent a lot of the time catching up with data house keeping. Like Santa Clause making a list and checking it twice, linking "visited" shops in the Shops list with the photos and notes log, so the listed shops have the photos available. Also gone through the clubs list and trip log be sure all the clubs we have visited are in the Friends list as places we have been (and maybe don't need to go there again). This will also help with future planning, getting to the places we have not been to yet. That leads to a review of the shops we intend to visit in the next week or so. And when we know where we are going (route-wise), we can look also at clubs and friends along the way.

Tuesday, December 27, 2016:
Today was supposed to be a travel and visit day, but not everything works as planned. Apparently some people woke up after the long weekend and wanted to chat, so it was rather late before we got rolling.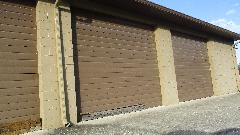 The first stop for C C C Restorations Inc in Cocoa, FL turned up what may be an empty building with no business sign. The phone call was a voice message (at least an active number), so we will have to check into this one later. An hour south in Vero Beach, FL, Joe Burley's Garage looked like an empty building but had a sign on the door saying Knock Loudly (which didn't work), and Final Additions Classic looked like another vacated building. Wire Wheel Classic Sports Cars is definitely here but closed, so all this will have to wait for tomorrow. That's what we get for the late start.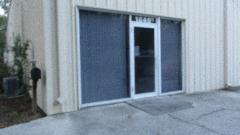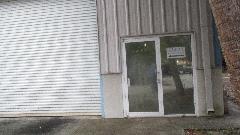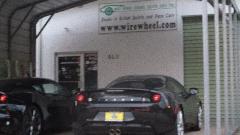 Wednesday, December 28, 2016: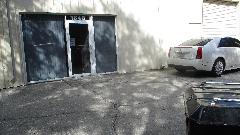 A little earlier start, and a little better luck today in Vero Beach, FL. We backed up three steps to catch places where we were too late yesterday. Joe Burley's Garage has been gone for unknown time. The current resident has been there only a few weeks, but made a call to the landlord. The current landlord has not been there long enough to remember Joe Burley's Garage, and the phone number is dead, so this one will be a write off.


Yes, Final Additions Classic used to be here, but has been gone for at least six years, as that is the term of the current resident (Telmax). Scratch another shop off the list.

Then better luck with Wire Wheel Classic Sports Cars in Vero Beach, FL. This place has been here for a coon's age and still going strong. This is not a repair shop, as they only buy and sell classic cars, apparently heavy into Lotus, and lots of race cars, and some British cars "on the shelf". Surely you can find something to drool over here.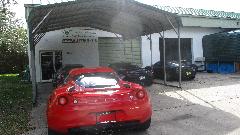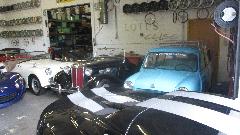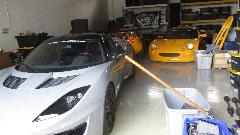 Wouldn't you want to take a couple of these for a spin around the race track? Take your pick. Make an offer.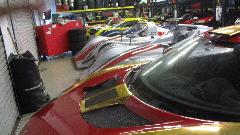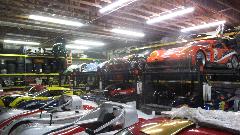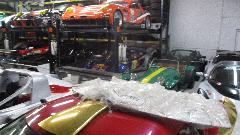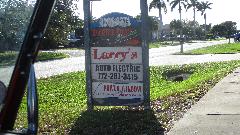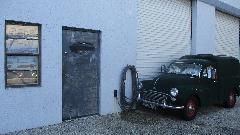 Another half hour down the coast we checked in at Treasure Coast Classics in Sruart, FL. This one is temporarily closed (for personal reasons), but likely open again in a couple of weeks. The owner loves to service vintage British cars.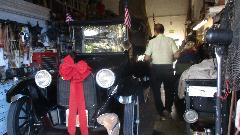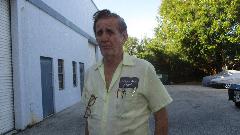 Then we were chatting with the shop next door, and this turned out to be another new one for our Shops list. Welcome Larry's Auto Electric, specializing in antique cars (meaning anything without a computer). He will do some mechanical repairs as well as electrical work. He may be retiring soon. Don't let the 1918 Dodge fool you, as that is just one of his award winning collector cars (as well as the Model A Ford Roadster on the lift behind it).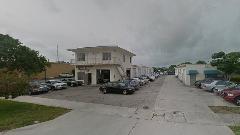 Not done yet. A bit farther on we stopped at Matheson European Motor Works in Lake Park, FL. This shop is the front part of the building on the left in the picture. Matheson is big on service for vintage British cars, pretty much anything from oil change to full restoration (contracting out the final paint work). One guy (Andrew) with some part time help from his son, personal service.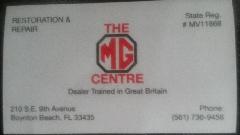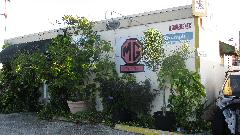 One more stop, this time at MG Center in Boynton Beach, FL. Past 4:30-pm and locked up, a phone call was only voice message. Navivator says we need to move on, so we will try to call again later.

Thursday, December 29, 2016: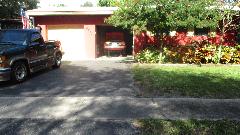 Morning chores done, and on the move by mid day. First stop today was All Loti Restoration in Plantation, Florida. Shunning the name slightly, there is more here than Lotus cars. A couple of TR6's come up early, and a very nice MGA. The expanded garage space here is all dedicated to shop space, and business is good. looks like this shop will be in business for a good long while.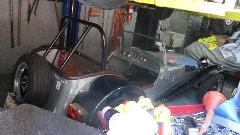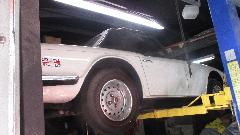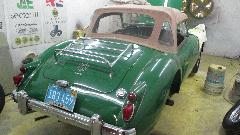 Next up was DT Performance & Wheels, also in Plantation, FL. Big wheels are all the rage these days. The first customer who walked in the door while I was there wanted 22-inch wheels, and how wide could they be? Big money in big wheels, and they seem to do a booming business here. I suppose they can order up nearly any wheel that is currently manufactured, and likely some custom built wheels as well. Tell them what you want, and see what they come up with.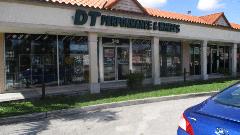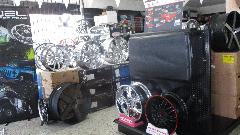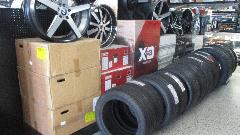 Then a brief stop at King James Custom Performance. They like American muscle cars, but also do mechanical and electrical work on almost anything vintage. No LBC here today, but it is generally slow for the Holidays.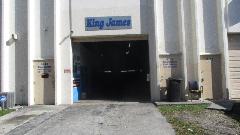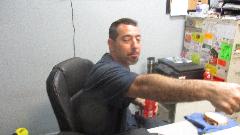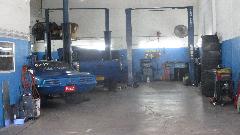 Then came The Creative Workshop in Dania, FL. I began to drool as soon as I walked in the door.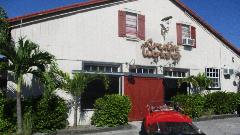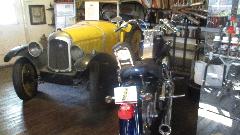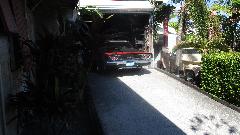 High end show class restoration work done here, an apparently the older and more rare the better. If parts don't exist they will find a way to make them. Likely no restoration these folks cannot accomplish.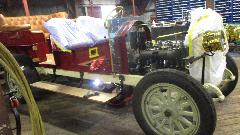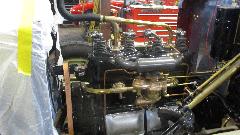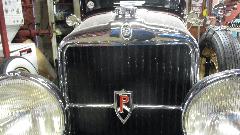 Cobra, Lamborghini Superleggera, and you can guess the rest, because I didn't write them down.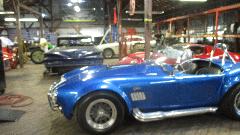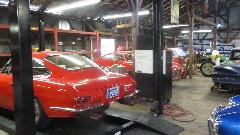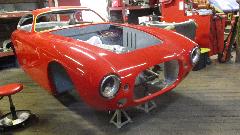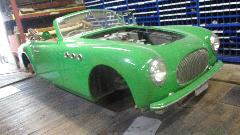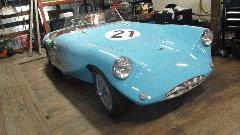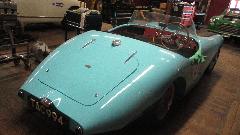 1960 El Camino with some special suspension mods. The thing that looks somewhat like a CitroŽn isn't. It is one of two cars (two different models) made by one person, that never went any farther in production. But of course someone wants to restore it.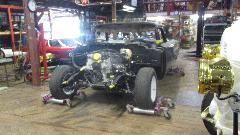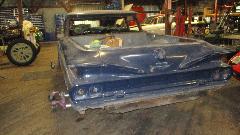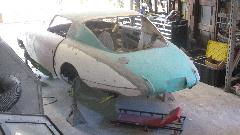 Would you believe these are Fiats? Beginning with a standard floor pan, from the windscreen forward it has steel body, while aft of the windscreen it is aluminum body.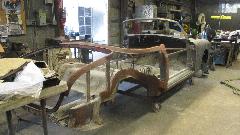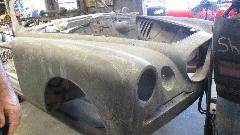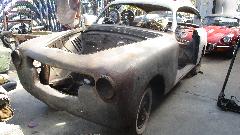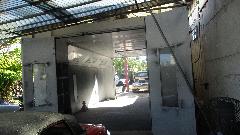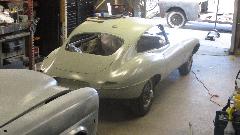 Always a couple of E-types, more popular today than their production numbers may imply, so perhaps most of the still existing ones may have been restored by now. Nice paint both.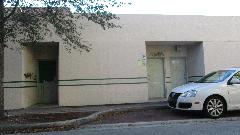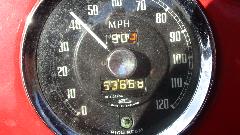 British Automotive, Ft Lauderdale was bust/closed, scratch from the Shops list.

Just cute. Today we turned over 100,000 miles since beginning of this trip on 5th of May 2014.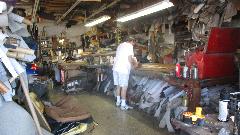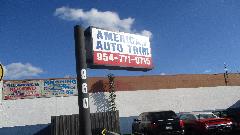 American Auto Trim, also in Ft Lauderdale, FL for all your car fabric needs, vintage cars welcome. Convertible tops, tonneau covers, carpeting, seat covers, or fabric covered interior panels, all here.
Last programmed stop for the day (because we knew he would be home in the evening) was Mike Goodman in Pompano Beach, FL. A jolly ole Brit with a habit of stuffing V8 engines in old British cars. First off he had a prime example of what happens when you mix two different types of antifreeze and let the car sit for a while. Arrrugh! When the stuff crystallizes it apparently also expands some, having split the radiator hose in the process.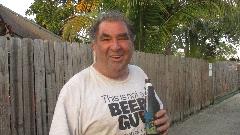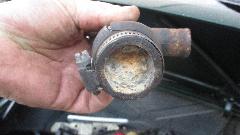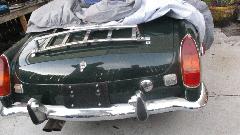 The MGB V8s are common enough, and he has more V8 engines sitting around than I could count.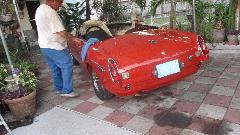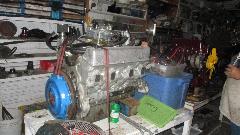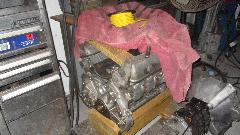 Yes the MG TD has a V8, and the rubber bumper MGB.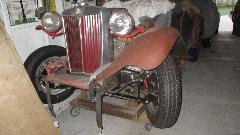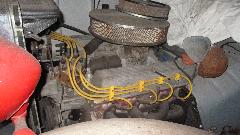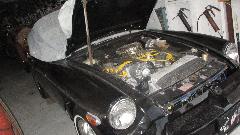 I think both of these MG TCs have V8s (maybe no TC should ever go that fast). Mike seems to be able to install MG Midget differentials (Austin A-series parts) in the T-type rear axles, giving a 3.9:1 final drive ratio for the faster cars. Another MGB here (and I may have missed a couple more).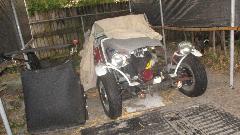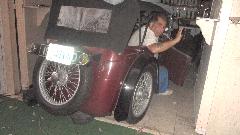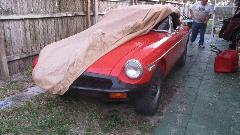 He also has two MG D-types (with original engines). Give him credit for some retention of sanity.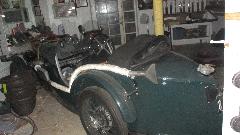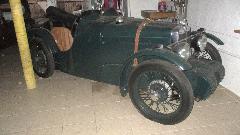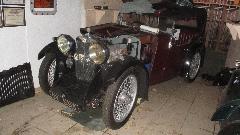 Friday, December 30, 2016:
First up today is a visit to Wayside Motor Works in Miami, Florida. Say hello to the owner Keith Rumens.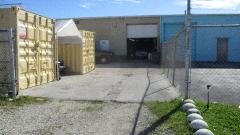 This place works mainly on Jaguars, with a distinct preference for E-types. There will be several of those in the shop on any given day. But just one step inside the door is a big Healey nearly finishing up on a 6-digit (a few times over) restoration. There is also currently an MGA somewhere in depths of the shop, so the service is not exclusively Jaguar. If you need it, ask. - (On the side, this location may be closing in about 6-months, possibly relocating to the New England area).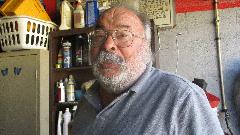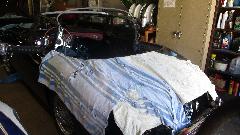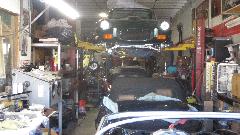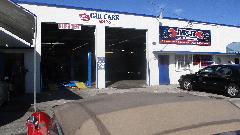 Just around the block was M&R Auto repair. The thin guy on the right is Trevor King, and the other guy is Jeff Pinnock. The MGA on the lift today for brake work belongs to the guy in the gray shirt, who is a member of British Car Club of Miami (here to borrow the lift). Reputation precedes us, as the club guy fired a warning shot so they all met us out front with grins and open hands. And yes, they do work on British cars, mechanical and electrical work not body restoration or paint.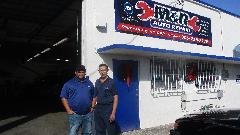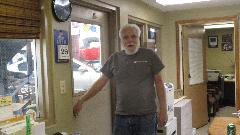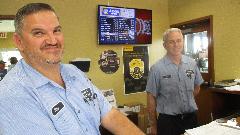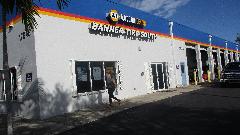 A few miles farther south we found Kennedy's Banner Tire South (the card also says Banner Tire Pros). It looks like a typical tire shop, but they also do suspension work, and they do understand vintage British cars.

They we had an unexpected re-route. While following up on yesterday's closed shop "British Automotive" in Ft Lauderdale, we found "British Auto Repair Service" less than half a block away from there. A phone call raised a live lead, and we may have enough time to do it, so we headed back north in hellacious slow rush hour traffic, taking 1-3/4 hours to make 50 miles. Five minutes past closing time, but the doors were still open.


Name on the building is "City OK Tire". For some odd reason the business name "British Auto Repair Service"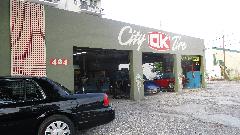 is registered under the building name, but it is the same guy in the same place. The vintage American race car is his pet project, restore to be street legal and now driven regularly. The TR6 was a customer car in for some brake work (getting it ready to sell). This shop does mechanical and electrical work. He does have nearby contractors to do body and paint work as well as engine and transmission rebuilds, so bring it on. Along with all the tire equipment he has a tire shaving machine, in case you might get stuck with some of the out of round reproduction vintage tires.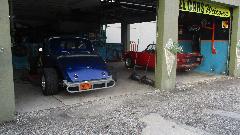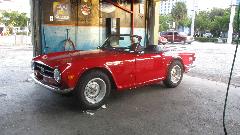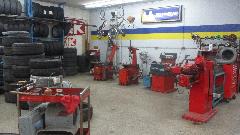 We have (had) a tentative appointment in Sebring, FL, but no rush to get to a pro shop (that might be closed) on Saturday before new years day. So we found something else to do with a couple free days. Navigator apparently has a Canadian friend who is currently vacationing in Ft Myers, FL (over on the west coast). Late night we pointed it west, drove an hour and a half before crashing for the night.

Saturday, December 31, 2016: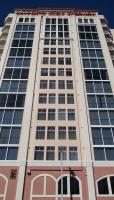 Up early, check email and BBS, answer a few tech questions, and head west again. Arrive Ft Myers mid morning, another mail check, and then head for a high rise condo "Lover's Key Resort" in Fort Myers Beach, FL. A little confusion first landing us in the wrong building, and the correct building had a security gate we couldn't crash. Friend's Canadian cell phone does not work in Florida, so we made for the nearest WiFi spot to send email. Apparently friend could not figure out how to open the security gate (maybe didn't have the gate code). In the end, no more feedback for the rest of the day, but time was not wasted as I had plenty of work to catch up. Tech question about Prestik, a tougher question about a gearbox fault in a Magnette, some discussion about period price lists for MGA. In the end, good night 2016.