The MGA With An Attitude


MGA Guru Is GOING MOBILE - (January 1 - January 15, 2017)


Sunday, January 1, 2017: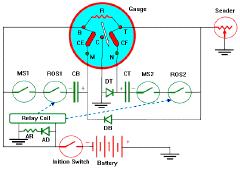 Funny way to start the new year, sitting in Fort Myers, Florida all day with no word from Navigator's friend. No big deal as I still have plenty of work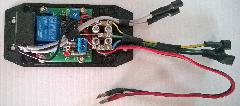 to catch up. First was a review of a tech article on fuel gauge damping, then a longer review of a new idea for intermittent wiper control (for not too much money). Got a message from a niece in Missouri (nice new years surprise).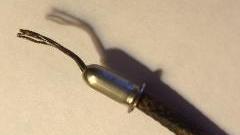 Collecting more information on vintage price lists for MGA. Posted a new tech page on tubular wire terminals. Amazing how many emails I can handle with a full day available.

Monday, January 2, 2017:
Holidays are past, time to get back to the "mission". Head northeast over to the middle of the state, then drag our feet a bit to accommodate our friend's schedule. Late afternoon, say hello to James Dean at Old English Motor Company. Nice front office.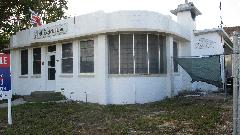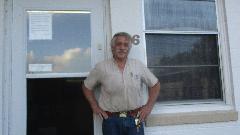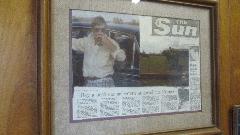 Decades worth of memorabilia, his card says."The largest collection of English parts in the colonies", and I'm inclined to believe it. Stuff in back of the office, stuff behind the building, stuff on the next lot, and a barn full of stuff two lots over.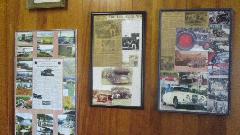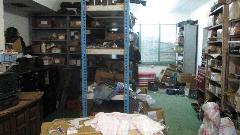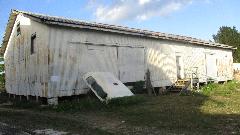 No longer restoring or servicing cars, James is these days heavily involved in selling off a lifetime collection of British car parts. If you have a vintage car, and need a part for it, you may likely find it here.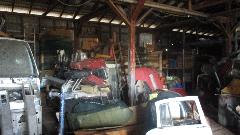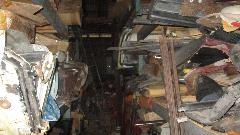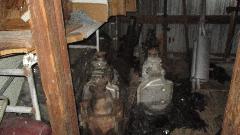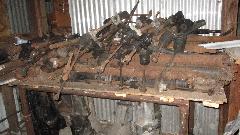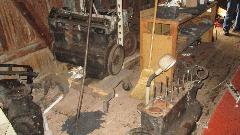 Enough fun for one day, time for posting the photos and notes. Then I recon we will be heading back to the west coast, Tampa-St.Pete area to visit the next bunch of pro shops.

Tuesday, January 3, 2017:
Change of plans (nothing new). While sitting last evening considering friends we should visit while shop hopping, I realized there was a friend right here in Sebring that we hadn't seen yet. Put that on the routing plan in logical order, and we stay put over night to get to the next stop. One of the shortest travel legs ever. Today we go several miles south from Lake Jackson to the west side of Lake Josephine (still with a Sebring, FL address).


We are here to visit Bruce MacInnes. Bruce is two-time pro FF champion, and was twice named Formula Magazine's "Driver of the Year". At one point, Bruce held 18 track records. He won the wet and wild Can-Am race at Lime Rock Park in 1985, and he is also a three-time winner of the notoriously tough "Longest Day at Nelson Ledges" race. He races, builds cars, flies a plane, is Senior Instructor for Skip Barber Racing School (sometimes), and all round interesting fellow. See his web site at www.MacInnesMotorsports.com. When not traveling, Bruce spends summers in Sheffield, Massachusetts and winters in Sebring, Florida, always close to the racing circuits, still teaching people how to go fast.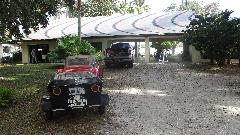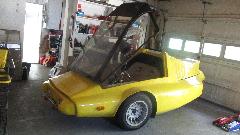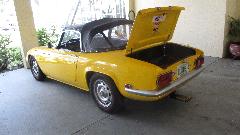 Driving through the gate I was immediately impressed. Forget the house, I like the garage. The three-wheeler is a home built foam body car with Honda Gull Wing 1500 engine, something like 140-mph top speed (yikes)! The Lotus Elan being a more familiar toy. The house is of course full of decades worth of memorabilia.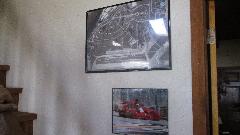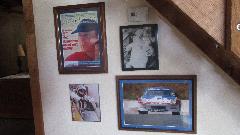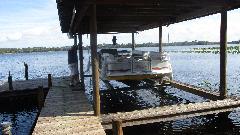 We took a casual cruise on the lake, nice way to kill a little time in winter (yes, it is January).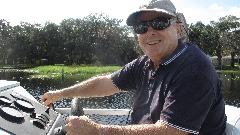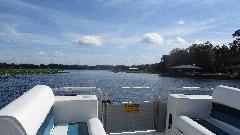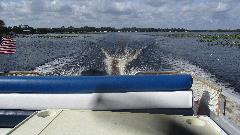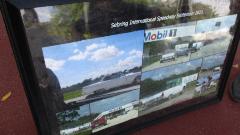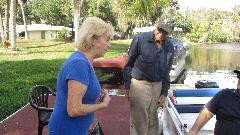 We headed across the lake to visit "Donnie and Marie" (both interesting characters). They wanted to show off the 1955 T-bird that Donnie bought new and still drives. The picture frame holds photos from track day at the Sebring track in 2015.

Wednesday, January 4, 2017:
One very interesting shop visit today at Tsikuris Classics in Lakeland, Florida. No outdoor signs, because it is in a residential neighborhood, but the shop has been here 40 years and is grandfathered into being allowed to stay in business here. I would need a fish-eye lens on the camera to get the wide shot of the whole premise. There is a generous 2-car gagage with the house that holds the daily driver cars. Walls are line with decades of memorailia. Say hello to Paul Tsikuris (with silent "T" please).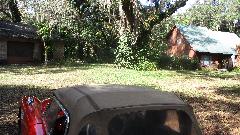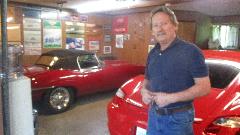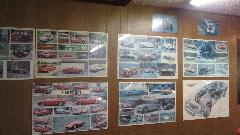 Garage on left in the picture is the mechanical shop that holds five cars for service work plus an air conditioned engine asssembly room.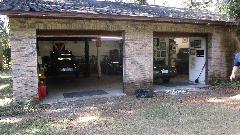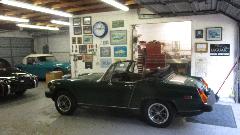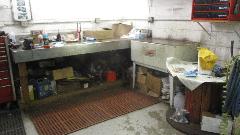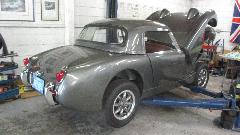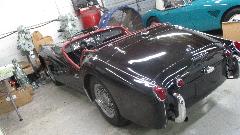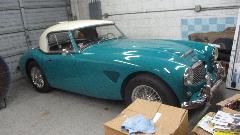 Farther to left (out of picture) is an older (150 yrs) house that used to be home for the grandparents. Behind all this is a larger warehouse that can easily hold at least nine cars and in-process chassis, more space on the right for engines and other bulky items, and a loft for even more parts.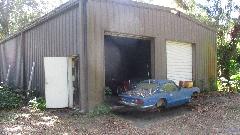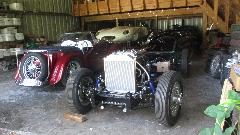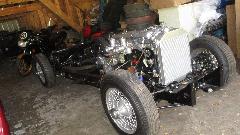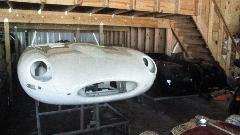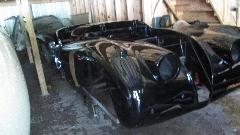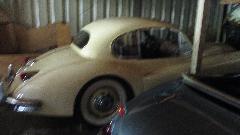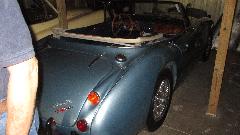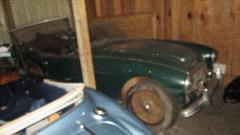 Did I mention he likes to work on Jaguars? Also MG, AH, TR, and maybe anything else British if you ask.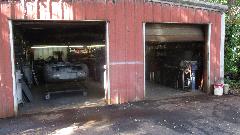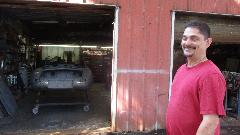 To the right of the house is the sheet metal shop for body restoration work. Say hello to Paul's son Mark who now does 90% of all the sheet metal work here.

Then we were off for some less fruitful work for the rest of the day. British Motors in Clearwater, FL was a strike-out. Not absolutely sure about this one, but I will mark it as out of business. The place appears to be well kept, but possibly vacant, and the prior phone number is disconnected. Time for more web searching.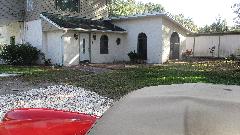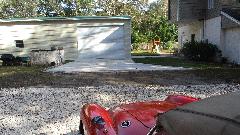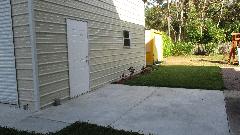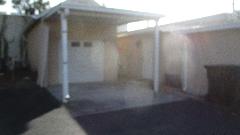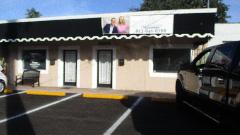 Classic Auto in Pinellas Park, FL was also a bust. This is now occupied by two other businesses. Around back another garage for additional space. Will have to search for more info on this one.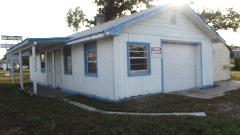 Shepard Imports in Tampa, FL was supposed to have vintage British auto tools. This used to be a neat little shop on a main street, but now vacant with phone number disconnected.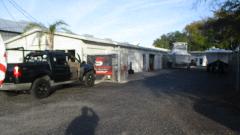 Last stop for the day was Automotive Specialities in Seffner, FL. This was supposed to offer steering wheel restoration. A bit mysterious as the rear premesis (with all the garage doors) is occupied by Suncoast Marine Electronics who have been here for 20 years. The small Dojo shop in front is shorter term but knows nothing. Duh? Four of five shops out of business today, a bit disapointing, but that's why we're here. Also spent some time posting another fiberglass body kit for MGA on the web site.

Thursday, January 5, 2017:
Lots of time spent catching up photos and notes from day before.

Friday, January 6, 2017:
Posting new tech pages for MGA Coupe window winder repair, and cockpit rear trim.

Saturday, January 7, 2017:
Most of the day spent posting CMGC newsletter on the club web site. Also posted new tech page on another power brake booster installation in an MGA.

Sunday, January 8, 2017:
Breakfast meeting with Tampa Bay British Car Club in Madeira Beach, FL. About 25 guys came out on a frosty morning for coffee and s good chat.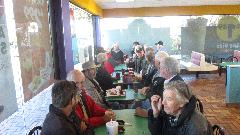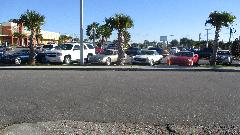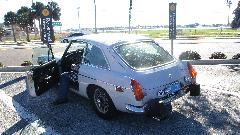 Then we trucked on over to a shop belonging to Ed Diehl in Madeira Beach, FL. Now likely retired, may do a little work for friends, but primarily tinkering with his own toys these days.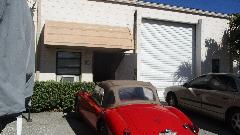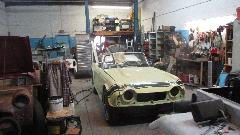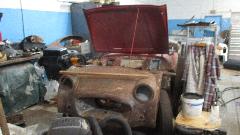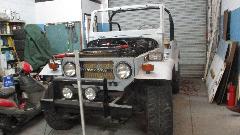 The 1988 RX7 race car is for sale, very fast, about 300-hp and very light with lots of thin fiberglass panels. And the Toyota? Must be jolly good off road fun.

Then the MGB GT from this morning's breakfast meeting came back, and we got to do some carburetor adjustments to get it running better.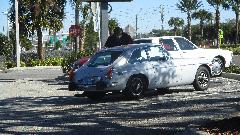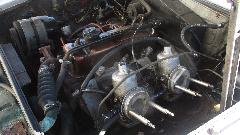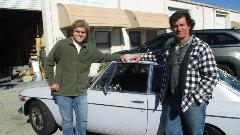 Finished posting CMGC newsletter on the club web site. Then rest of the day with photos and notes and a few email tech questions.

Monday, January 9, 2017:
Sitting in Ellenton, FL for a long day into late night. Plenty of "clerical" work to do. Spent more time answering tech questions about voltage converters for positive to negative earth radio adaptation. This seems to be a regular problem with confusion, so I may have to post more information on the tech page. Also some hours with my hard drive data backup running the in the background.

Tuesday, January 10, 2017:
Sitting in Punta Gorda, FL today. Posted a new tech page on making wood bows for the cockpit trim rails, another new page for side mount engine stand, and another page for repair of the starter motor. I recon that ate most of the day. This stuff happens when we don't have fixed appointments.

Wednesday, January 11, 2017:
Something frivolous today, posting a new web page for a rather radical variant of MGA with MGA Coupe body, front end of a Ford T-bucket roadster (including drop axle), and 600 HP engine (with lots of pictures). It seems to be generating a lot of curiosity chat. Also another new web page on replacement front fender repair panels, and another new page in the Regalia section on a premium priced (collectible) MGA model. I think we have an appointment for tomorrow.

Thursday, January 12, 2017: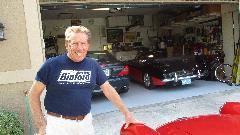 We had one appointment today, a visit with Gregg Cameron in Punta Gorda, FL. Some member of British Car Club of Southwest Florida turned him onto a disassembled 1961 MGA for sale, and he bought it. He currently has several boxes of parts in his possession, and has a good start working on the steering rack and propshaft. There are more boxes of stuff stored at a friend's house. The body, frame, engine and suspension are at Steve Cleveland's shop in Fort Meyers (going to have to look that one up).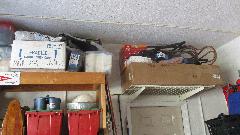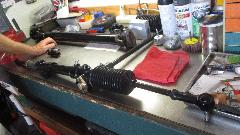 Gregg also has a very nice Austin Healey 3000 with a few minor mods (like 2-inch carburetors). He has owned many British cars over the decades, and has raced many of them successfully, now having a house lined with trophies including several SCCA championships.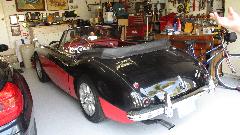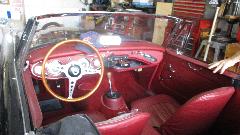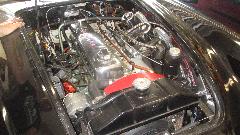 While we were having a nice long chat about old times and paging through photo albums, a friend and neighbor dropped in to inquire about the MGA in the driveway (mine). This is Don Royston, the President of a very active local classic car club and writer of a column in a local newspaper (actually a few local newspapers and s couple of magazines).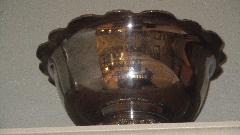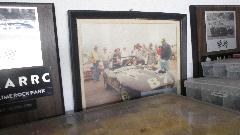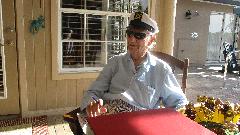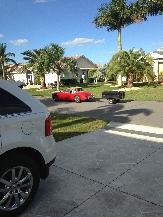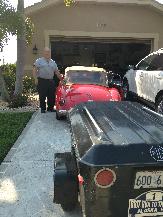 On the way out Don took a couple of pictures, and since I never take selfies I thought maybe I should post these. It just reminded me that it's kind of nice to have T-shirt weather in January.

Friday, January 13, 2017:
Almost forgot that Friday is tech day at Tech Central Racing in Bonita Springs, FL. So one hour down the expressway, and surprise a few old friends, starting with Jerry Wilcox who lives here. Friends in the area and some members of Southwest Florida British Car club drop in to take advantage of the facilities nearly every Friday, and also Saturdays (if they are not racing). I took a quick walk around the premises to see what they might be tinkering with today.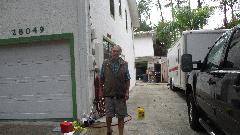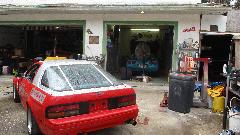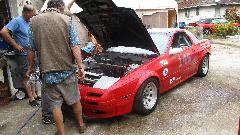 Mazda RX7 race car not run for a few years (but getting ready), MG Midget not run for 25 years (but imminently due), Sunbeam Aline under restoration, MG Midget resident daily driver, and more.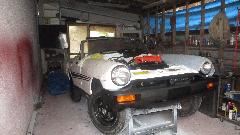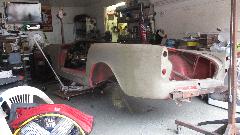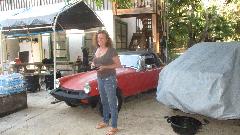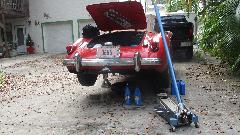 A matter of high priority, I took advantage of the facilities to change the oil in my MGA gearbox and differential, scheduled for 12,000 mile intervals but sometimes overdue.

Then we were immediately on to the MGB that was running well but had problems downshifting to 3rd gear. The engine and gearbox were out in short order, and the box was on the bench for inspection.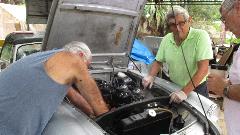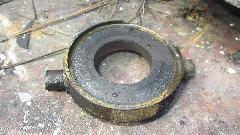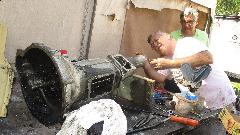 The clutch release bearing was beyond shot, which was a surprise because the clutch worked okay and was not making any odd noise. On initial side cover inspection I thought the 3rd gear synchro ring was a sloppy fit and might be broken, and 2nd gear synchro ring (which was still working well) might be worn. So it was tear-down time. Given an hour or so it was mostly disassembled.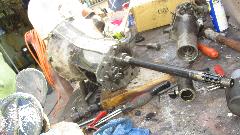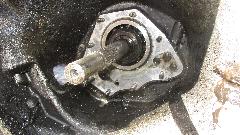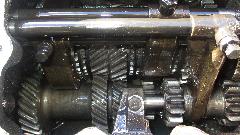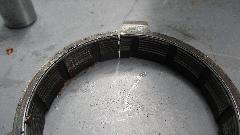 The third gear synchro ring was definitely broken and free-wheeling with no baulk resistance at all. Second gear synchro ring was significantly worn and will be replaced as well. The rest of the gearbox was in quite good condition with good layshaft and all bearings so the parts order list will be pleasingly short. Looking to reassemble this next week. Carefully pack all the parts away so nothing will be lost.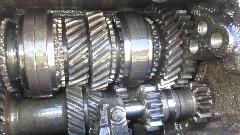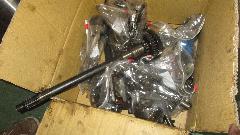 Saturday, January 14, 2017:
Back at Tech Central again today, I had another small task demanding overdue attention. We have been carrying a door striker tapping plate for more than four months, because it didn't fit when purchased. Probably not a faulty part, but a couple of things I did wrong in years past. Some time many years ago I made a replacement tapping plate rather than waiting for delivery of the commercial part, and I made it out of 1/8-inch steel strap, which apparently was thinner than the original part. Strike one. In early 2008 I was rebuilding the B-pillars as part of body sill replacement, and apparently rebuilt the cage that holds the tapping plate in the B-post, and made the cage to fit the 1/8-inch thick tapping plate. Strike two. Recently the threads stripped out of the tapping plate, so I bought a new one on 1st October, but it didn't fit because it is 1/4-inch thick, likely as original but too big to go into my smaller cage. Strike three.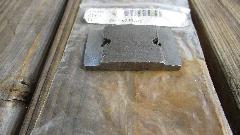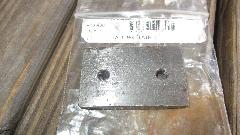 So today's solution was to borrow the bench grinder and grind the ends of the tapping plate thinner to fit into the cage. All a bit of a pain, but it makes a good story about why we should not make non-standard mods.

But the real mission for today was to reassemble a late model MGB engine for Headley Wilson (from Fort Myers). He had a prior start on it with the crankshaft and pistons installed Late yesterday we inspected and installed the camshaft. Early today Headley had the oil pump installed. And now we take it from there. Timing chain, sprockets, tensioner, oil thrower ring. Should we really trust the punch marks on the new timing sprockets? Button up the front cover.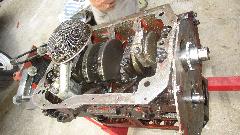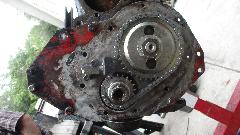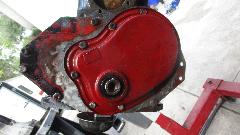 Then get it off the engine stand and onto a bench to install the rear plate, rear seal and retainer, crank pulley, engine mount brackets, and the oil pan (sump). Headley was getting more optimistic with each step.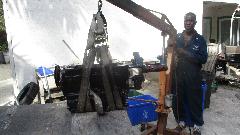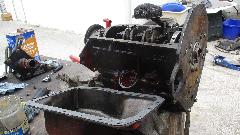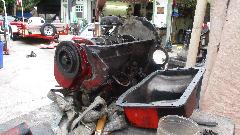 After buttoning up the bottom we rolled it over to install the water pump and head studs. Running out of daylight,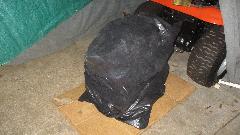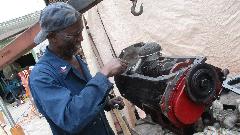 it was finally time to set it aside with a snug cover and call it quits for the day. The cylinder head still needs inspection before installation, plenty left to another time.

Meanwhile, by late afternoon the guys were firing up the Midget that hadn't run in at least 25 years. A sniff of ether and some cranking got it running on two cylinders. Correcting two plug wires set that right, and then it was idling way too fast. Lengthen the throttle cable to provide a bit of slack and it was down to normal idle speed. Score one for the good guys.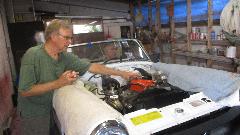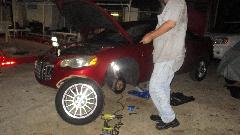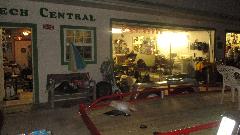 On the side, finishing after dark, a Chrysler Sebring was getting a new battery, which is tucked in under the headlight in front of the LF wheel. Go figure. Finally a few minutes to relax before putting the shop to sleep, and the few remaining souls would have to break it up for the night.

Sunday, January 15, 2017:

This only looks like a day off. After posting two days worth of trip notes and photos and answering email, I posted an "additional" tech page on the retrofit rubber rear seal for crankshaft in the Austin B-series 3-main bearing engine. There is apparently ongoing interest in this mod, and people are still asking questions about it. My mid 1990's emergency seal design is, well, not great, but it appears to be the most practical and easiest to impliment, so it still seems to be an out front favorite. Late evening we headed a bit north.