The MGA With An Attitude


MGA Guru Is GOING MOBILE - (May 1 - May 15, 2017)


Monday May 1, 2017:
After another long day of planning we finally had most things organized (we hope). In the evening we headed north for a 420 mile trek toward the Sacramento area, dictated by fixed dates for a couple of club meetings. We made 325 miles before deciding it was snooze time.

Tuesday May 2, 2017: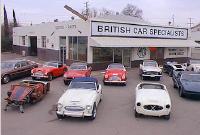 Along the way, one shop stop today at British Car Specialists in Stockton, CA. Nice place, been here since the 50's, used to be a new car dealer for all North American BMC cars followed by BLMC, BLMHC, and a few other makes and models. Still servicing all British cars today, David Knock is second generation President and Service Manager. The place is a veritable museum and treasure trove of historical information along with a large inventory of parts, including lots
of New Old Stock stuff. I managed to pick up three most treasured original issue Lucas parts, a starter switch, a lighting switch, and a battery cut-off switch. All of these have given me troubles as failed replacement parts in recent years, so now hoping to get back to the good stuff. Sorry I accidentally deleted a bunch of nice pictures from the shop, but I do have a picture of the original Lucas parts.

In the evening we had a dinner meeting with United British Sports Car Club in Sacramento. This is the meeting we missed two years earlier when they changed the meeting location on the last day without notice, but we got them nailed down this time. Nice bunch with about 35 people here, and a good time was had by all. Unfortunately I lost these pictures too.

Wednesday May 3, 2017: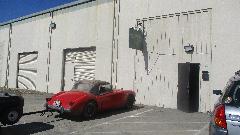 Enough time for shop hopping today, so off to visit half a dozen shops before another club meeting tonight. First up was Sportscars Ltd in Sacramento, CA. Meet Michael Singleton. In the smaller side of the shop we found three MGB, an MGA, a ZB Magnette, and a Lotus getting a chassis rebuild with upgrade of the halfshafts. In the larger side of the shop we found a Morgen Plus 4, three MGB, a TD, two MGA (maybe three) and a Jag E-type. These are all in process (15 cars) getting various sorts of service ranging from brakes to complete restoration.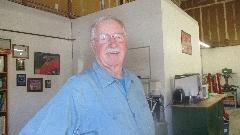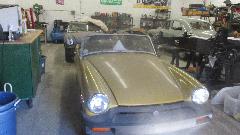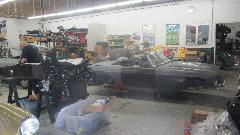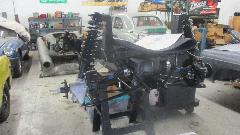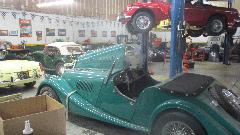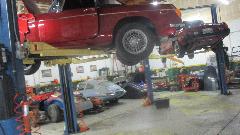 Before we left I picked up some service parts for my MGA. First was a good used RF brake slave cylinder, because one of mine has a chip in the edge of the casting that defeats the external dust seal. Also a good used water pump for a spare, just in case when we will be heading off for Alaska in a couple of months.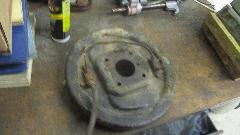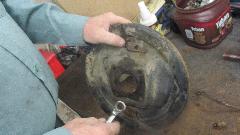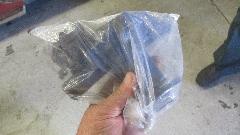 Next up was Del's Inc Automotive Machine Shop in Sacramento, CA, and that's Del. Been here for decades, and they may have several jobs for vintage British cars in the shop at any time (mostly engine work). Today there was a Spridget rear axle needing to have the differential reinstalled.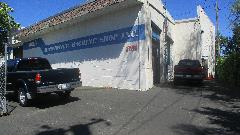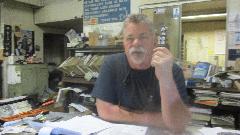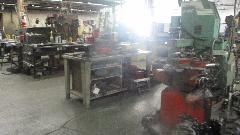 Then we had a visit to Seven Enterprises in Auburn, CA, with service, accessories and tech support for the classic Minis. There were at least two examples of stuffing modern powerful Honda engines into the vintage Mini. This comes as a commercial kit with a new subframe so it can bolt it with only a little fettling.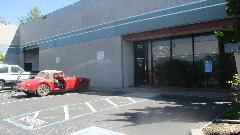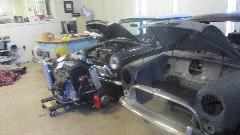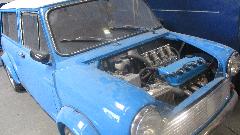 There is a fixture for aligning the body shell during reconstruction a miini in for minor collision repair, and a Mini pick up truck in the process of full restoration.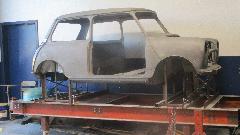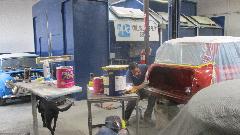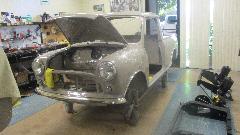 Another building houses the service parts and machine shop facilities. In short, full service, restoration, and all the parts you need for a classic Mini.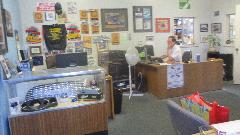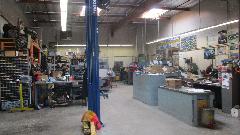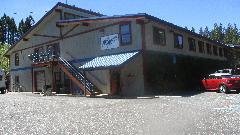 Then we headed farther north for a two-fer to visit Mini Mania (and Spridget Mania) in Nevada City, CA. This business is tucked into a quiet residential neighborhood, so they are not a full service shop (no body and paint or restoration work). They do build engines regularly, mostly to custom specifications, and they have an engine test stand to run in and test the engines before delivery. They also supply the go-fast parts for both classic and modern Mini as well as the Austin Healey Sprite and MG Midget (pre-1975), and yes those big mufflers and wheels will fit on a modern Mini.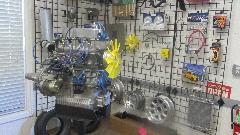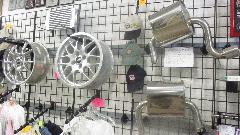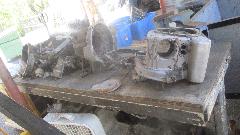 Gearboxes and engines in for rebuild, parts galore, and people to pack and ship your parts orders.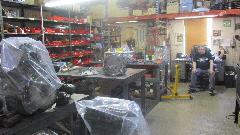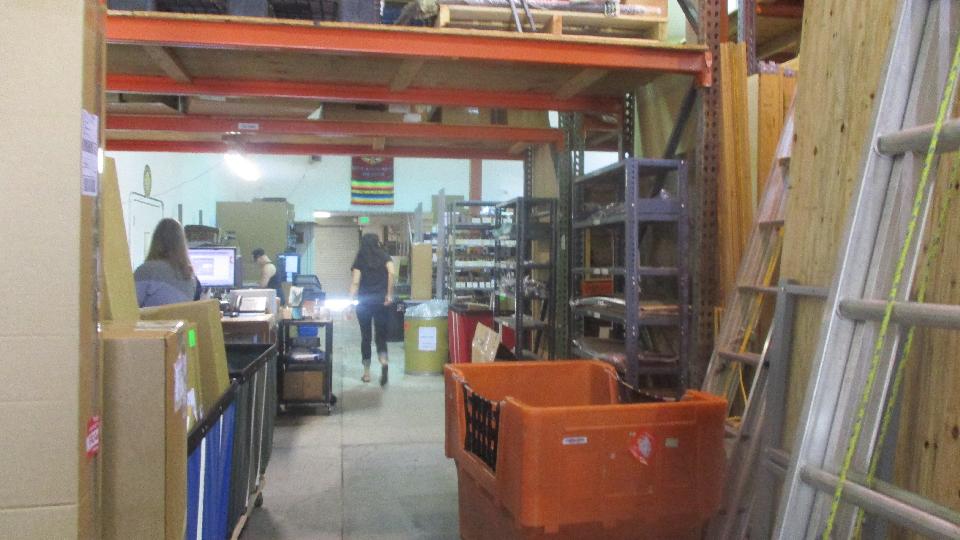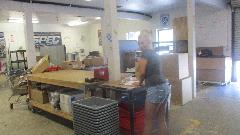 Heading through the mountains back south toward Sacramento, switchbacks at a crawl with lots of traffic. Then the Garmin suggested a shortcut that turned out to be a big improvement. There was almost no traffic but lots of 9% grades and tighter switchbacks, much of it in 2nd gear just because there wasn't enough straight road to go any faster. But it was a delightful drive and indeed saved some time and miles.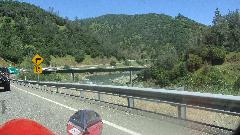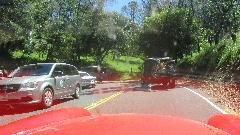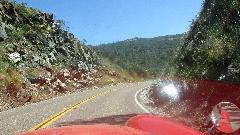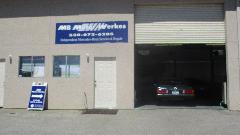 We were headed for what used to be Lawrie Alexander's shop, British Sportscar Center in Cameron Park, CA. Lawrie has been retired (at least from this shop) for almost ten years. He still has the building, rented out to a couple other businesses since then. For now it is a shop called MB Services (as in Mercedes Benz), nothing to do with British cars, but it did turn up a lead for another shop that was not yet on our Shops list.

So another side trip about ten miles into the hills to visit Robinson's Automotive in Diamond Springs, CA. Say hello to Martin Robinson. This is the guy who took over the business from the guy who took over the business from Lawrie (we dig deep to find these places).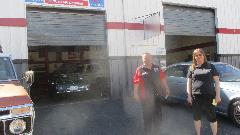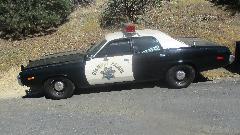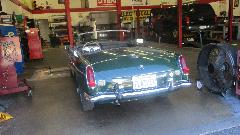 The business came to him with a few unfinished vintage British car restoration projects, so he decided to finish those jobs early on. This got him involved in vintage British cars, which are now a major part of his business.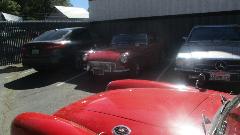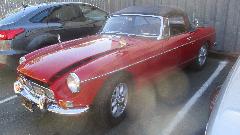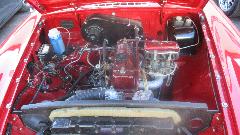 While I was looking for the "Jensen Interceptor out back", I found the Fiat Spider, I think the delivery van may be an Austin A40, and there was a very nice Jenson GT to drool over.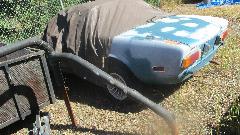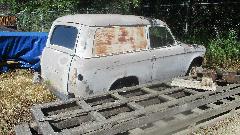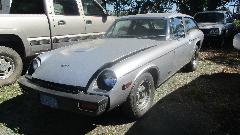 I had to peek under a heavy tarp to disclose the TR4, and then I finally found the Interceptor inside. The vintage British parts also keep accumulating so it looks like this Brit car shop will be around for some time to come.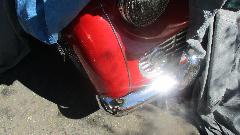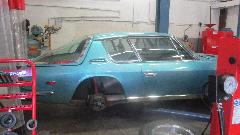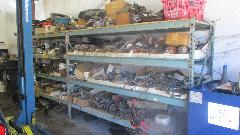 In the evening we had a dinner meeting with Sacramento Valley MG Car Club at Mimi's Cafe in Folsom, CA. Arriving early we found a few more MGs in the car park, and there were more later.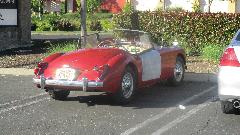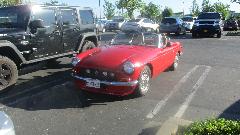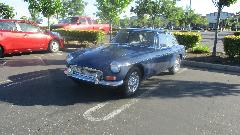 About 35 people for dinner and (lots of) business. Apparently some advance notice of our coming had attracted a few extra people including a couple more MGA owners from some distance away who had not attended the meetings for some time. The Guru got to explain what we have been up to for the past three years (very well received). Afterward there was lots of tire kicking tech talk in the car park where we got a peak under the bonnet of the MGB to check out the Mazda rotary engine. I am rather fond of these engines, as I drove a Mazda RX7 for more than 30 years. Nice engines (except for the poor fuel economy).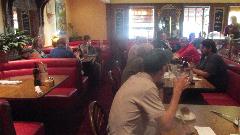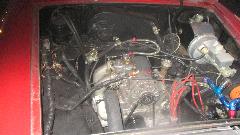 Thursday May 4, 2017:
Mostly a planning day, but we moved around to the north end of the Bay, close to starting point for next day.

Friday May 5, 2017:
Now we get to hustle a bunch to make up for being idle yesterday. First was an effort to visit two different addresses for British Automotive in Novato and San Rafael, CA. These were on the west side of the upper Bay, and both turned up blanks. Trying two different phone numbers raised a voice message saying "Thank you for calling British Automotive", and we left a message (twice) but didn't get a call back yet. There is hope this shop may still be in business at yet another undisclosed location. We will keep trying.


Our MGA was having a touch of stuck choke since repacking the jet seals 10 days earlier. With a brief peek under the bonnet to reset a sticky choke lever, I noticed a slightly leaky heater valve. Nothing serious yet, and a quick check in the magic trailer produced a new one, so carry on and worry later.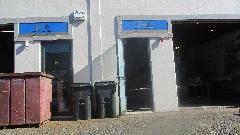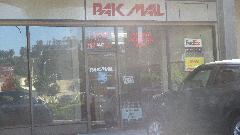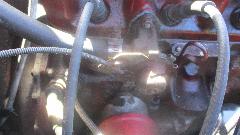 Not British Automotive - Not British Automotive &nbsp - Drippy water valve

Then we had a stop at (Ed Wright's) British Car Repair in San Rafael, CA. 45 years in this location, I thought that the proprietor didn't look old enough. Turns out he was working here at age 10 for his father, and he's still at it. That ads up to lots of experience. You may recognize most of the stuff in the front room.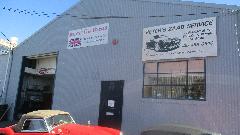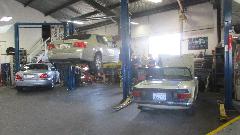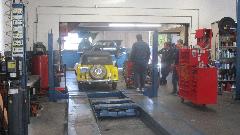 In the back room, an MGA chassis, a Morgan, TR3, TR4, and something nondescript hiding by the back door. Out back, more fun stuff most of it in process as indoor space allows.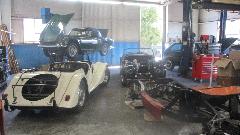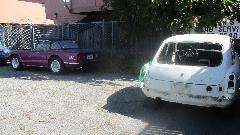 Then we took a quick trip east across the bay looking for John Bull British Car in Walnut Creek, CA. Not here, but inquiry next door brought information that the shop was closed for ten years, but the guy was still in business at "his ranch". We got a phone number, called and left a message, got a call back later from Mike Hall confirming he is still in business,so we hope to catch up to him another time.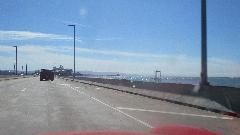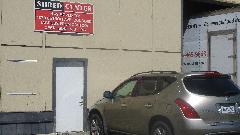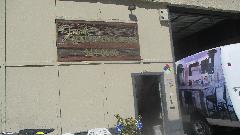 A dash across the bay - Not John Bull British Car &nbsp - Helpful advice next door

Next stop was Sure Fit Seat Covers in San Leandro, CA, which turned out to be a surprise. Say hello to Jim Silva.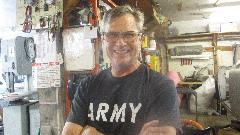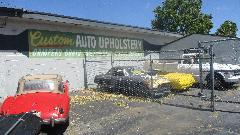 I was expecting this to be an Upholstry shop for British cars, which it is, but look at all the fun toys we found inside. There was an Arnolt MG Coupe, followed immediately by an Arnolt MG convertible. The coupe is a show winner while the convertible is being made over into a nice daily driver car (with a V8 and 5-speed). A couple of TD's and a ZB Magnette are customers' cars.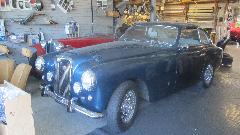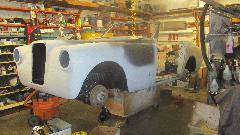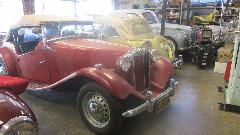 The cherry of this bunch was an Alfa Romeo 1900 Superleggera (with 4 in the tree). Go ahead and drool.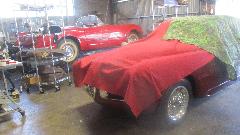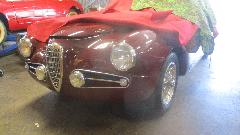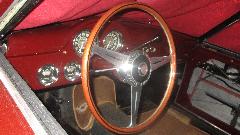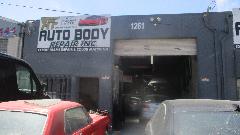 Then we took a long hook around south end of the bay and up the west side looking for Jim Griffin & Son in San Bruno, CA. Not much hope here, because the web long had been dead for some time. Current resident of the space (FX Auto Body) verified the location, but said the Brit car shop has been gone for eight years.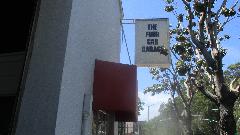 Then we were looking for Collins Classics in Burlingame, CA. Mixed results here, as the intended business has been gone for at least four years. However in its place is another Brit car shop, Four Car Garage. Nice place. Sometimes we just luck out.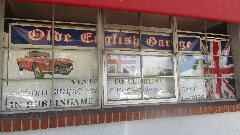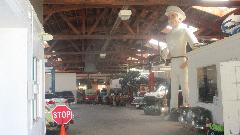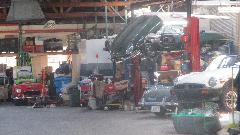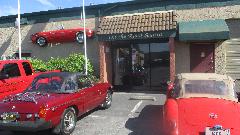 Next was On the Road Again in Morgan Hill, CA. This is a a delightful place starting with a showroom full of nicely restored cars looking for new homes. Yes, that's a Jaguar D-type sitting next to what I think might be an MG SA. The yellow MGB is the proprietor's long term personal treasure with suercharger and a few more tricks. On the other side was a shop full of projects in process mostly customer cars. Surely you can find something here to make you smile.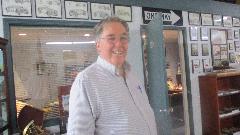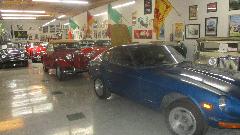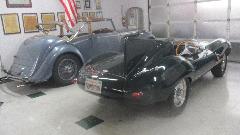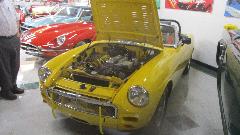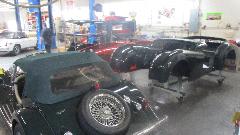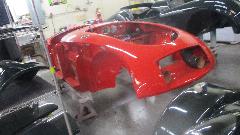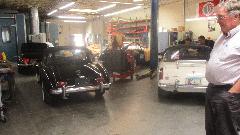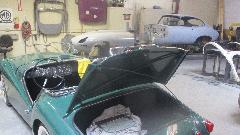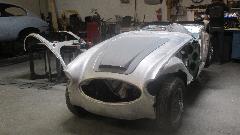 Then we were off to visit Union Jack in San Martin, CA. A long term family business, these guys know what they're doing with British cars (although I think the Chevy truck is a pet project).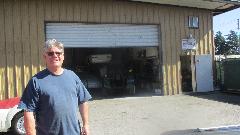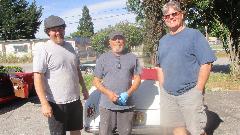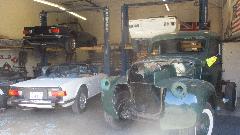 Lots of restoration work going on here, take your pick of models, or bring your own.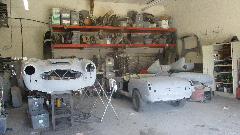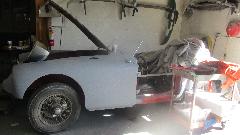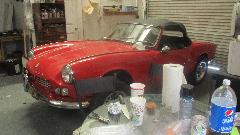 The large sedan escapes me for the moment, although I think it's something fairly rare. The big Healey in primer will eventually look like the one outside. There is also a substantial assortment of pending projects and parts cars.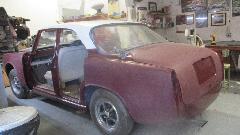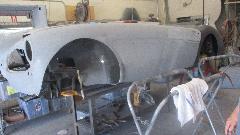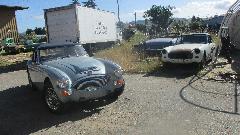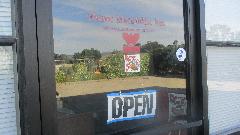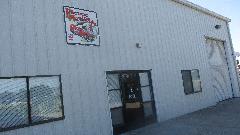 Getting late in the day, we were in to visit Pierce Manifolds in Gilroy, CA. Got a kick out of the "OPEN" sign on the locked door slightly after 5-pm. We know what they do here with Weber carburetors and manifolds to suit. Will have to return here later.


Still on the hustle, one more shop on the list for today. Wave at an MGB on the road as we were sailing past. The shop was Antique Auto Restoration in Seaside, CA. It was apparently closed for the day, but a phone call turned up a working number with a welcome message. We will have to check on this one again once we get the phone call to work.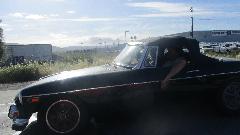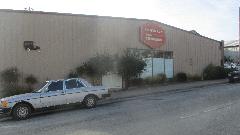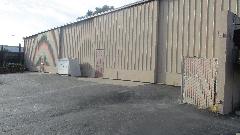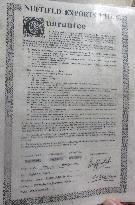 Not finished yet. Still one friend to visit, Bruce Obbink in Pacific Grove, CA. He has restored at least five MG TD's. The one he is keeping is very original, with a supercharger, vintage tax disc, and original "Guarantee" document.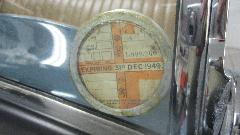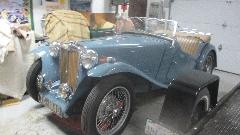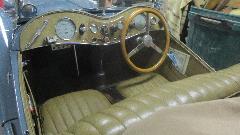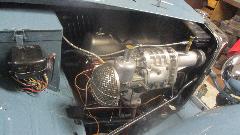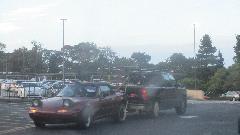 Just for kicks, we ran across this red neck towing job. The Miata was tied to the truck pipe rack with some web straps. I don't know how they got the lift, but the car tires were periodically skimming the pavement. Speed bumps in the parking lot were a nasty problem. Steering on the car was not locked, so the tires would turn by caster, and the car was more often sideways than straight. Sure hope they weren't going too far.

After some productive time on WiFi, late night we headed back north 125 miles to be near next morning's appointment. The headlamp dipper switch we installed last week, after just a few nights in service, is giving us grief, not wanting to dip, as bad as the last one that was failing after a month of service. This one will have to be returned as well. Touch down about 1-am.

Saturday May 6, 2017: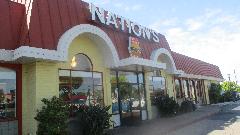 Today we had a scheduled breakfast meeting with MG Owners Club of Northern California at a restaurant in El Cerrito, CA. Unfortunately no one else showed up. This is supposed to be an active club, so I suppose there must have been a change of meeting location. Will have to check on this issue later (what's 250 miles to us)? Meanwhile we headed back south, needing to be in Van Nuys the next morning (only 360 miles).

Sunday May 7, 2017: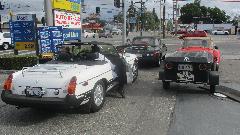 Today we were in Van Nuys to hook up with Southern California MG Club for a cruising tour (just for starters). After collecting a few MGB we headed out of town to find some side roads (avoiding the expressway), cruising through southern California farm land, passing wheat fields, orchards of oranges and other fruits, and fields of all kinds of vegetables. We were heading off to Santa Paula Airport (in Santa Paula).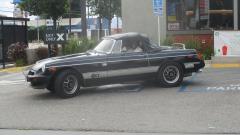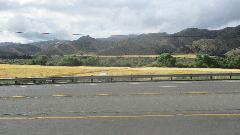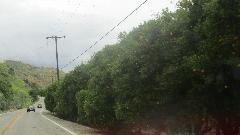 Here we joined Central Coast British Car Club for a two-fer. The cars would be on display as a bit of a car show during open house at the airport to encourage visitation at the air museum. Apparently the other club was there nearly two hours before and had nearly finished breakfast. Good I got the picture when I did, as they were about to head off to the air museum. The loan guy with the name tag is Jim Heaton from Southern California MG Cub.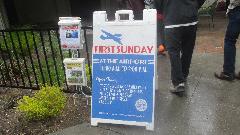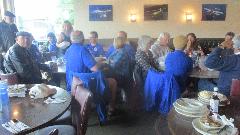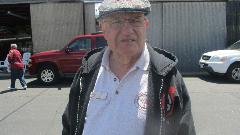 Since I really wanted breakfast, I decided to sit with another couple for the food (when everyone else was done). I recon I skipped the indoor museum and gift shop (not my interest anyway), but had some interest in the vintage airplane restoration work going on in the hanger out front.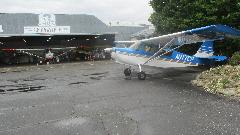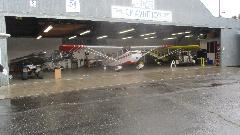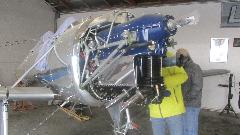 Hey, it's an airport, so I could take pictures of airplanes all day, but tht's not why I'm here.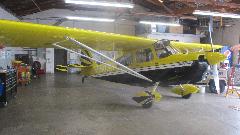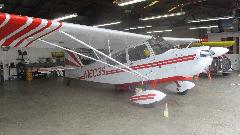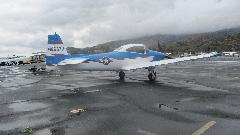 Well, at least I didn't want to skip the cars. About eight up front were from the Central Coast British Car Club, while three MGBs near my MGA were from Southern California MG Cub.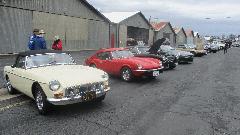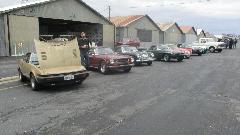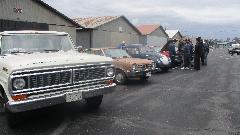 That is a very sweet series one pull handle MGB, very original, and lots of friends to chat with.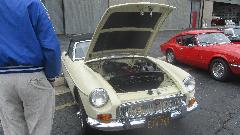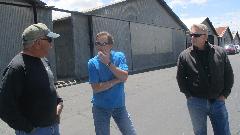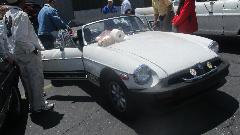 The rubber bumper MGB had a neat surrey top that was getting a good demonstration.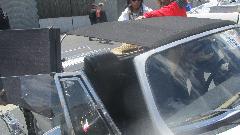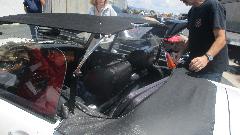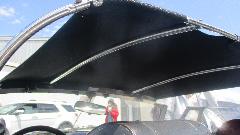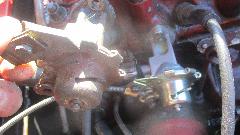 Okay, party over, the guru had to get back to work. Took a couple of stops to find a "friendly" WiFI spot (with a power outlet for the chargers). With a bit of flex time in late afternoon, and nice weather, it was a good opportunity change out the drippy heater valve. Yeah, it's just maintenance. Late night heading north toward San Francisco (again). Maybe I should mention the commute from LA to SF is about 360 miles. We made 180 miles before snooze time at 2-am.

Monday May 8, 2017:
Continuing north, we can take advantage of backtracking some today. This time during business hours we returned to Antique Auto Restoration in Seaside, CA, and what a treat. Rather than a sealed building and empty parking lot there was open house and classic cars all about. Say hello to the proprietor Randy Reed.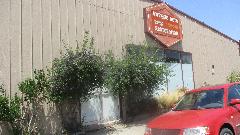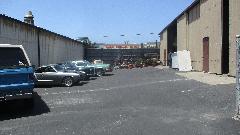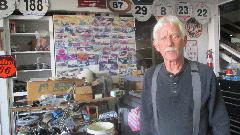 Wanna see small? Park a Mini Moke next to a late 70's Cadillac. VW Karman Ghia, Alfa Romeo, Porsche series one 356 cabriolet.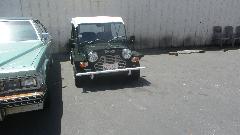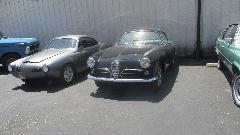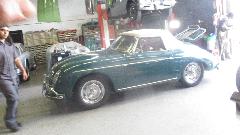 There was some larger American stuff like the '55 Buick, '26 Hudson, '23 Depot woody that runs and drives with the original motor (very slow).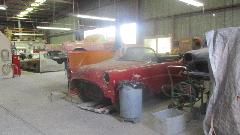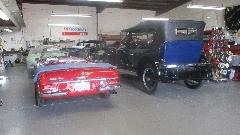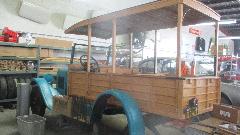 There were a couple of Jaguar (including an E-type not shown), the vintage Rolls Royce cabriolet, and a Maserati 3500 GTI (very rare custom coachwork model).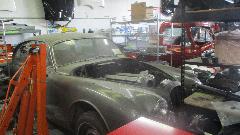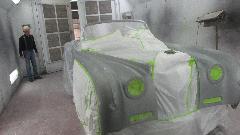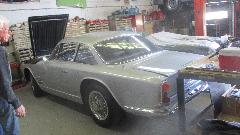 Backtracking another 40 miles we returned to visit Pierce Manifolds in Gilroy, CA. These guys are all about Weber carburetors, like every model ever made, with the sample assortment in the lobby. The vintage tool kit was apparently standard issue when someone got through the training to become an authorized Weber service shop.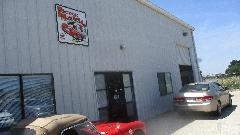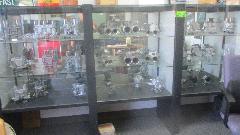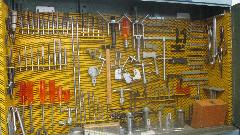 Of course to be useful Weber carburetors need manifolds, and Pierce makes lots of those.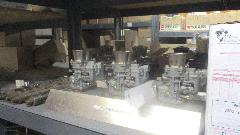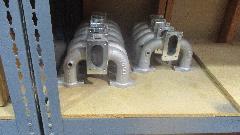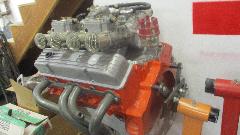 They also make some very nice aluminum cylinder heads. The 5-port heads are for Austin A-series engines (Spridget and Mini), while the 7-port cross flow heads fit the B-series engines (MGA, MGB, Z-Magnette).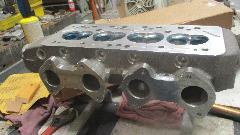 A small section of their inventory, shipping department, and an aqua blaster for gentle cleaning.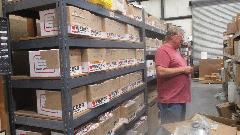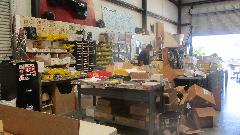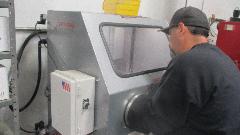 Carburetor rebuilding area, the flow bench, and part of the machine shop.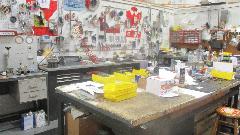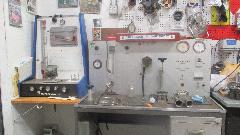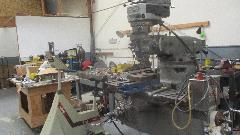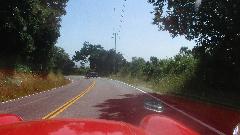 On a personal recommendation we took a shortcut due west through the hills back to the coast. Quite a lot of 2nd gear through the switchbacks and hills. I call it fun. Navigator called it "interesting in its own way", which means he didn't hate it. He may be getting used to the roller coaster rides.

We were here to visit Bill Meade in Watsonville, CA, who has (currently)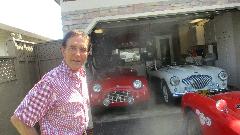 a TR 3 (which he has restored twice) and an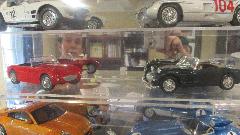 original factory issue Austin Healey 100 M-type. He also has a deep interest in the Austin Healey Sprites. In his model case are two Sprites. The one on the left is a model of Donald Healey's original Sprite prototype with disappearing (pop-up) headlights, and a more aggressive looking forward sloping grill.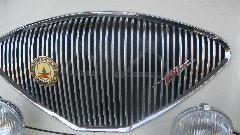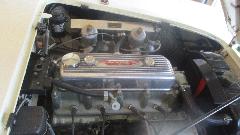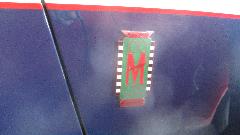 Tuesday May 9, 2017: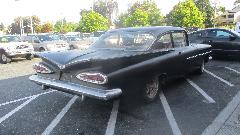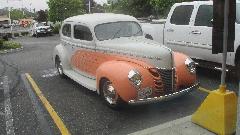 So far no appointments today, so it's time for catch up work with all the photos and notes from the past few days. But that doesn't mean we can't enjoy a little California car culture while we're at it.

Wednesday May 10, 2017: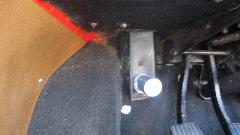 Began the day by calling Moss Motors to report the second failed dipper switch. Will have to return it on the next pass south. Now I will be looking for a good used one, unless someone knows a source for a new one that works.


We hopped over the mountains into the central valley for meeting tonight with Central Valley British Car Club in Modesto, CA. About 25 people present, a very jovial bunch and active club. Got a chance to chat for a while with a late arrival, a young fellow who is quite happy with his late model MGB.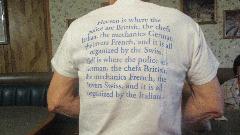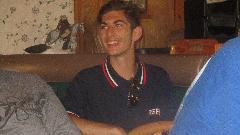 I found at least eight British cars outside (may have missed a few) including the young fellows MGB.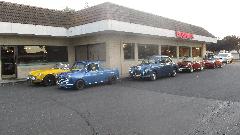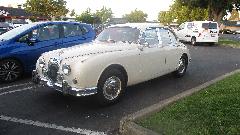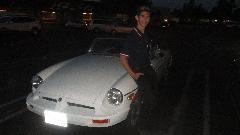 Thursday May 11, 2017:
After a bit of data catch up we were contemplating a two hour run east to Yosemite National Park. Been there before, but there is a shop there named Yosemite Garage on our Shops list. Not sure of the given street address, we called first. Turns out they will do emergency service, but otherwise do not normally work on vintage British cars. So we decided to skip that trip.


With a day now open we made another call, then re-routed about 80 miles north to visit an old friend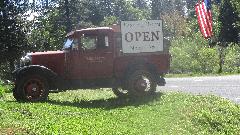 Stuart Mast at Brice Station Winery at 3000-ft altitude in rural Murphys, CA. (Besides, I heard there may be an MG TF in need of a little help). We were here two years earlier end of May, and again early July 2015. Not just wine here, but they also make pottery, and they manufacture pottery clay for sale (lots of it). There is also a blacksmith shop that run runs classes twice a month (just in case you want to make horse shoes or your own car parts). And they will hold a music concert here occasionally. As we arrived Stuart was washing his daily driver MGA.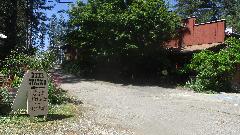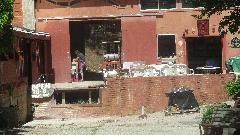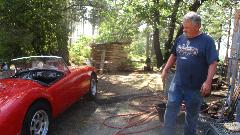 He is also well under way with restoration of another MGA that has been in his possession for many years. And there is a third one under a tarp, maybe should be a parts car, but Stuart has a lot of spare parts lying about, so he intends to put that one back together as well. We took advantage of the shop space to change oil in the gearbox, adjust the front brakes, and fix a wire for the ignition coil and alternator power feed. Also noticed the front license plate bracket had a few too may encounters with parking curbs and was in jeopardy of falling off, so we replaced a couple of bolts and added flat washers to reinforce the holes in the bracket.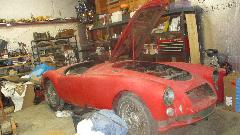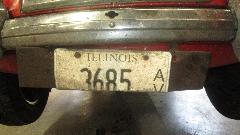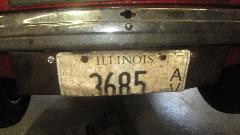 In the evening we had a nice pizza dinner under the trees with friends and family of friends and friends of friends, and it was all a jolly good time. We don't get a break like this very often.

Friday May 12, 2017:
After breakfast we took a cruise down the hill to Angel Camp to see what we could do for an ailing MG TF. This would be Stuart's daughter's car, the one that was in Stuart's shop the last time we were here.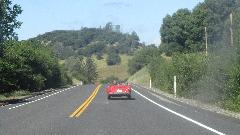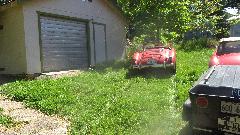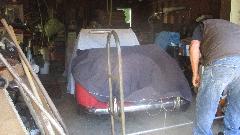 First complaint was losing coolant at an alarming rate. Radiator cap and hoses looked okay, so top it up with coolant and warm up the engine. In a few minutes it was obvious the drain cock on side of the block was leaking around the base (not through the valve). I turned it half a turn with my fingers until it was upside down. The valve had been installed with a rubber O-ring and was likely never tightened. The car had been serviced by a "pro shop" in the big city recently, so we figure there may be not much professional about that place. The magic trailer yielded a new copper seal washer, this one for a brake hose, just a smidge too large but it will work. Push the car outside (before losing fluid), change the valve seal washer as quickly as possible, top it up with coolant, and we took it for a drive.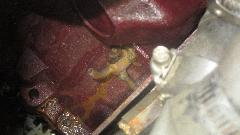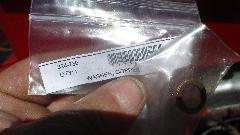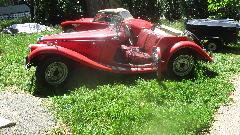 It seemed to be holding the fluid okay, but then it was misfiring badly, but would run not so bad with higher engine speed. It had been sitting a long time, and first guess was stale fuel, so we drained the tank, put in some fresh fuel, and took another test run. Still misfiring badly, the distributor cap and points and rotor all looked good, so next guess was bad condenser. Since restock two weeks earlier, the magic trailer does have a new condenser for the MG T-type (good planning). Pretty difficult to access the side terminal behind the vent pipe, so we pulled the distributor out for service. The new condenser looks a bit larger than the old one, but seems to fit okay.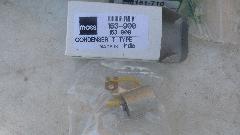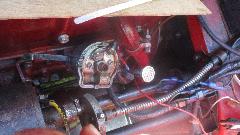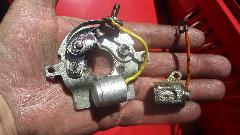 There's Stuart getting the timing reset and the base clamp tight. All back together, and off for another test dive, it runs like a champ. It pulls well up the hills with the 1250 engine, but the engine was running pretty fast at 45-mph in 4th gear. Then Stuart remembered there is a 5th gear, because he installed 5-speed in this car a few years ago, so we were then spinning along nicely at road speed without over-revving (at least on level and down hills). A good feeling when you win; big grins all around.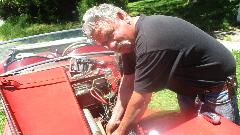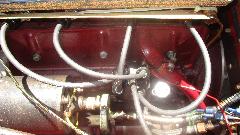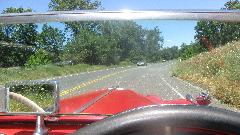 Just as we were leaving in the evening we finally got to meet the mysterious lady who owns that MG TF. Then as we were rolling out of town the MGA has a lot of cough, sputter, pop, and we had a short delay to intall a new condenser. Imagine that, two condensers in one day. For the Mallory Dual Points distributor the condenser is on the outside quite easy to change, then on our way again. Jolly good fun driving down throught the hills and twisties getting out of the mountains. We were a few hours off heading for somewhere north of the Bay.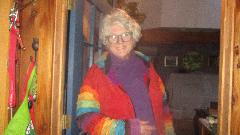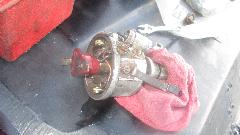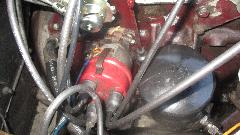 Saturday May 13, 2017:
Off for a driving tour today with North Bay British Car Club in Rohnert Park, CA (well north of the Bay). We arrived 15 minutes early to be surrounded by bank buildings and no British cars. After half an hour running around, finding a WiFi link, and researching available information, we figured out we had been directed to "350 Rohnert Expressway" rather than "350 Rohnert Expressway W" (the missing "W" being an error on the club web site). With more hustling we finally found the intended meeting point, and fortunately the group had not left yet. The Locost 7 in front is actually an MGB in disguise. Hiding behind is a yellow MG Midget, and two green rubber bumper MGB. In the other direction is a TR4, a BGT, and chrome bumper MGB. Daily drivers all, yes!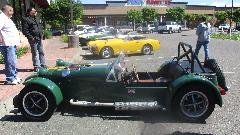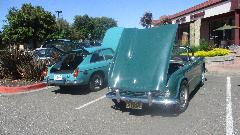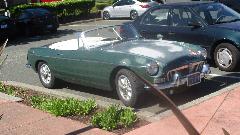 Where we were going we didn't know, and there were no route instructions. In fact they were choosing where to go and what route at time of the drivers meeting. So we just fell in line to follow the leader and enjoy some nice side roads, all paved (sort of), some a little rough (all in good fun), and lots of hills and twisties. I was busy driving, and navigator was busy being negligent, so no pictures. We ultimately arrived for lunch at William Tell House in Tomales, next to Not A Bank (you figure out what it was before rearranging the lettering). We had seven LBC's and eight people for lunch, meaning seven empty seats and all solo warriors. Food was moderately expensive, and service was slow, so maybe they won't go back there again.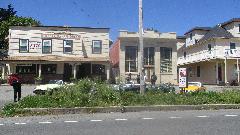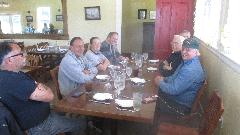 The sole lady in the bunch was our noble rallymaster. There were times when I think she was winging it on the fly, redirecting the route on a whim, but it was a good drive anyway. Slightly smoother roads going generally south in the afternoon, until we ended up in Novato on the north end of the Bay. Then back to work on WiFi.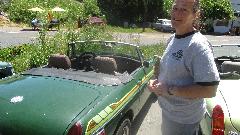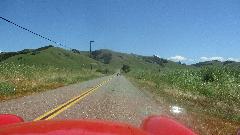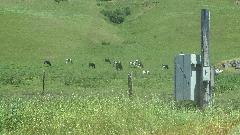 Sunday May 14, 2017:
Easy day today with just one appointment with Richard Rocco in Alameda, CA. He and his son conspired to buy an MGA about a year ago. It is a nice 1959 MGA with a few odd changes. From the body number and chassis numbers it is an early 1959 car with the original 15GB engine and correct high starter gearbox. But it has 1600 type tail lights, turn signal relay box has been removed, and a replacement 1600 type wiring harness. It has 1600 type raised reservoir cover on the master cylinder, but still has drum brakes up front. It has vinyl covered dash panel (with no lower edge trim strip, obviously an aftermarket modification. Another mystery, it has tonneau cover studs on top of the doors, which were supposed to have been deleted somewhat earlier in production. And there is the later style battery cover with the front edge raised flange (handle), even though it still has the earlier original style convertible top frame style. Kind of a bitsa car, but very nicely done, now red but intended to switch back to original black body color. Photo at right below shows another solution to raising the boot lid prop rod for better head clearance, a shaft collar with set screw to block the prop rod up higher. The car didn't need much, just a small carburetor adjustment when the rear carb was running far too lean.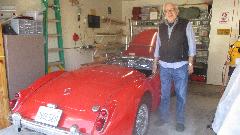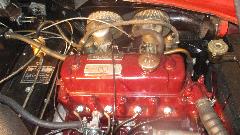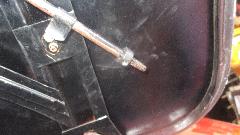 Richard has a novel home built tool comprised of a battery powered WiFi camera with a pair of illumination LEDs on a stick. Coupled with a large video screen on the wall, this device can peer into some confined spaces, here shown checking the engine series number on the side of the engine block, also good for lookinh up behind the dash panel.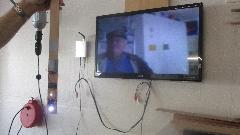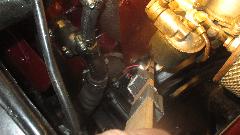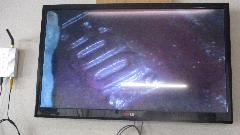 With half the day to spare, after the normal photos and notes I began a brave task of cross linking from the Clubs list to my travel log. The intention is to be able to click on a link in the Clubs list to bring up photos and notes from the visit(s) to that club. Will haveto seehow this goes.

Monday May 15, 2017:
To the casual visitor this looks like a day off, but I spent most of a very long day working on the cross linking from the Clubs list to the travel log photos and notes.