The MGA With An Attitude


MGA Guru Is GOING MOBILE - (May 16 - May 31, 2017)


Tuesday May 16, 2017:
Making excellent progress on the cross linking from the Clubs list to the travel log photos and notes. So I kept it up for another half day and finished the task (2 full days total). This would be a good opportunity for you to check out the Shops list, and let me know if there may be some shop you know about that is not yet on the list. Just those that are pertinent to vintage British cars please.

This evening we had an appointment for a club meeting with Sorry Safari Touring Society in San Leandro, CA,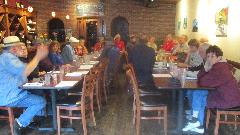 (A Gathering of MG Enthusiasts) with about two dozen people present. They do a lot of what the name implies, touring with their MGs, a couple times per month. It helps that there are lots of interesting roads in the hills east of the city (and all around western California). This time some of the gang knew in advance that we would be there. The rest seemed to be genuinely slack-jawed at the explanation of what we have been up to for the past three years. Some of them had the impression that it was just a long yarn, until a couple of them looked at the MGAguru web site. Cheers, grins, and good wishes all around, and we have an additional shop to add to the Shops list, Foreign Auto Service in Hayward, CA.

Wednesday May 17, 2017:
Now over the mountains to the east to visit Karma Creations in Rancho Cordova, CA (east side of Sacramento). We picked up this business card at a club meeting a week earlier. I recon the best business card is parked out front, the owner's MGB with the custom interior and matching hardtop.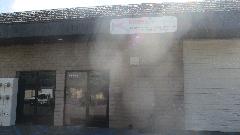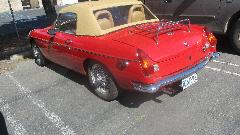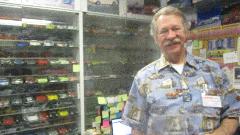 They do Custom Interiors for cars and boats, and from what I can see, lots of seat covers. The Ford hot rod was just a passing curiosity, an example of the work going on next door.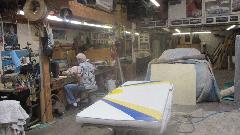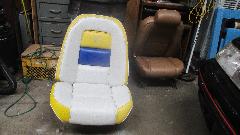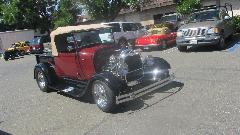 Then we were off to visit Michael Brady in Woodland, CA (west of Sacramento). He has a nice old house that was condemned when he bought it, now restored. He swears he only bought the place for the barn out back where he has a workshop and likes to restore vintage British cars.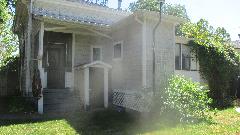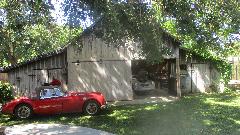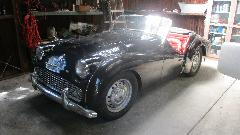 He bought the TR3 when he was looking for an MGA. Then he found the MGA he really wanted, and is now in the final stages of restoration. Easy to spot the luggage rack mounting was upside down, and not long to rearrange that. After some social chat there was dinner, and then more chat until it was late, so we will take this up tomorrow.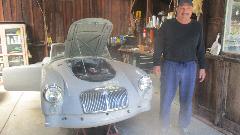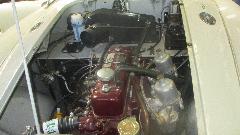 Thursday May 18, 2017:
We were going to do some work on Michael's MGA, but he was unexpectedly off on business for a few hours. We did visit a few parts stores in late afternoon looking for a fuel pump and some alcohol to flush out the brake lines. Then it was dinner time, and then chat time, and then a visit to the barn for an extended discussion about a short list of things still left to do to get his MGA back on the road. Time flies when you're having fun. Good night.

Friday May 19, 2017: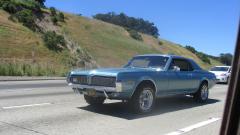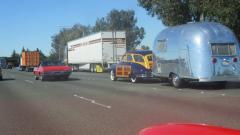 One appointment today, up fairly early and head west back into San Francisco. Two hours to fight our way into town, and another hour to fight our way back out. In spite of the nasty traffic, we find there is some redeeming social value in California.


We did this to visit Foreign Auto Service in Hayward, CA (on a recommendation from the Tuesday club meeting). Say hello to the owner, Dave Pelton. He has been here for years (decades I think), working mostly on vintage British cars. He races the yellow Elva Courier occasionally (not as often as he used to). All kinds of mechanical and electrical repairs done here, usually not body and paint restoration work. However, he did recently disassemble the white MGB, sent it out for body restoration and paint, and is now reassembling it.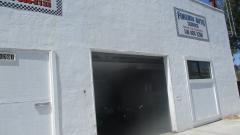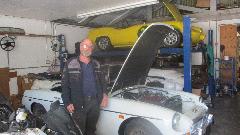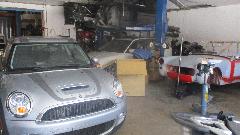 Zowie! Got something done this afternoon. In the Clubs list, updated all of the club affilliations with NAMGAR, NAMGBR, and NEMGTR. Now heading south, and we have to drive at least 300 miles after 9-pm. Go figure.

Saturday May 20, 2017: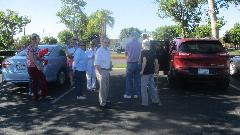 Today's mission was to attend a rally with Long Beach MG Car Club starting in Monrovia, CA. The first photo shows lots of surprised faces as we arrived. It also shows all of the MGs that the club members drove today (none). This was to be a TSD rally (Time, Speed, Distance), and it had a few "issues". The most significant problem was that all "Average Speed" specifications were set to about 90% of the posted speed limits. Then throw in a lot of traffic lights and stop signs in the city, followed by slow traffic on mountain roads, and a thousand bicycles on the narrow 2-lane roads in the hills, and it was of course impossible to maintain anything close to the specified speed and time. We could not even get to the odometer check point in the time allowed.


Then throw in a gimmick that only the home team would know about, a 10-minute "Pause" just before the first checkpoint. If you knew about this in advance, you could arrive there late, calculate the proposed arrival and departure times, and proceed on schedule as you cross the checkpoint. We had no clue, so were regularly exceeding speed limits (whenever possible trying to stay on schedule. At the Pause point we figured we were more than 10 minutes behind schedule, so no pause, and we were still four minutes late at the checkpoint. Some of that was our fault for missing a turn and adding six miles to the route.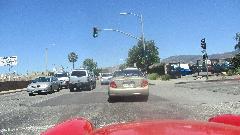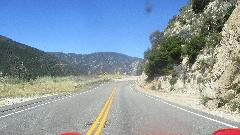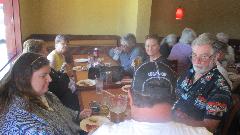 This was followed by a lunch break at a pizza place before the final stop at the Nethercutt Museum in Sylmar, CA. This place is loaded with restored multi-million dollar vintage cars, and vintage clocks and automated music machines and variety of other classic art collections. No flash allowed, so I had to toss a lot of blurred pictures, but plenty left to give you a flavor of the place. We started on the ground floor (the cheap seats)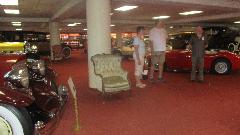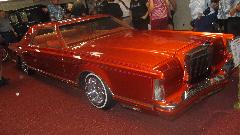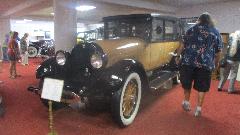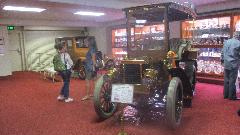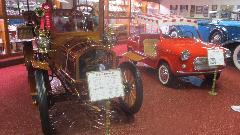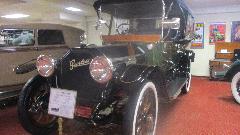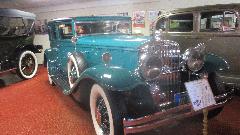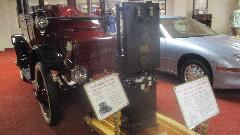 Then we moved upstairs to see the nicer stuff.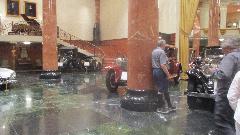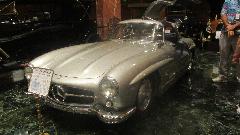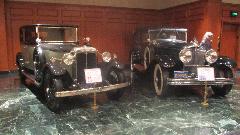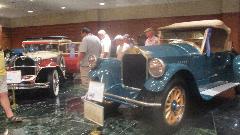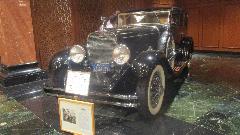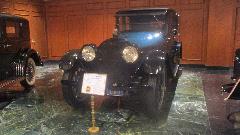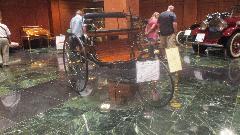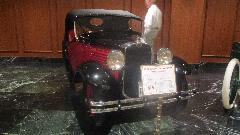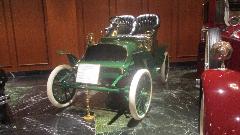 Another flight up to the mezzanine gave us the bird's eye view of the 2nd floor automobile display. Up here we found more collectibles, like vintage furniture, lapidary art (polished rocks and marbles), more than 4000 hood ornaments, and the Spirit Of America ship sculptured from several hundred pounds of silver.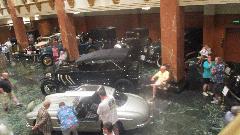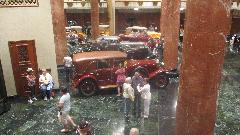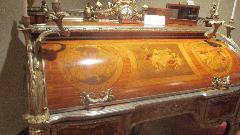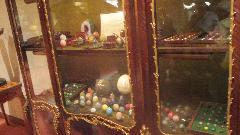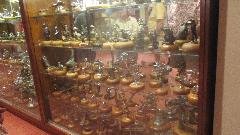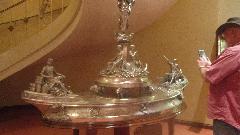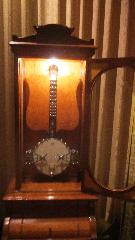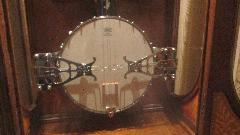 There were music machines all over the place, and everything here works. The first was a self-playing banjo, another a trio of violins. Most of these machines work on air power, pressure or vacuum created by bellows and a small electric motor. There were music boxes, phonographs, nickelodeons, player pianos, and pipe organs. The queen of the machines was the mighty Wurlitzer concert organ that could play a complete orchestra of instruments from the keyboard. This is not an electronic synthesizer, but a completely mechanical device that triggers and plays many instruments and pipe organs embedded in the walls of the studio. The It was originally used in a theater to supply music and sound effects to go with silent movies. It can still be played manually, but is also completely automated so it can record and play back anything that is played from the console.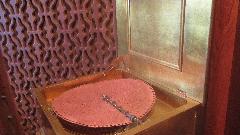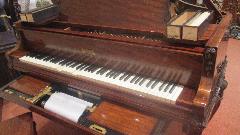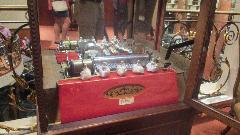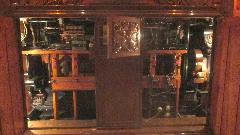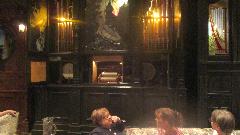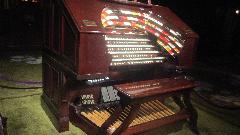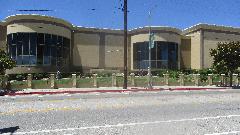 Then we moved on to the "garage" which is a building they built to display all of the left over cars that were not previously deemed necessary to show to the public. We did not get to see the restoration shop.

This is when my camera battery died, but I'm sure there were more than 100 cars here, followed by a restored steam engine and top of the line Pullman car parked out back.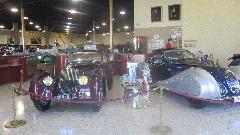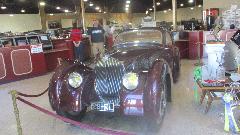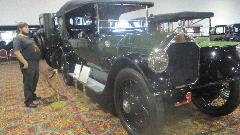 Remember we are not tourists, not normally interested in Museums (without MGs), but this was a car club rally, wasn't it? Play time over, back to work.

Sunday May 21, 2017:
Today we were off to visit the Automobile Driving Museum in El Segundo, CA. Yes, this one does have MGs in it. Would you believe I passed on the offer of a ride in the Ford? Most of the cars inside are driven regularly, and visitors are encouraged to touch and sit in the cars (gently).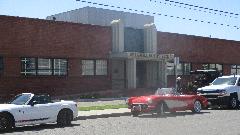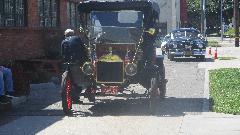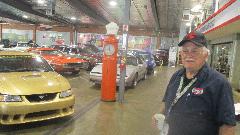 The real reason for being here was to visit Jim Plowden, who happens to be a docent here, and also happens to have his MGA on display here. It was the highest finishing MGA in the 1962 Sebring race. Here I had the chance to crawl around it, scratch, sniff, ask questions and take pictures. Find more information and more pictures of this car in article VT-104H1 in the Variants section of MG Tech.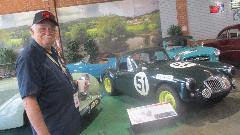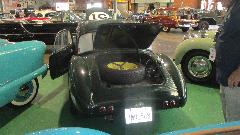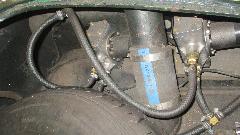 The large poster was for an upcoming British car show to be held at the museum a few weeks hence. The rest of the cars shown below belong to the museum, except possibly a few loaner cars on display.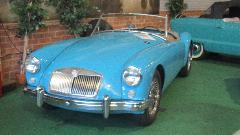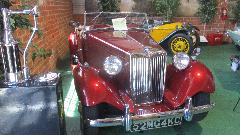 MGA, MG TD, AH 3000, and an Austin Bantam roadster (American built Austin 7) that had just returned from a car show bearing a new ribbon.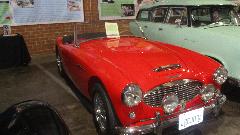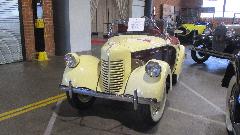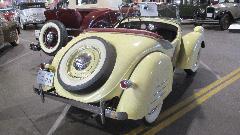 The Nash Metropolitan was also American built, carrying an Austin engine similar to (but not equal to) the MGA. The Benz Patent-Motorwagen is a replica of a very early model, maybe 1886, think 0.6-hp and 10-mph (later improved to 2-hp 15-mph). The Frazer Manhattan convertible (about 1949) was a top of the line model (above the less expensive Kaiser Manhattan).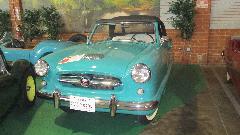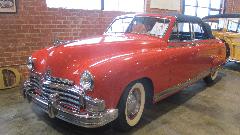 Up front in the glass showroom were some nicely restored vintage cars. The grey one is a Stutz with fabric covered body (for light weight). Close at hand, the V-12 Lincoln.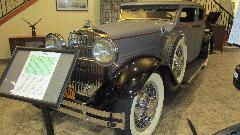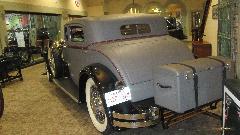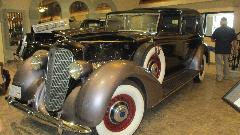 Out back were more buildings containing shops and storage space not usually open to the public. Out front the scenery would change occasionally as some of the museum cars (and a few passing visitors) were out for a drive.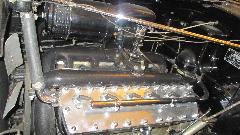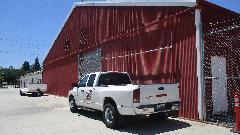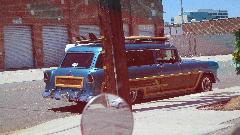 Monday May 22, 2017:
Don't expect too much today. It would be nice to be visiting a club or shop hopping, but we are way behind on documentation, still have to file a monthly report for the Chicago club, and haven't done any future planning yet. Already past mid day before I got caught up with the photos and notes above (much of which was done late night last night). There goes the whole day down the drain (but we do have a quiet place to work (in Camarillo, almost 60 miles west of yesterday's museum visit).


By late night I finished my monthly report for Chicagoland MG Club. Day gone.

Tuesday May 23, 2017:
I really didn't have time for this, but spent some time working on a couple sections of the MGA Twin Cam Service Parts List, Version 3. Someone is scanning the book for me, and thought I'd lend a little guidance to keep the process moving in the right direction.


Lots of review and planning of the Friends list for folks we haven't visited yet in California. Followed by lots of email and a few phone calls to line up some appointments. One incoming email turned up a new club I didn't know about, Temecula British Cars in Temecula, California. One more for the North American clubs list, and another appointment in about 10 days. More time spent shuffling clube events toget to everyone in the next month, and still a few schedule conflicts. It doesn't help that six clubs have their monthly meeting on the first Tuesday each month, so we are trying to find alternate events and different dates to meet these club. There is a nice waaterfalls tour near Redding in northern California, but we will be near San Diego two days before and two days after. The car has unlimited mileage allowance, and it's only five tanks of gas and 20 hours driving time, but then there is another club event same day in the south, so I recon Reading British Car Club will have to wait for another opportunity.

Wednesday May 24, 2017:
Most of the day spent shuffling the California shops list geographically, trying to get them lined up for some efficient routing for visits, on week days during normal business hours. Looks like a buch nearby to visit in the next couple of days.

Thursday May 25, 2017: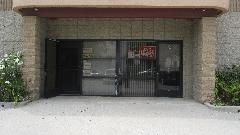 We visited four shops today on the north side of Los Angeles. Just a warm up run, really. There are lots of shops in California. First stop for Erickson Auto in Ventura was a bust, empty store, and the phone number belongs to someone else for at least 10 years. Otherwise, not a clue.


Next up was Wellwood Auto Restoration in Ventura, and we hit the jackpot. Say hello to Dave Wellwood. Plenty of vintage British car work going on here, busy, busy. That's his nice Healey, but the ringer in the background was a Singer (as in Singer Motors).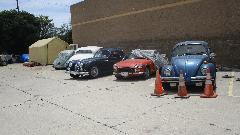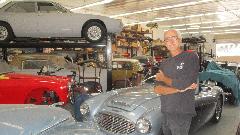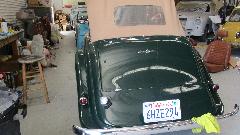 Jaguar, Mini, MGB, a Chevy truck (OHV V8 variety), and Sunbeam Alpine.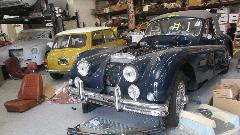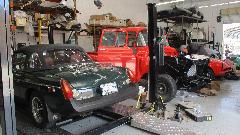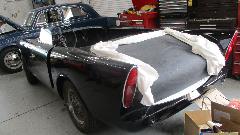 A Sunbeam Tiger, E-type, XK-120, and something else rather obscure that I can't Remember (the thing underneath in primer paint). Of course the beautiful MGA being reassembled near end of restoration work.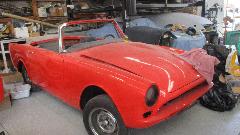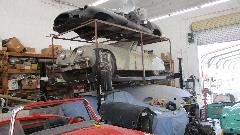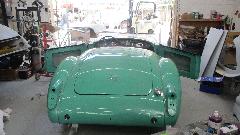 The big blue thing is an Alfa sedan carrying a V-4 engine with dual cams in the sump (and very long pushrods). In the middle, an MG TA being restored, all new wood body buck, all sheet metal fettled, and now being disassembled (again) for painting. In the corner in primer, something obscure thet I cannot remember just one day later.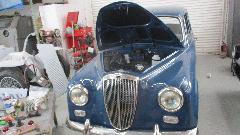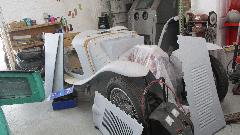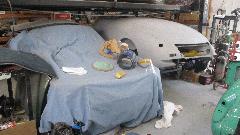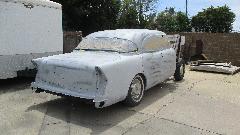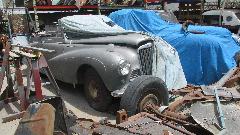 Rare enough, there's also a Sumbeam Talbot 90. Outside there was a 1955 Buick being restored for the original owner, soon to be back to its assigned duty towing an aluminum travel trailer (a lady after me own heart).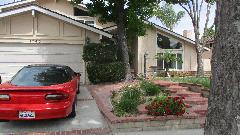 Then a quick stop at Classic Conversions Engineering in Camarillo. Not a workshop per se, but supplying go-fast parts to stuff V8 engines into MGBs. Owner Bill Guzman was out today but mother was home for a chat. Lots of packages arriving stacked on the front stoop.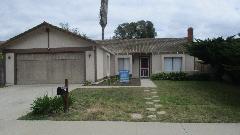 Last stop for the day was JD Motorsports in Camarillo. Turned up what appears to be adn empty house, no one home. There was an answer to a phone call, but the number was owned by someone else for 10 years. But a nce lady thinks the shop is still in business somewhere in Camarillo, so we will look into it later.

Friday May 26, 2017:
More shop hopping today, this time on the east side of LA. First up was British Car Parts Ltd, and British Spares West Ltd,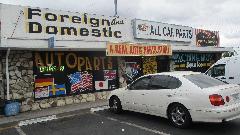 both with the same web address and phone number, supposed to be at the same address in Canoga Park. The business there is "All Car Parts", a CarQuest store, and about ten years earlier was Resida Auto Parts. The phone number still works, currently connecting with All Car Parts. Makes me think the business has changed hands a few times while retaining the same "800" toll free phone number. But in any case, not British parts. Scratch two from the Shops list.


Next up was Chequered Flag Racing in Chatsworth. Bonus! Say hello to Joe Siam. Good shop here for decades. AKA Chequered Flag Auto Repair (on the building), AKA Chequered Flag English Car Repair since 1981 (on his business card). Apparently a specialist in building and servicing Triumph race cars (seen on the linked web site). Plenty of vintage British cars here, lying around all over the place.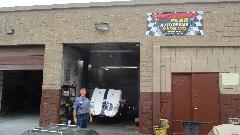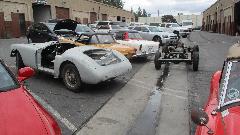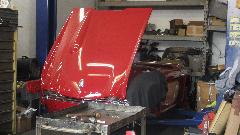 Right inside the front door, the first oddity of the day was a Sabra, an Israeli built race car with an easily identified English Ford engine.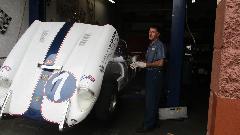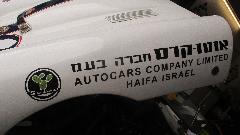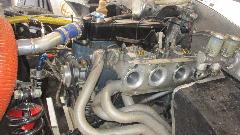 Many projects in the work que, some double stacked to remain indoors. An MGA race car hiding under a cover. Across the parking lot another building (behind the low-rider Chevy) holding more projects in waiting.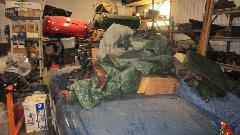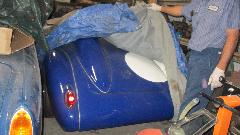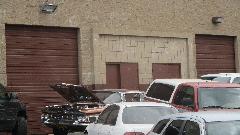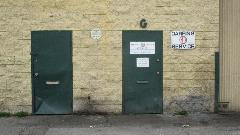 Nearby we found Darrin's MG Service in Chatsworth. The door was locked when we arrived, so we called and left a message. A couple hours later we got a call back from Darrin, verifying that he is still in business, just stepped out for a while to deliver a fully restored car. We also have a friend who currently has an MGA in Darrin's shop. Will have to see if we can get back to this one again later.

This next stop was a mystery. We dropped into visit Auto Specialties in Northridge, and ended up walking into Thompson British Car at the same street address (with a different phone number). Say hello to Ruffel Thompson, who has been working with British cars for decades. That big Healey is his first car, and he still has it, and still likes working on Healeys (although there are other customer cars in his shop).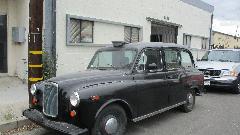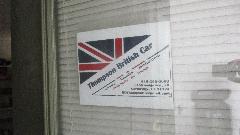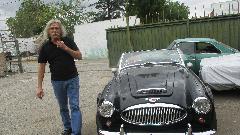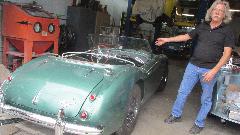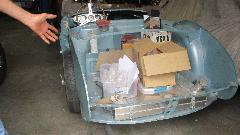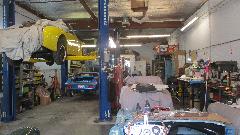 More projects in the wings. The last picture is an all originl survivor car. He is thinking about spraying it with mat finish clear coat to preserve it as-is.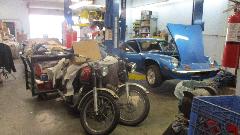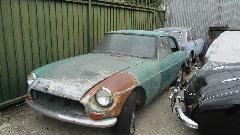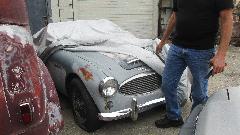 Then we were off to visit West Valley Instrument Specialists, Inc (AKA: West Valley Instruments And Eletronics) in Reseda. Parking problem in front, front door locked, sign says enter in rear. Most people don't realize that they have parking space in back. Plenty of space once you get inside.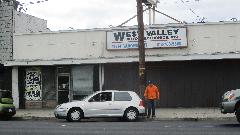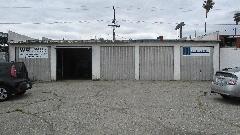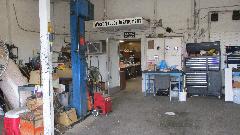 Instruments "R" us. The deal a lot in VDO instruments, but also Smiths and Jeager for our vintage cars. I hear lots of rave reviews for their serveice. Good place to have your dash instruments repaired rebuilt restored.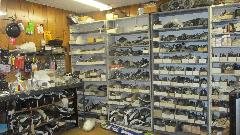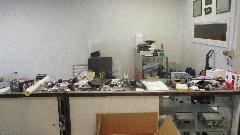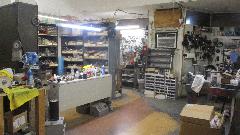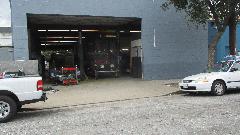 The next stop was a bit of a wild goose chase. It was another listing for Chequered Flag Auto Repair at 310 Vine St, Glendale, CA. Contrary to many internet listings, this is not and never was Chequered Flag Auto Repair. It is the back door to a tire shop and general car repair facility, and apparently never was "Chequered Flag" anything.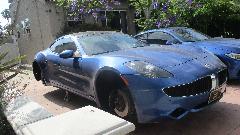 On the way to our evening "Friends" visit we bludered across this Fisker. It is a new electric car that boasts 400 mile driving range. We have no idea why the wheels were off of it.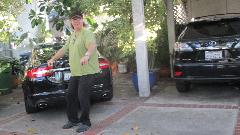 Finally we had an evening appointment with Martin Ross in Los Angeles. Aside from being a wild and crazy guy, and maybe driving anything that is not American made, he has a very original 1959 MGA. The car is currently visiting Darrin's MG Service (noted above). We had a nice deli dinner and extended chat, and now we have another reason to get back to Darrin's shop.

Saturday May 27, 2017:
Today we had a special mission with a visit to Steve Lefaro in Simi Valley. He has a very nice 1968 MGB GT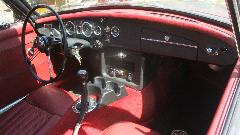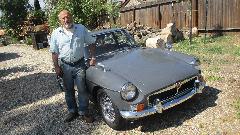 which he built for his wife (no longer with us). It is a bit unique in that it had the original plastic pillow dash cover removed, and an earlier model glove box grafted into the dash panel, while retaining all of the 1968 vintage devices in the dash. He also has a nice MGA 1500 repainted BRG with a wood dash (quite nicely done).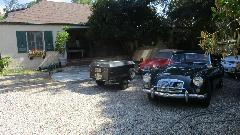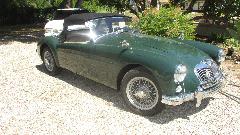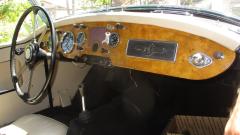 This story began with a Z-Magnette engine in the MGA with no tachometer drive, and Steve wanting to swap in a real MGA engine with the tach drive. So an MGA engine was procured and rebuilt by a professional shop. Unfortunately this engine had three successive failures, each time eating the crankshaft bearings shortly after the rebuild. Two rebuilds at one shop, one rebuild at another shop. I have had the opportunity to chat with both shop owners, both being totally baffled by the situation. The car currently has the Magnette engine back in it to serve as the daily driver. We were here today to disassemble the failed engine to see if we could determine the cause of the repeated bearing failures.


The engine was already mostly disassembled with only the crankshaft still in the block. Measuring the crankshaft, the journals had been re-ground a couple of times, and one rod journal is now chewed another 0.020-in beyond the 0.040 under regrind, so it is now scrap. The wood box on the floor contains a new crankshaft, one of those that had the flywheel bolts mispositioned, but is now reworked to be serviceable.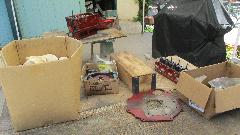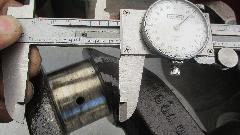 Plugs in both ends of the main oil gallery were removed, and we spent some time poking wires through all of the passages between the oil pump and the main bearings and blowing air through the passages to verify that there were no obstructions in the oil flow path (and also to the cam bearings and cylinder head and rocker shaft). Bearings were inspected to reveal the #2 and #3 con-rod bearings were indeed toast, but also all other bearings in the engine were showing significant wear after only 600 miles travel on this engine. It appears that this is not just an oil feed problem with only the center main bearing, but whatever the problem is it affects all of the bearings, so it was time to look for something more generic near the beginning of the oil flow path.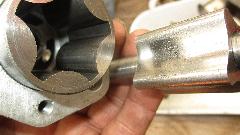 The oil pump was disassembled for inspection, showing some signs of having ingested foreign matter, but still close enough internal clearances to pump oil well, so not the cause of failure. Following the flow path to, through and past the pressure relief valve circuitry, brass plugs were all in the correct locations, and the passages were clear. Then follow the flow across the back of the engine to right rear corner of the block where a special fitting brings oil to the outside where it is piped to the oil filter (by way of the oil cooler if it has one). After the oil filter, back into the main oil gallery and on to the main bearings, where these passages were already verified. Still baffled?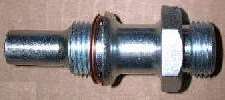 I then asked Steve to get the special fitting that goes in the right rear corner of the engine block, as I wanted to explain how it works. This fitting has a long tubular piece the extends inside the block to accept oil flow from the cross drilling at the back of the block. In doing so it blocks passage of oil from there to the main oil gallery forcing oil to go through an external pipe and through the oil filter before entering the main oil gallery.


This is where we finally found the problem. This special fitting was missing. A different fitting had been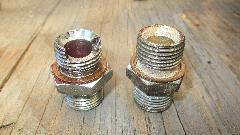 installed here, one normally used as an in-line connector for hydraulic pipes, and commonly used on the MGA oil filter housing to connect a hose for the optional oil cooler. This fitting does not have the extended tube, so it will allow oil to pass from the back of the block directly into the main oil gallery. This results in equal oil pressure on both sides of the oil filter, so no oil will flow through the filter and all oil will bypass the filter, going directly into the main oil gallery. You then have circulating oil that is never filtered. Fitting shown on the right is the hose connector fitting. Fitting shown on the left is the one removed from this engine, having some modification to notch out one side of the output end of the fitting.

When installed in the engine block, this notch is facing the back of the engine, seems to serve no purpose, and we have no idea why it was done. You can see in the photo here where oil can pass the end of the fitting to go from the rear cross drilled port directly into the main oil gallery. Well, maybe the notch in the threaded fitting was there to clear the nose of a tapered pipe plug in the back of the block where there was originally a press fit brass plug (wild guess).


A freshly rebuilt engine commonly has cross-hatched honing in the cylinder bore. Break in period of running results in piston rings polishing the cylinder walls while the cylinder walls polish the rings, resulting in proper bedding it of the rings to the cylinder wall. This process is removing a considerable amount of iron from the cylinder walls and a little more metal from the piston rings. This results in very fine iron powder deposited in the engine oil. In this case, when the oil was not being filtered the iron powder debris was repeatedly passing through the crankshaft bearings with the amount of iron powder increasing with time. Some of the iron powder will get embedded in the soft metal in the bearings, resulting in increasing abrasion of the journals on the crankshaft. The roughed up crankshaft then chews up the soft bearings, ultimately resulting in catastrophic failure of the bearings and the crankshaft.


With cause of the engine failures found, it remains up the parties involved to settle the issue, and how to proceed from here. Meanwhile it was time to pickle the parts for preservation, so smear grease on the cam lobes and on the bearing journals of the new crankshaft, and oil everything else before buttoning up the engine and wrapping it up for storage. There is another engine from a Nash Metropolitan (the green one) that appears to be in good condition. The black cylinder head (not original to the Met) has larger valves perfectly suited for use on the MGA engine, but the engine block still does not have mechanical tach drive. For what Steve paid for this engine, he figures it was worth it just to get the cylinder head and crankshaft.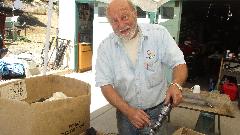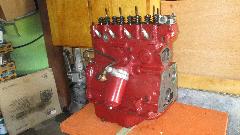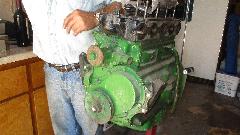 With a few hours of daylight left, we had time for another run north, two hours in holiday weekend slow and go traffic,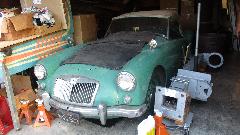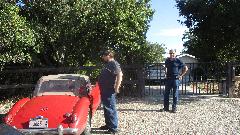 arriving 5:30 pm to visit Alan and Nancy Corlin in Santa Ynez. They live on top of a mountain, nice climb up the hills with the MG and trailer, cross a cattle guard, avoid the cows on the roadside, and muscle it up the 2nd gear hill to the gate (which is there to keep the cows out). Alan has an MGA 1500 which he likes to drive occasinally (after spending a little time to get it running again). Just a social visit this time, lots of chat and dinner out with a couple more friends.

Sunday May 28, 2017:
No appointments for a couple more days on the holiday weekend, so we took a short side trip to check out Solvang, CA, where the NAMGAR GT will be held in a few weeks. We landed at a WiFi spot next to a hotel in Buellton, CA. After a couple hours we were about to leave when we had a walk-in. Yes, that's our MGA out there. The fellow took a picture of the car and sent it to a friend who had an MGA. The friend asked, "Is his name Barney"? Yes. Uh, he wants to talk to you. So we followed this fellow a short distance to his home in the hills, and the friend shortly showed up with his MGA. While our computers were recharging we had time for lunch and chat about MGs (among other things). Nice way to spend a couple hours on a holiday weekend.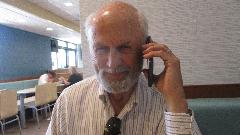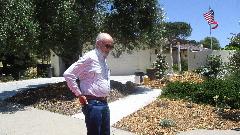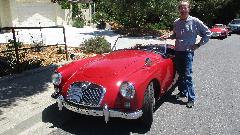 Tough finding a publicly available electrical outlet along with a WiFi link along the western seaboard. Apparently high population areas don't like loiterers. Having been roaming around western California for five weeks now, we have identified a few favorite spots, so heading back down to Camarillo to spend our money where we feel welcome.

Monday May 29, 2017:
After morning email and BBS, spent the rest of a long day converting the Chicago club newsletter to web pages (and not finished yet). Registered for the NAMGAR GT a month ago. Just booked a motel for that event. See you all in Solvang in a few weeks.

Tuesday May 30, 2017:
Busy, busy, feet stuck in the sand. Finished converting and uploading the CMGC newsletter, and now too late in the day to go shop hopping. So now working on putting together the MGA Twin Cam Service Parts List (ver-3).

Wednesday May 31, 2017:
Now we have time for shop hoping, and the first hop is back to Darrin's MG Service in Chatsworth, CA, and he's here this time. Vintage MGs come a and go quickly here as the place is very busy with a long waiting list.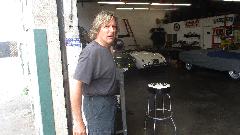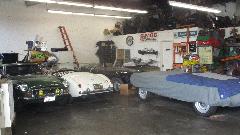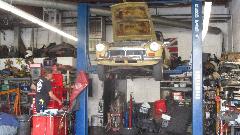 The cherry on the icing this time is a Ford Prefect 1.17-litre side valve, 31-HP with a sun roof, Model E493A, about 1949-1953 era. It's just cute.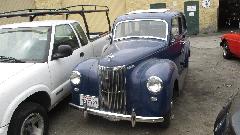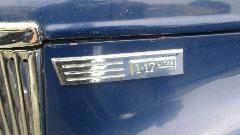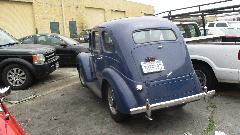 Then we were back to Northridge for a second try at Mark Bentow at Auto Specialties in Northridge, CA..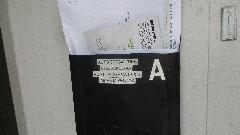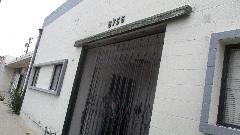 Not here again, but at least we verified that this is the correct place, sharing a front stoop with Thompson British Car. Got a couple pictures, made a call, left a voice message. An hour later got a call back from Mark verifying he is indeed still in business, just has a habit of running errands in the morning. We may take another shot at meeting the guy.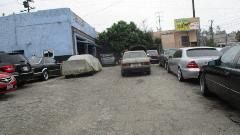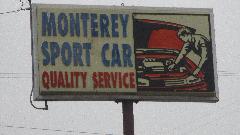 Next up was Monterey Sports Cars in Los Angeles, CA.. There was a Rolls Royce in the back row, otherwise thin pickings. They do work on vintage British cars occasionally, just don't see them very often any more.


Then a visit to Central Plating Service Inc in El Monte, CA. A few rave reviews about quality of work here, but the place was locked up, three phone numbers all out of service, and website not found. I recon they're permanently gone.


We took a shot at Zack's Foreign Car Service in Rosemead, struck out on the first try, now a Mercedes Benz shop. But a phone call worked, and we got a new address, so shuffle off to Montrose, CA instead. Now working on mostly modern cars, but the owner is an older fellow who does work on vintage British cars. Currently there is an MGB GT on the rack getting some restoration work.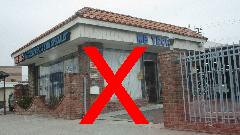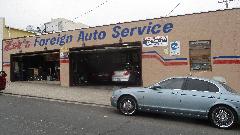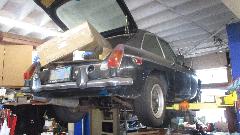 Then we took a jaunt so see Jim Rickman Motors in Pasadena, CA. Sign in front said, "Enter In Rear". Meet Keith Dickson, the current owner. Nice guy, nice shop, but he is closing the shop in a couple weeks (mid June 2017). He intends to resume business in his home shop soon, but call to check first. 626-644-0137 (c).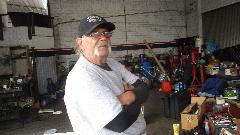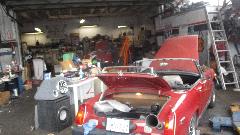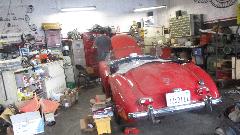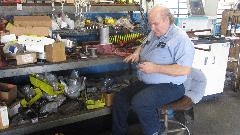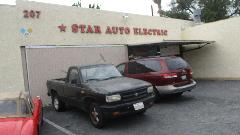 Next up was Star Auto Electric Co in Monrovia, CA. That's Mike Martinez, the owner, hard at work rebuilding starters, generators, voltage regulators, alternators, wiper motors for British cars (since 1976).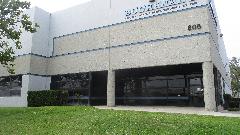 Then we found our way to Buchanan's Spoke & Rim, Inc in Azusa, CA. Such a marvelous place. They manufacture spokes for wire wheels, for pretty much all vintage cars in the entire world. They manufacture wheel rims for motorcycle wheels, and the assemble motorcycle wheels. They do not manufacture rims or wheel assemblies for cars (spokes yes, wheels no). They can rebuild car wheels when needed, but it is expensive. Perhaps you can figure out what these machines do.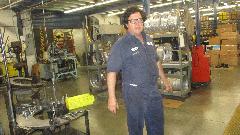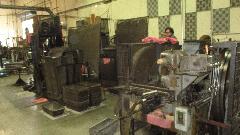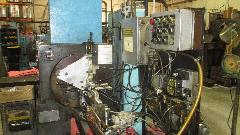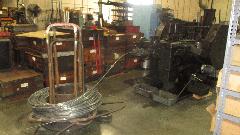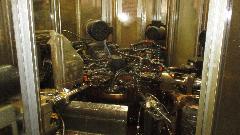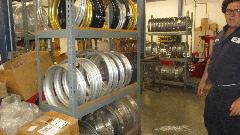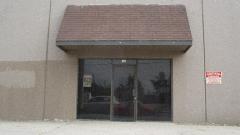 Last stop for the day was Volvo-Scandinavian Automotive in Azusa, CA. Bust. Closed shop, empty building, disconnected phone number. No other information. Scratch this one off the Shops list.

Out of time, 5-pm, shops would be closed for the day, so we found a WiFI spot for late lunch and some real work to bring you these photos and notes.