The MGA With An Attitude
WORKS COMPETITION CARS - VT-104H1
1962 Sebring Car #51 - GHD2 106075
Car #51 is currently (in 2006) owned by John Kelly and will appear at NAMGAR GT 27 in Charlottesville, VA in July 2006. John says he raced the car until it broke a ring and has been parked ever since. The car is in exactly the same state since the 1980 photo above. It also appears in the survivors series book, and that photo was taken just after he purchased the car from a friend. He mentioned that he may restore the car for sale.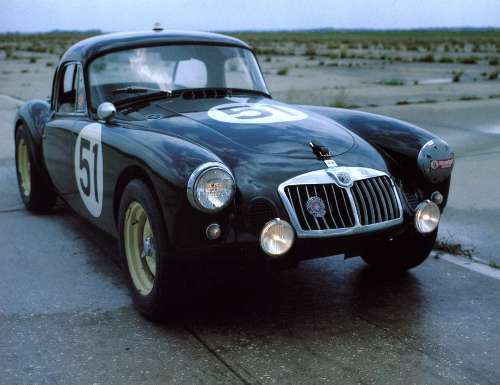 Photo from a "Survivor Series" book called Postwar MG & Morgan

Addendum February 2012:
From an old message on the mgatwincam group, on Monday, September 27, 1999, Frank Graham <!-frankgraham ar msn.com-> wrote:


"I believe it is GHD2 106075, and at the time of the AutoWeek photo, the car was owned by Emery Jaas. He didn't know that it was a Sebring car when he bought it and proceeded to discard a lot of items, including the Microcell racing seats as he rebuilt it for racing. The original works engine was already long gone. '61 and '62 cars ran 1600 pushrod engines not twin cams. The '62 cars are particularly curious since they have MK-II chassis numbers but had 1600 engines. Emery originally painted it yellow, but later, when he discovered what it was, he repainted it BRG (although the color used is much too dark). He sold the car in the mid 80's to John Kelly who still has it. Emery once told me in a phone conversation that he really didn't know what number his car had been in the race but picked #51 since that was the highest placed car".

Addendum September 2013:
On 9/6/2013, Jim Plowden <!-jimp_99 at yahoo.com - 310-391-3999-> in Los Angeles, California, USA wrote:
"I have purchased the 1962 MGA Sebring Coupe #51 which you wrote about in your article. While I have a good deal of experience with this car, I am lacking a lot detail on restoration of the car. I am hoping that you might be able to put me in contact with the owners of #52 and #53.

Addendum September 2015:
On 9/20/2015, Robert Busch <!-amazonbusch at hotmail.com-> IN Gainesville, Florida wrote:
"I bought the #51 Sebring MGA after the 1962 Sebring race. I raced it in SCCA races, but with the fiberglass fenders was in F-Modified class. I installed metal fenders and was allowed to race in F-Production, which I did, until it broke a crankshaft during a race at Osceola, Florida. Having a new family and little money I sold the car, I don't remember to whom. I did include an extra set of wheels and Dunlop tires. I am so happy to see it restored and running, next best thing to owning it. Enjoy it, I sure did". -- Bob Busch.

On 9/21/2015, Jim Plowden <!-jimp_99 at yahoo.com- 310-291-4756> wrote:
"I have a 35+ year history with the car, and it was always a mystery as to what happened to the three Sebring cars immediately after the race. I was told all three were sold to a used sports car dealer on SW 8th Street in Miami following the race. Emery Vass said he bought the MGA in 1968, from John/Jack Howard. Emery is still alive (94) and has given me a lot of history on the car as well as John Kelly who I have known since he bought the car. Jim Parkinson, who was one of the Sebring drivers, lives about 100 miles from me and we have talked numerous times, but he knew nothing about the cars after the race".

Addendum, May 21, 2017:
Today I got to visit Jim Plowden at the American Driving Museum in El Segundo, California (USA) where he is regularly a Docent, and where his Sebring race car was on display. It was the highest finishing MGA in the 1962 Sebring race. Here I had the chance to crawl around it, scratch, sniff, ask questions and take pictures.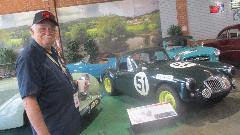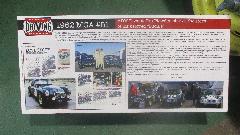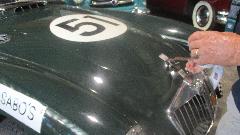 The air scoop in front of the windscreen is a vent directly into the cockpit. The double-elbow hose fitting on the back end of the engine is to pass coolant from block to head, as there was no head gasket and no coolant passages between block and head.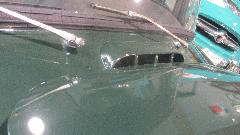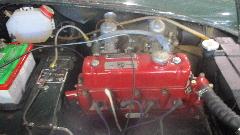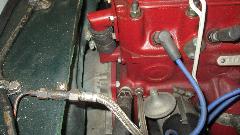 This is an upgrade replica 1600 engine, as the original engine is long since gone. The SU H6 carburetors are period correct for this car, although the intake manifold is a later model substitute.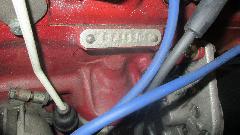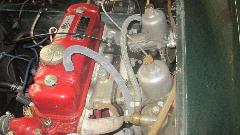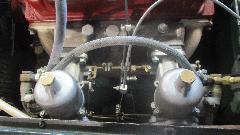 Proudly showing off the original cell core radiator, front mounted battery, and modern coolant recovery bottle.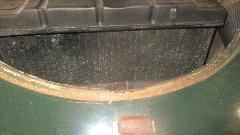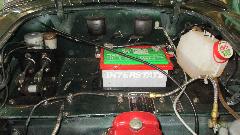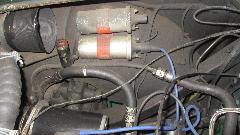 On the bonnet latch brace there are screw post barrier strip connectors to do away with the sometimes troublesome snap connectors. Interior with special dashboard with large tachometer but no speedometer.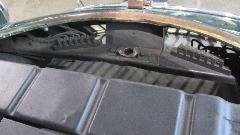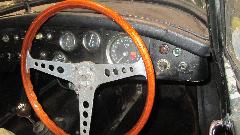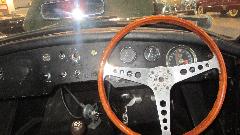 In the boot some adaptations for oversize fuel tank, spare tire mounting, and dual fuel pumps (for redundant reliability not flow volume).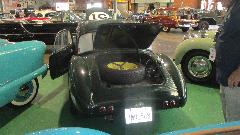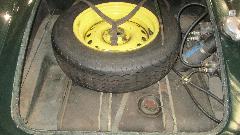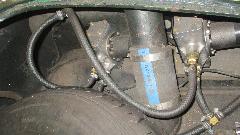 From historical photos, it seems the rear quarter windows have almost always been hazed over in translucent white (most likely just fading of the original Perspex plastic panels). Interior is sporting the racing seats, and a small diameter roll bar that was all the rage back in the day, but only passes modern certification because it is grandfathered into prior historical approval.