The MGA With An Attitude


MGA Guru Is GOING MOBILE - (June 1 - June 15, 2017)


Thursday June 1, 2017:
Of to an earlier start, first stop this morning was to visit Frank Monise Motors in Montclair, CA. Say hello to Frank. Just inside the front door was the chassis frame form a real Lotus 7, which is almost mind boggling in the simplicity and light weight of the assembly.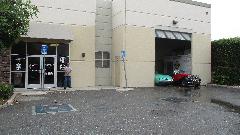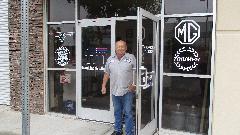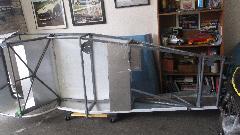 In the shop space it dawned on me that we should not rush this visit, as there was maybe more here than first meets the eye. I believe I counted 22 cars here in process. A few of them were to be placed outside to free up work space, as soon as the morning dribble stopped. The headlight covers on the race car totally transformed the appearance of the car. Yes, that is an MGB with very few body mods. MG TD, MGA, MGB, and an Austin Healey 3000. Turn around to find two more MGB and a AH Sprite hiding back in the corner.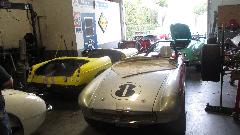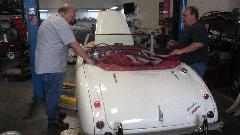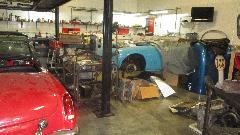 On the left side a Fiat 600, Morris Minor 1000, MG Midget, MGB-GT, a Rolls Royce and an MGA Coupe in back. On the lift the bright green thing is a Lotus 11 tribute car (with a AH Sprite chassis underneath). on and under the shelving racks, another Morris Minor, a Swift Formula Ford race car, perhaps a Jensen Healey and a Morgan (guess). Underneath an MG Z-Magnette that was on original factory rally car, now looking for restoration, and a few more treasures I wasn't going to climb to view. They all have stories.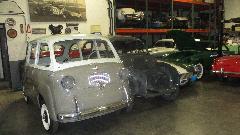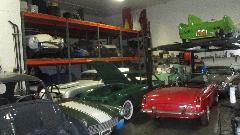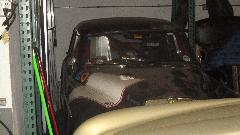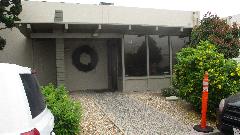 We tried a visit to Britalia Import Auto in Fullerton, CA, found the business gone for at least two years (according to current tenant), phone number disconnected. No follow up information available with internet search, so we presume this one is just gone.


Then we were off to visit British Auto Electric in Anaheim, CA. (Notice "Pop's Garage" sign on the garage door). Say hello to Jerry Felper. He owns a very nicely restored MG Y-type saloon and an MG TC (American spec with bumpers and turn signals).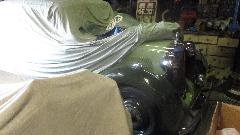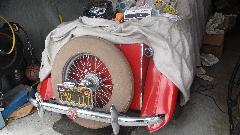 Jerry is doing electrical repairs on generators, starters, and control boxes. The generator in silver paint was supposedly restored by someone else but didn't work, ultimately revealed to have a failed armature. Below right is a magneto from a vintage Rolls Royce, works mechanically but no spark, next interesting project.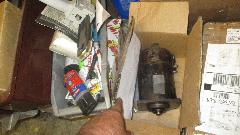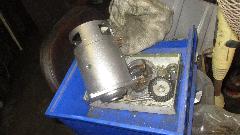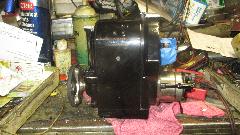 There are a few interesting cars out back. One is an MG TD with MGA front suspension grafted on, including the MGA front frame section welded to the TD chassis rails. Also the MGA rear axle bolted up. This stuff is sometimes done to get wire wheels onto the TD, but this one seems to have a racing history.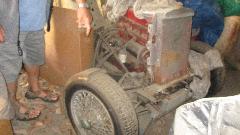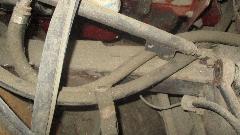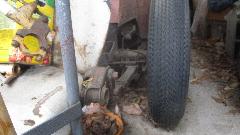 Jerry was instrumental in reproducing the terminal cover for a TC generator (left), and control box cover (center) and fuse block cover (right). The molding die for the control box disappeared with the molding company moved or closed so there may be no more of those.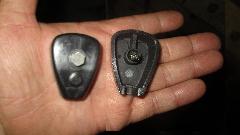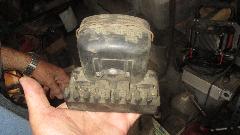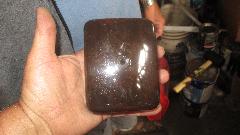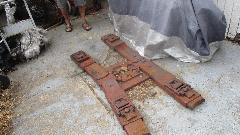 The vintage single post lift along side of the garage up front jogged my memory to remember we were here two years earlier for a tech session with Vintage MG Club of Southern California where they had the T-type cars on the lift for inspection.
Then we had an appointment at Romance With Rust in Orange, CA. The address said "Unit I", which turned out to be I, J, K, and also unit L on the waiting loiginal ist whenever it may become available. That is, this business is growing. We quickly found an E-type being restored. And what was that thing in primer in the back?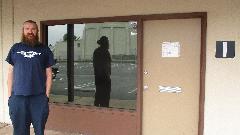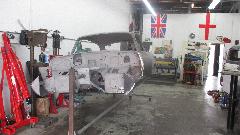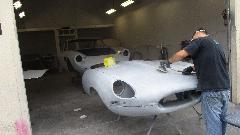 Sometimes hard to recognize cars in the nude, but it's a Ferrari. And the 1957 Cadillac trying to hide under the dist cover. And a Rover and Range Rover in for restoration.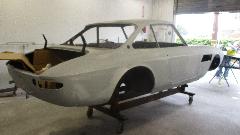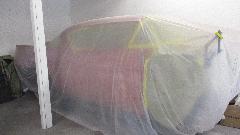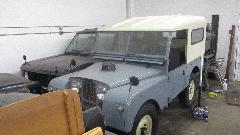 Out back we found this Thames 7 CWT Van (an adaptation of an Anglia). Just for kicks, there was the early Rambler American (1958-1960 era). It really has pink wheels and bright pink roof, but bright sun and poor camera washed out the color. It was restored for a lady who was the original owner. Then there was the big English Ford station wagon, unusual because there normally were none available in England at the time. These were built (modified) from a standard sedan by a custom coach builder, and several thousand were made, but only about 160 are known to survive today.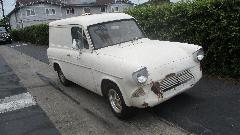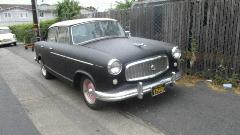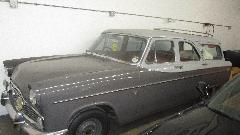 It finally dawned on me that this bloke seems to have a bit of a fetish for English Fords, Console and Cortina. The Burton engine with Weber carbs (140-HP) is a custom build. The Cortina with Lotus twin cam engine and Weber carbs was a standard model, fairly large number of them built, but only about 160 came to the USA. That was weird, because a fellow college student bought one new in 1969 (as the more economical replacement for an American Motors AMX). I never had that kind of money.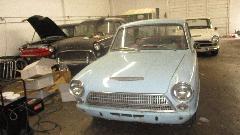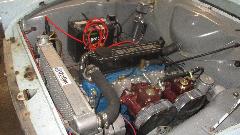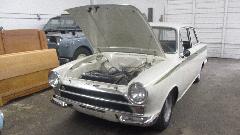 The last one escapes me for the moment, but is a fairly rare adaptation of a large English Ford with a six cylinder engine. The grille badge says "Ford Product". I think the Weber carbs were a competition modification.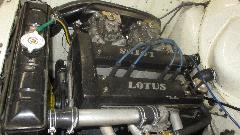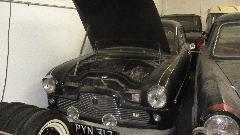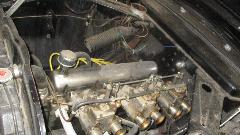 The next "intended" stop was for a company named "Novus/5" in Santa Anna, CA. This turned out to be long gone (sort of), but we got the full scoop from the son of the (now deceased) owner. The business began in 1968 as "Five Points Classic Auto Shocks" when a prior fellow who was rebuilding lever shicks passed on and the inventory from his business was purchased from the widow to start this new business (still rebuilding lever shocks). Then the father registered a new business name "Novus/5" to merchandise some new products, like 5-speed gearbox for MGB, luggage rack for MG TD, and more accessory type parts. When the father passed on the Novus/5 business was closed, but Five Points soldiers on to this day with the son still rebuilding lever shocks.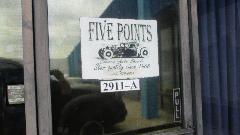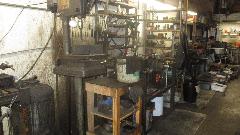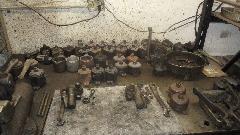 Much of the work is done for larger American cars, but occasionally some vintage British shocks pass this way. There is a large inventory of good used core parts on hand, in case you may need the replacement shocks before you take your car out of service. Call to discuss your needs and pricing.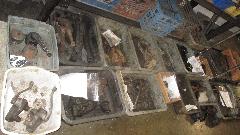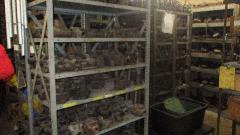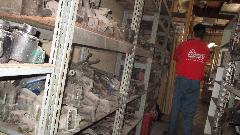 Then we were off to find Restoration Parts Manufacturing (RPM) in Irvine, CA. At first we thought it was a bust with some other business occupying the premises, but a phone call produced a live number and eventually a call back and a frendly voice. The business was growing and had moved to larger facilities several years earlier. Not too far away still in Irvine, we were soon chatting with Steve Kirby. Logo on the front door lists "Kirby & Company,Inc", but they still answer to "RPM", and the company still has the RPM web site. The company is a large scale manufacturer of aftermarket auto parts. They also manufacture restoration parts for vintage cars. They do not sell directly to the public, so you can't call them to order parts for your car. But when you order parts from one of the major vintage parts retailers, you will often be receiving parts that were manufactured by RPM.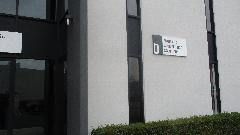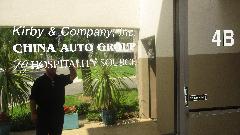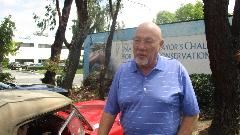 Another stop today was a visit to Ol Phartz Partz in Laguna Hills, CA. Say hello to Steve Christiansen and his father who keep this place humming. There is a specialty in retrofit disc brakes for MG Midget, AH Sprite, Morris Minor, MGA, MGB, and more vintage British cars. They also do restoration work, so it is a double sided enterprise. They like to make things go fast and stop fast.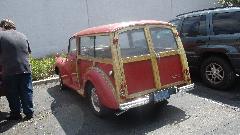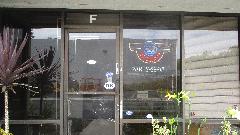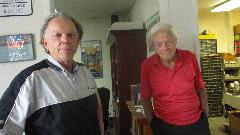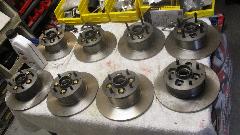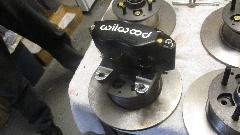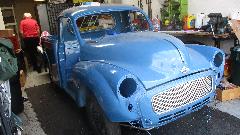 Something like 7 or 8 stops today, actually finished at a reasonable time, so had enough time left to post the photos and notes the same day (rather unusual). But that ran late, so have to get back to email in the morning.

Friday June 2, 2017:
This was supposed to be an easy day, but sometimes things don't work out as planned. We pushed off one or two shops to a later date so we could make our next appointment by mid day. We were sitting in Lake Forest, CA, in mid morning, made a phone call, then pointed it east to take the scenic route through the mountains to Temecula. Three quarters of the way through the 30 mile pass, hauling the trailer up the hills in 3rd gear while negotiating the twisties, the car thought it was a good time to overheat. Does a temperature reading of 82-psi sound familiar? You can do that with 7-psi pressure and 50/50 antifreeze mix. Not much coolant left, and we had to wait a little while for it to cool down enough to trickle water into it (good thing we carry water in the trailer). In 20 minutes or so we were on our way again with best wishes.


About eight miles later as we were pulling out of the pass onto a main highway, it was too hot again, so we stopped to pick up some water for another refill. No way it should lose the water that quickly when it wasn't working too hard coming down the hills. Not far from our destination, and running late, we figured to run it home and worry about fixing it when we got there. Taking it easier then, two miles short of destination it was hot again, so we hauled into a parking lot for a better look.


Definitely losing water somewhere, actually running out on the ground after we stopped. Fill it to the top, apply the radiator pressure tester, and the lower radiator hose was gushing out the side midway. This was the same failure mode as a top hose we replaced less than a year earlier. By this time we were short on water, so decided to catch the drain water when replacing the lower hose (for which I happen to have a spare in the magic trailer). Not long to replace the hose, top it up with water, do a pressure test and be on our way again.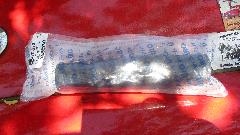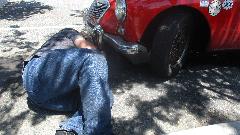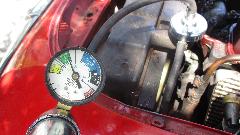 I decided to do a quick autopsy on the failed radiator hose. Very disappointing with extremely little thread reinforcement in the soft rubber. Having cut it open I found a series of holes in the rubber that looked like sewing machine pricks with just a few threads in each hole. As I pulled bits of the rubber off with my fingers the threads would break rather than pull out of the rubber. No wonder these hoses have been failing in the odd manner, they just split the rubber in between the sparsely spaced threads. I will definitely look for better hoses.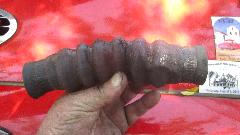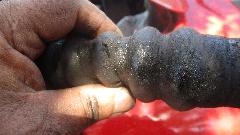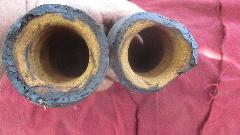 Having flat missed our mid day appointment, we decided to pick up a gallon of antifreeze before heading to our destination. Then on to visit Jim and Jenny Nelson in Temecula, CA. Later in the evening we had time for a bit of maintenance,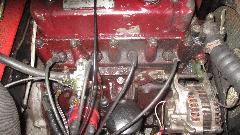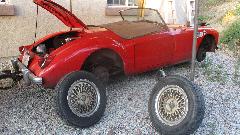 rotate the car tires front to back, turn tie rods in one turn each side to compensate for some odd tire wear, drain the water to install antifreeze in the cooling system, and retard ignition timing just a bit before it got too dark (because it has been hard to crank over when cold since we had the distributor out to change the condenser).

Saturday June 3, 2017:
First Saturday of the month get together with Temecula Valley Motoring Enthusiasts, more like cars and coffee for all car enthusiasts. But this is where the new Facebook group Temecula British Cars chooses to meet each month. Then after a couple hours morning car display they take a Brit car group drive together somewhere. I was busy snapping pictures of at least eight British cars mixed in with more than 100 other cars. MGA, Austin Cooper S, three MGB, TR3, MG Midget, Bentley, and a Jaguar E-type. I didn't realize at the time all of these cars were going to accompany us on a mountain cruise a couple hours later.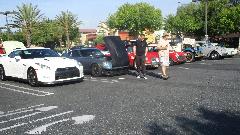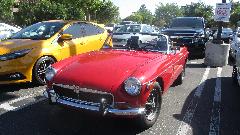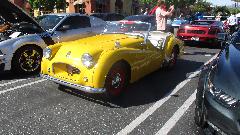 I didn't realize at the time all of these cars were going to accompany us on a mountain cruise a couple hours later.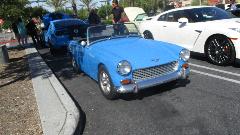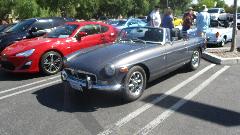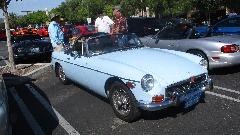 There was also a Noble supercar present, leaving early to be replaced by a McLaren (neither to be on the tour).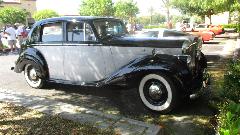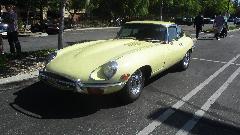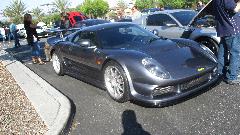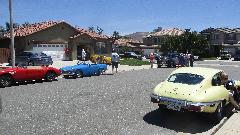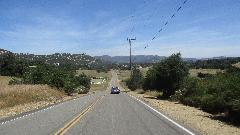 Being a fairly hot day they kept the cruise moderately short, ending up at one of the member's homes (Mike and Jan) for a social and lunch.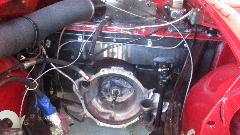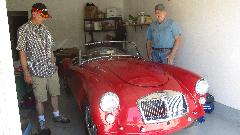 Still in the neighborhood we stopped briefly to see Stan Fischer's MGA nearing completion of restoration, still lacking the engine and some trim parts. We would be doing some work on this one in day or two.
Then we dropped by an auto parts store to pick up an oil filter and a spare electric fuel pump and some heater hose, then followed the Cooper S home to take advantage of a lift to do an oil change and lube job on our MGA (old hat by now and didn't take long).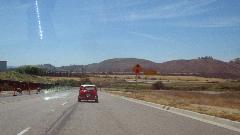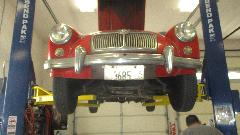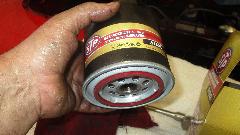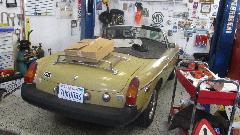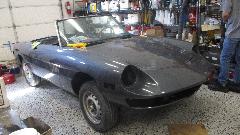 While there we met a couple of stable mates for the Cooper, a late model MGB getting engine work, and an Alfa Romeo being restored. In another garage would be the Mini and a Spitfire and an E-type.
Then it was time to do some work on Stan Fischer's MGA engine, beginning with installing a rubber seal on the back end of the crankshaft of (one of the MGA guru's design). Minor machine work was already done with a thin slip ring added to the crankshaft flange, and the engine rear plate and 4-inch shaft seal slightly modified. The paper gasket was dry and had shrunk a bit, for which the quick cure is just get it wet briefly to re-expand it back to original size for perfect fit.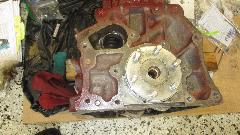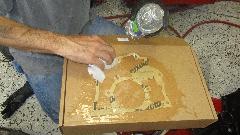 Slip the narrow cork main bearing cap seal in place with a touch of blue stuff to hold it there, then install the rear plate with bolts, and torque it up. Three bolts closest to the new seal are installed without lockwashers (to be flush), and are secured with thread adhesive. Then we cut a narrow band of card stock and wrapped it around and secured it inside of the center bore of the rear place to serve as a fence for the next step. Finally fill the three counter-bores with blue stuff and squeegee it flush. This was slow curing so will need to sit over night.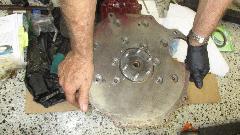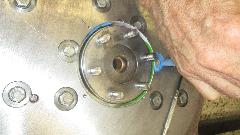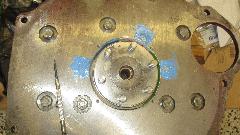 Sunday June 4, 2017:
Began the day by installing the crankshaft rear seal. Use an Exacto knife to separate the card stock retaining wall from the RTV, and apply a small amount of sealant on the flange mating surface. Oil the seal lip, then hold seal in place, shift to one side to position the seal lip below edge of the slip ring, then orbit the seal to deflect the seal lip while wrapping it around the slip ring. Press seal down into the blue stuff sealant, and install four button head screws to complete the seal installation.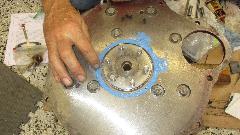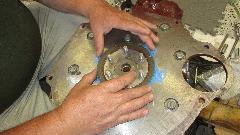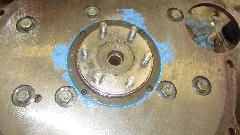 While the sealant was setting up we had a short distraction to demonstrate a simple laser tool for my front wheel toe-in adjustment. The straight edge across the tops of the wings was used to check a slight body roll error (assuming the wings are symmetrical). Discovery was 1.5 degree negative camber on the left front wheel, which may account for the odd tire tire wear on the tire at that corner. We made a small toe-in correction, but no convenient way to adjust the camber, so leave it as is for now. Then get the engine mounted on an engine stand, and plug the drain slot in the front side of the rear plate.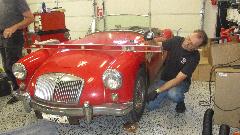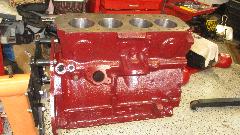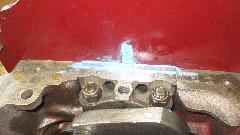 While installing pistons and con-rods and big-end bearings, we took time to Plastigauge measure running clearance in each one. Place the Plastigauge on the bearing journal, install bearing and bearing cap, torque it up, then remove the bearing cap to measure spread of the Plastigauge on the bearing journal. Kind of time consuming, but seems to be worth the effort to be assured that the bearing clearances are good.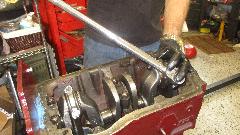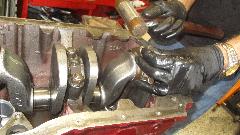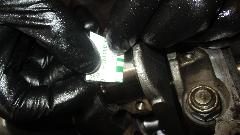 The engine owner was getting hands on demo of torque wrench and bearing measurements. Then we had some issues with alignment of new timing chain sprockets, and finished the assembly with no shims behind the crankshaft sprocket. Otherwise cam timing, installation of timing chain and tensioner, and timing cover with felt seal was standard procedure. Good time to knock off for the night and head for dinner.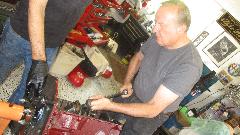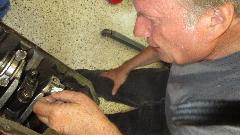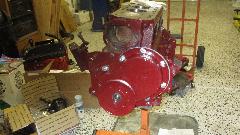 Monday June 5, 2017:
More work on Stan Fischer's engine today. While Jim Nelson was working on the engine I was working on rebuilding the carbs. Around mid day Stan's MGA arrived on a trailer, requiring a short break to unload it and move it inside. In short order the carburetors were finished, and I moved over to help with engine assembly.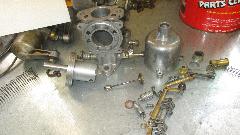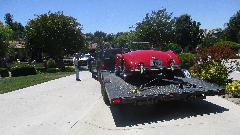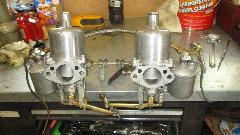 We soon encountered a problem with new Lucas contact points, which came in a set with points and condenser, or just the points alone. The points set would not sit down on the mounting plate in the distributor, leaving a notable gap underneath. This turned out to be the mounting hole for the points was not drilled as a clearance hole all the way through which was easy enough to fix but was irritating all the same. We also found the hole for a screw to secure the condenser had no thread, so more time to stop and tap the thread before going on. The breaker plate was a new old stock part in a dusty original Lucas box, so we can't blame the current suppliers for this issue.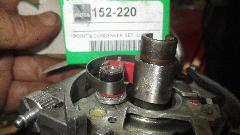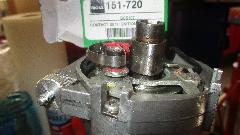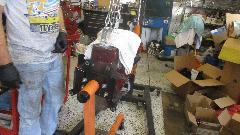 Then it was time to pull the engine off of the stand and install the flywheel and clutch (nice Fidenza aluminum flywheel), followed by slide it into the car and bolt it down. Having allowed for a brief breakfast, lunch and dinner, finish time for the day was midnight (so what else is new). We have to toddle off tomorrow, so Jim will have to finish the hookups later.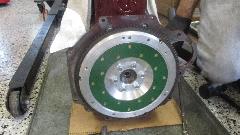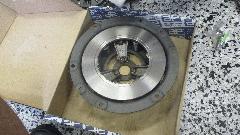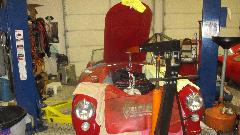 Tuesday June 6, 2017: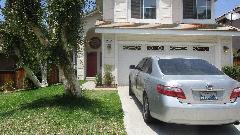 Shop hopping a bit today. First intended stop was to visit Phil Marino in Riverside, CA. This business is (was) something like tapered half shafts, spin on oil filter, brake cylinders and lots of other machine work. The address had no one home (although there was a car in the driveway), and the business phone number was disconnected. No other contact information on the net, so presume this one is out of business.

Then we were off to visit Advanced Performance Technology (APT) in Riverside, CA. Nice little business grinding camshafts, making quality tappets and roller rocker assemblies and porting cylinder heads. All good go fast stuff, well known and widely available.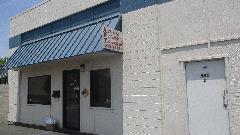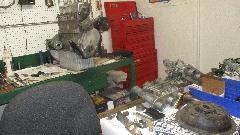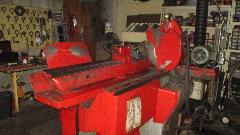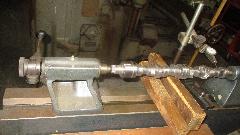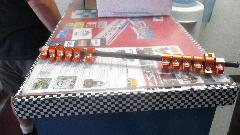 One more shop to find today, Import Auto Supply in San Bernardino, CA. The first stop had us a bit worried,
`as the building was closed and vacant. Inquiry at the shop next door revealed that IAS had moved a few blocks away. Looks like they still need to return for some of their signs. So off we went to the new location. Nice place. Looks like about half of the parts on the front shelves are British car parts, with the rest mostly other European car parts. They may have radiator hoses for my MGA, but must be in large bags in the back (not all unpacked since the recent move). I left a request, and may return tomorrow for those. Meanwhile I did pick up a couple condensers for my Mallory distributor, these parts crossed to a Fiat source (and much less expensive), good old Beck Arnley parts.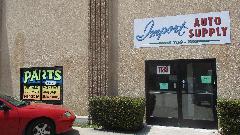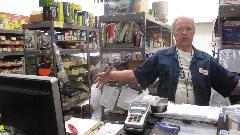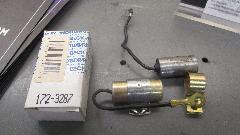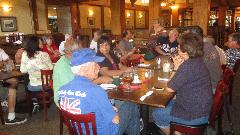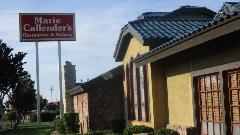 In the evening we had a dinner meeting with Victor Valley British Car Club in Victorville, CA. Nice bunch, about 25 people in attendance. informal and friendly. We found several British cars in the car park.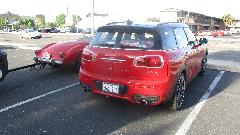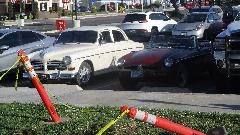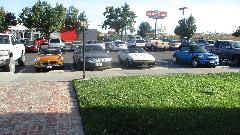 Wednesday June 7, 2017: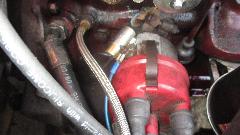 Hey, you know those condensers I bought yesterday afternoon (photo above)? Well, the car was misfiring last night and again this morning so I got to install one of those condensers. I recon that purchase was good timing. The dead Mallory condenser ran 4-weeks, 2,900 miles. Replaced with a Beck Arnley condenser.

To get the day rolling, we drove 15 miles west from Victorville, down some rather rough gravel roads to a side road near Phelan, CA, to visit English Roots (fine automobile engineering). Meet Kevin Roots, the owner engineer, chief mechanic.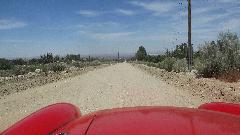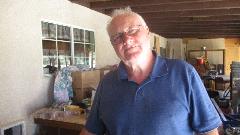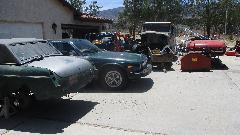 We were immediately confronted with a number of projects in process, and some parts cars (if you can figure out which is which).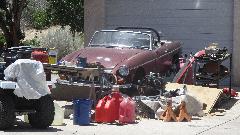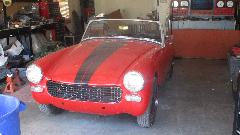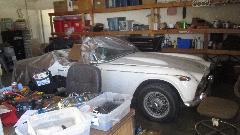 The Morris Minor truck is getting an MGB engine and is destined to be the shop work truck. Car in the center is a Daimler covered with Jaguar logo, because someone here wanted a Daimler which was not legal in the USA, so it was re-badged and titled as a Jaguar.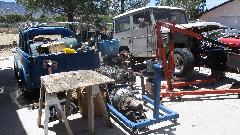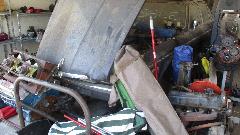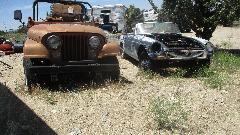 The tractor is a real English Ferguson, not Ford or Massey Ferguson.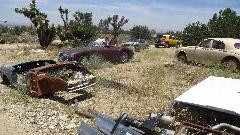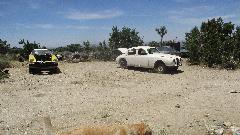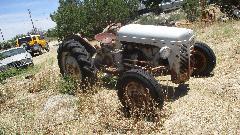 Inside things were more serious. The E-type Coupe is a well preserved original California car, getting it running in preparation for export shipping. The car behind it is a Maserati Biturbo short some spark wires at the moment.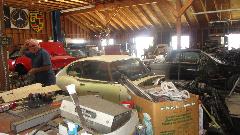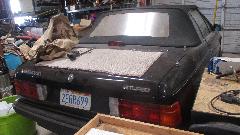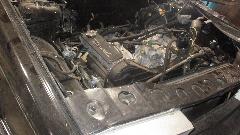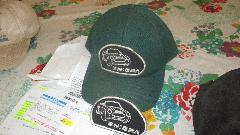 Then we had the world's most expensive hat, $35,000-USD, but the purchase entitles you to a free car. The car will be an Enigma. This begins life as a Miata insurance write off which is disassembled. All of the chassis parts (other than the body, engine and gearbox) are shipped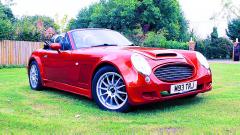 out of country (commonly six cars worth to a container). Those parts are re-fit to a new chassis pan and composite body. The assembly is then returned here to be re-fitted with the refurbished engine and gearbox, wiring harness and dash, finishing as a new car that is to be titled as the original Miata with a new body.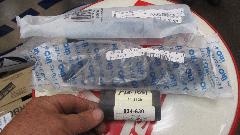 Now remember Import Auto Supply in San Bernardino, CA? We stopped in agian on the way by to pick up the radiator hoses. Also had to tell the lady we had already used one of the condensers (chuckle).

Then we ran back past Temecula, where we were a couple days earlier. Remember the MGA engine and carburetors we were working on? Well it's all back in the car, and we got to take it for a test drive. All in all it is a nice car, runs like a champ.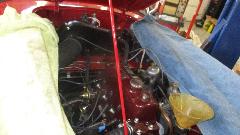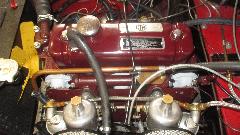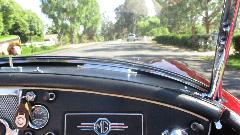 After the verification that it was running okay, someone wanted to apply this product. "K&W Nanotech Permanent Head Gasket & Block Repair", essentially a cooling system sealer. I'm not big on aftermarket products in a bottle, so I will let you read the instructions and decide for yourself.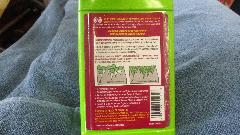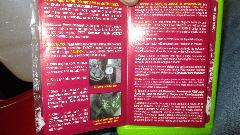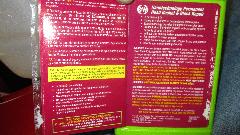 In the evening we were off to catch up WiFi work, then heading south (not intending to cross into Mexico).

Thursday June 8, 2017:
A little more shop hopping today, this time in the San Diego area. First stop was Jenkinson Concours & Customs in Escondito, CA. This shop has been closed since October 2016, and the phone number is disconnected. But the web site still exists at www.jccrestorations.com. On inquiring, I got a message back from Brad Jenkinson <!-jccrestorations at gmail.com->who is now working for Alan Taylor, and also maintains a home shop in Valley Center for panel forming and metal repair on unique cars.


However, there is a new service shop in its place, About Service Automotive and Marine Repair. As odd as the name may sound, they do work on a lot of old stuff, including vintage British cars. They do mechanical and electrical repairs, no body and paint work. But there is a paint and body shop next door.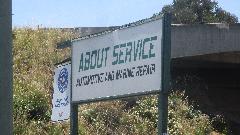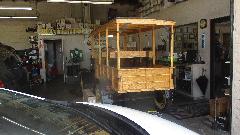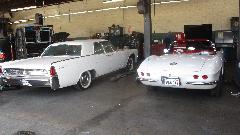 Then we stopped to see British Auto Repair in San Diego, CA. Say hello to Paul Konkle who bought the shop about a year ago. Same shop, same place, same name, same phone number, new owner. Business is good, so it looks like this place will be here for a long time to come.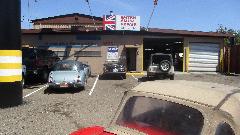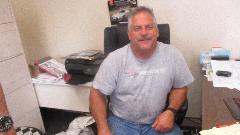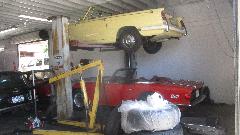 Paul was disassembling an MGB 5-main bearing engine, and I got to help poke out a couple pistons. Con-rod bearings worn through to the copper layer on top half shell while the bottom half shells still looked good. This one may get away with new bearings without a regrind, but the cylinders will need rebore and new pistons.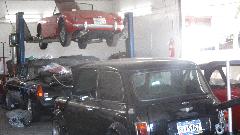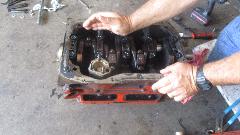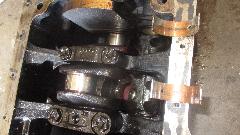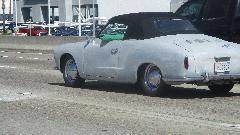 Cruising a short distance north we spotted some more redeeming social value in southern California. One more stop for the day at Harloff Automotive in La Mesa, CA. Nice parts store in front, and the service shop in back with five of those double bay service doors. In the last door we found Robert who has been here for 17 years. He does all of the work on the vintage cars, and is always busy. I wonder if they knew I was coming and had the MGA in the service bay just for me.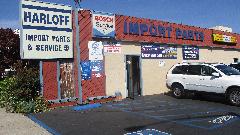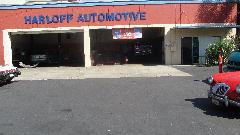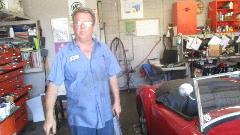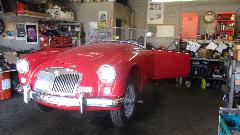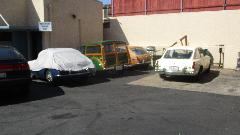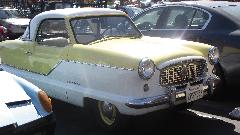 Friday June 9, 2017: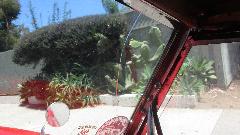 This morning we have a new crack in the one year old windscreen glass, inner surface only (so far) on the right side. Bummer. One too many rough roads a couple days ago, maybe. It started at far right, perhaps a frame screw tip, ran left, then split vertically, eventually continuing to the edges. I hope that's as far as it goes. This may turn into a parking lot tech session at the GT in about 10 days.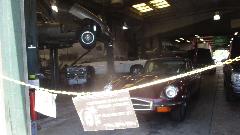 First stop today was Carlsbad British Motorcars in Carlsbad, CA. Service, repair and restoration for British cars - Jaguar, Land Rover, Bentley, Rolls Royce, Aston Martin, Bugatti. Sign in front said to enter from another street in back, so we drove around. The whole crew was outside in the shade and breeze for lunch break, and I didn't want to disturb their break, but I got a snap a few pictures. Pretty big place with plenty of business.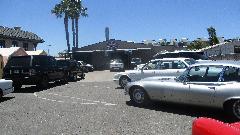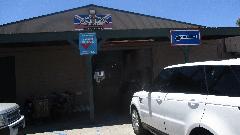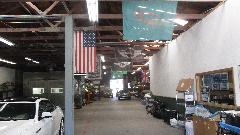 Second stop was a visit to Alan Taylor Company Inc in Escondido, CA a high quality restoration shop. One step inside the front door and I ran into the Isotta Fraschini. This may be Tipo 8B model, about 1933, a very high end luxury car. Sitting next to it, another Isotta Fraschini, the sport version.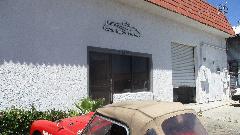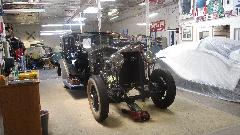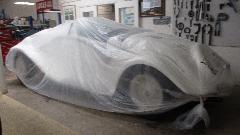 Bugatti

Rolls Royce

Delahaye GFA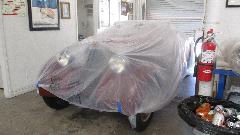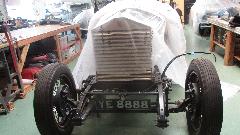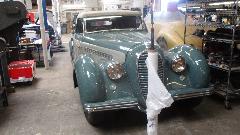 Passing a few more cars under covers (and a few not covered), we made our way back to the trim shop. Here we found an MG TA in the final stages of restoration, and beautiful it is. A step out the back door revealed more vehicles awaiting their turn at restoration, and yes that is a fire truck.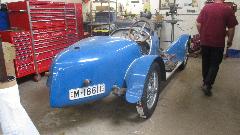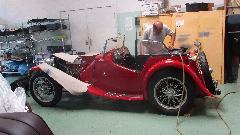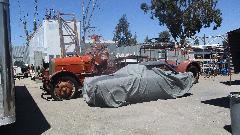 Saturday June 10, 2017:
Much of the day spent posting on the web site Ver. 3 of Service Parts List for MGA Twin Cam. Got busy and missed (or forgot) a British Car get together at Automobile Driving Museum in El Segundo, CA.

Sunday June 11, 2017:
Couple of appointments fell through, so much of the day was spent updating the Clubs list to show city and state in bold blue type (just being neat for consistency). Plugged in a few updates and corrections in the process.

Monday June 12, 2017:
Popped over to visit Scott & Mary Davidson in Encinitas, CA in late afternoon. They have a nice MGA that has been in the family for decades. This is the one we did a lot of work on two years earlier to make it road worthy and reliable (sort of). And it still is, but now it has been losing coolant for a while. Nothing we are going to fix immediately, just diagnostics, but the radiator will have to go to a shop for solder repair.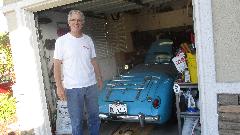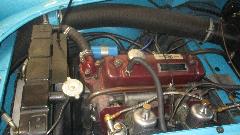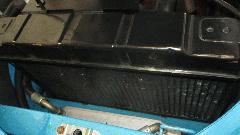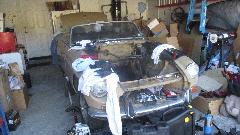 They also have a 1973 MGB in fairly early stages of restoration. While I was thinking what it may take to get it running, they are thinking how much more work to strip it down to the bare body shell for cleaning and painting. More than a little beyond our mission statement.


Late night, did a few corrections and updates on the posted Service Parts List version 3 for the MGA Twin Cam, finally finished.

Tuesday June 13, 2017:
A friend with an MGA, Meredith Priestly from Solona Beach, CA, stopped in today at the Davidsons' place. The right rear wire wheel was suffering a serious oil leak through the knock-off nut and around the spokes. After opening up and mopping up a lot of oil, it was revealed that the Welch plug was missing. Easy enough to install a new plug that will stop the leak. There was suspect of a rear slave cylinder not working, and a new one was procured. But the cylinders turned out to be okay, the shoes needed adjusting, and the sticky parking brake cable needed a bit of grease and some exercise. By day's end the oil leak was gone, the wire wheels cleaned up, the rear brakes and parking brake were working, and the owner had a happy smile and fresh enthusiasm for driving the car. But it still needs rebound straps.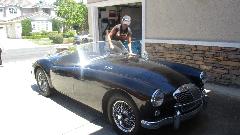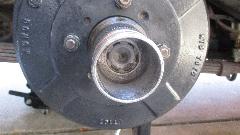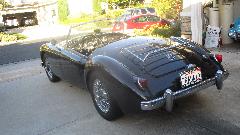 Wednesday June 14, 2017:
Off and running again today with some distance to travel. First run was half an hour south to visit Armando's Upholstery in Santee, CA, on a personal recommendation. Say hello to Armado. A bit of an artist he loves working on old cars, including vintage British cars. That was a Buick Eight in his shop today, chopped and slammed and of course with custom upholstery by Armando.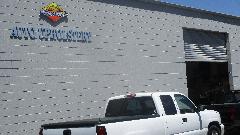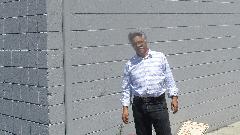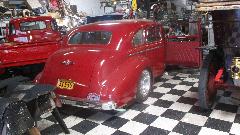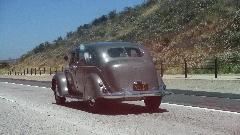 More redeeming social value in California ----->.

We had a longer jaunt, a couple of hours north and east over the montains to visit DreamCars Auto Repair (European auto repair) in Victorville, CA. This is a larger business dealing primarily with more modern cars, but they do have a special section that works with vintage cars, and commonly vintage British cars. Tell them you have a vintage car, and ask to speak to Jimmy. I found a number of intermediate age and newer British car here, perhaps the larger part of the business these days, Jaguars, modern Minis, Rovers, and a Porsche 911. On the vintage British side, there was a Jensen Healey in for some body and paint work plus carburetor and distributor rebuild to get it running properly. Also a Formula Ford race car which is apparently a one of a kind suspension prototype, which races very well but cannot get replacement parts. The curiosity piece today was a small Peugeot delivery van.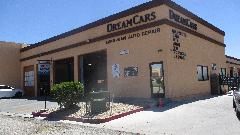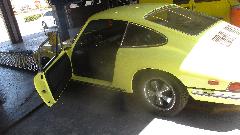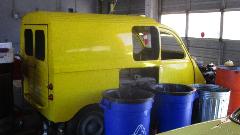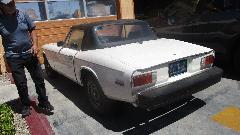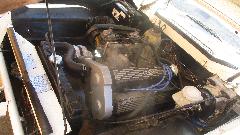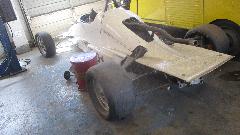 Then a brief stop at Karp's Power Brake Service in Upland, CA. what first appears to be a hole in the wall place is actually several holes in the wall, as they have grown to take over a few business bays in the strip mall type industrial center. The first hole in the wall is very convenient as they bring their customer service counter (and shipping and receiving) right out to the sidewalk. Meet Jeff Watts, I recon he runs the place (as far as the public would know). I think he recognized the MGAguru web site, and right quick was out on the sidewalk taking pictures. Their business is rebuilding power brake boosters, sleeving hydraulic cylinders, and lots more to do with vehicle brakes. Your MGA twin bore master cylinder can likely be sleeved here more economically than buying a new one.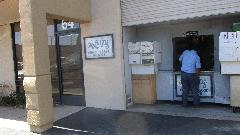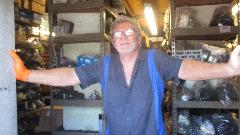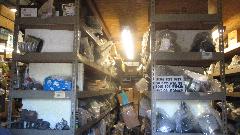 In the evening we had an appointment with Matt Dabney in Costa Mesa, CA. He has a very nice daily driver MGB. In the back is a MGB-GT that he used to drive a lot, ran when parked, now slowing going through some restoration work. Under the tarp we found a Rover 3500, also ran when parked, but needing a bit of engine work.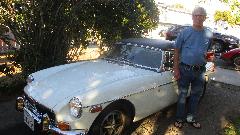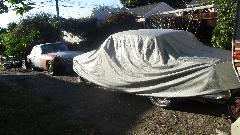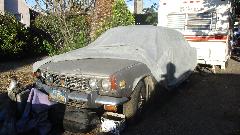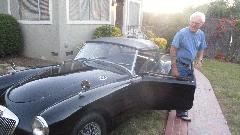 The real reason we were here was his 1958 MGA. We had previously done a lot of consulting via email while it was being restored.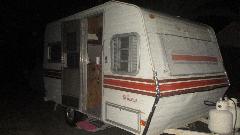 Now it seems to be pretty much finished, so this was mostly a social visit. We had some time to relax and chat, then out to dinner. On return we took advantage of the small travel trailer that was parked in the driveway, saving us a fair amount of driving, as we needed to resume the chase in the same neighborhood next day.

Thursday June 15, 2017:
Today's mission was to fight our way through LA traffic in the heat for about four hours to visit four shops fairly near the ocean. First up was British Connection in Bellflower, CA. Meet Frank Haines who has been doing business here for 30 years, with mechanical repair and restoration of the complete series of MG's, Triumphs, Austin Healey Bug Eye sport cars, and Metropolitans. He is very busy, working on 4 or 5 cars at a time with more in the wings. The cars inside are currently in process. The black sedan is an old Riley.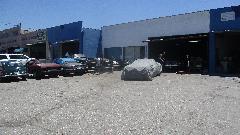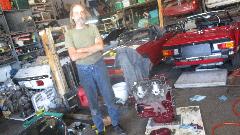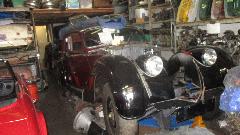 The engine on the floor is for the MGA in the rafters. Things on the racks in the background are mostly the owner's projects, and 30 years worth of accumulation of spare parts. The MGB under the tarp out front is a nearly finished fresh restoration (right hand drive), makes a good picture without the radiator.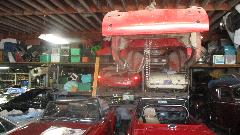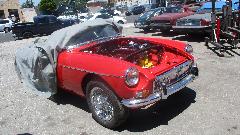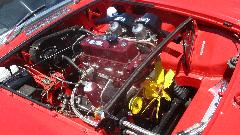 Then we had a stop at British European Auto in San Pedro, CA, run by Jeff and Alicia Taw. Big place, I immediately felt like a kid in a candy store, and a big step back in time. I believe the photo on the is the original Ford dealer in 1949, now mostly vintage British cars. What's not to like? Pity I had to toss out a lot of pictures.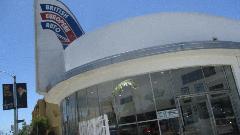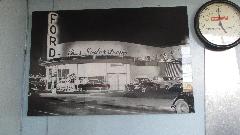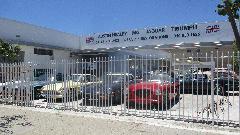 In the show room there was the chassis for a Lotus Elan, a Morgan that was reassembled form boxes of parts but still retains original paint, and the Morris Minor work truck.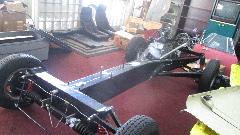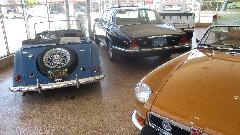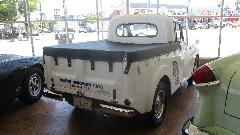 My favorite, the MGA on the rack, a Jensen Healey for engine work, and a Studebaker (who let that one in?).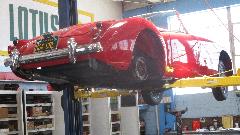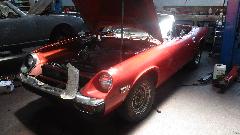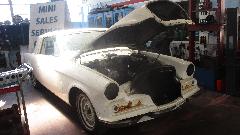 Another view in the service shop, pick your favorite. Out back a cutomer's Healey 3000. They seem to be big on Jensen Healeys, the black one belonging to Alicia.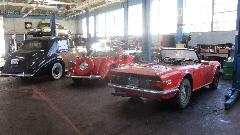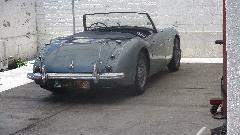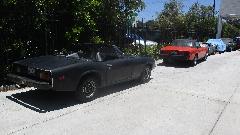 We made a quick stop at Isky Racing Cams in Gardena, CA. Ed Iskenderian loved speed and building hot cars. He got into grinding his own camshafts shortly after WW-II, and the rest is history. More than 100 people work here, and yes they do grind camshafts for your MG and have dealers throughout the world.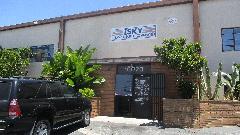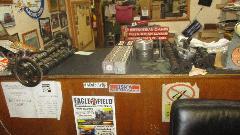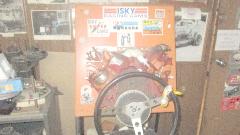 Last programmed stop for the day was RR British Car Clinic in Santa Monica, CA (RR = Radcliff Reid, a fifty years+ qualified Engineer Technician). He is proud of his business, these days working mostly on the more modern British cars. He is a veteran of British car service from way back. He will work on vintage British cars, these days mostly for friends and long term customers, and only if you are not in a hurry to get it done.