The MGA With An Attitude


MGA Guru Is GOING MOBILE - (June 16 - June 30, 2017)


Friday June 16, 2017:
Head north up I-405 much uphill for 25 miles to Sylmar, the north edge of the LA metro area. Then onto I-5 north over the mountains into the desert. More uphill another 50 miles, much of this near the end in 3rd gear (we do have the trailer) on 5% to 6% grades, keeping an eye on the temperature gauge. Finally crossing Tejon Pass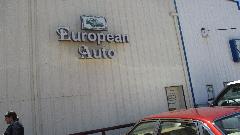 at 4160 ft altitude, followed by 6% downgrade for 5 miles (stay away from the truck escape ramps), watching the temperature gauge drop some. But from here we were in the central valley (think hot). Shortly divert onto CA-99 north heading through Bakersfield (100 miles from nowhere, 10 feet from Hell). Our first programmed stop was European Auto in Visalia, CA. Around mid day the door was locked. Bummer. Make the call, leave a message, and hope for a call back.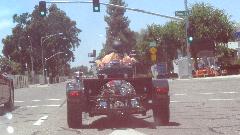 By now more than 3 hours north of LA, but get back on CA-99 north and push on. Another 45 minutes put us in Fresno for a planned visit to Arcane Automotive. Sign on the building said Fulton Truck & Auto Center, and the sign looked old, and the place appeared to be locked up.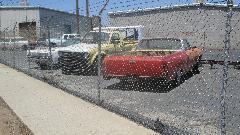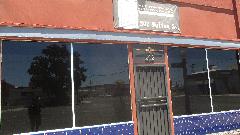 Not sure what to make of some vintage cars behind the fence. Not even sure they're classic, maybe just old. I recon Arcane Automotive has been gone a long time, phone number out of service.

Saturday June 17, 2017: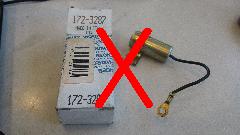 Interesting way to start the day. Another dead condenser after only 10 days and 790 miles. Grrrrr. This one was Beck Arnley, made in Italy (according to the box). Replaced with another the same, so I need to go shopping again, very soon.

By mid day we were off to visit Jay Newsome in Clovis CA. Been here before in 2015, not much changed with his MGA. It still has the special vented oil filler cap on alloy valve cover.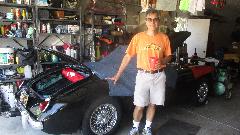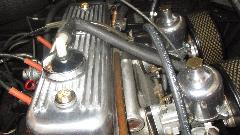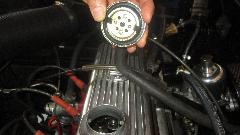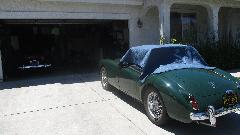 Parked in the driveway was another MGA belonging to a friend, Larry Zerwig from Fresno, CA. We met him on last pass as well, having given his car a bit of a tune-up, and it still runs well.

Across the street was another friend with an MGA. Last time we saw this one two years earlier it was a fresh rolling chassis with the body in early stages of restoration. Now the body just came back from the paint shop looking quite spiffy. We had a look at some front fender piping from a big Healey that was not used here. The chosen part was stainless steel covered piping which looks pretty sharp on the black car.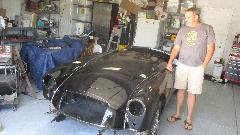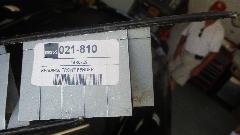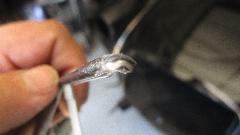 A number of holes in the body had been filled and painted over, some of which may have been in the wrong locations. Otherwise we think the bondo can be poked out to clear the holes for rag top fasteners and LTD studs.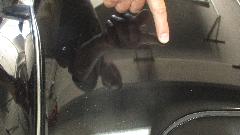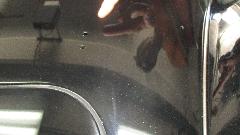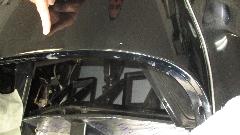 Three MGA in one stop, not bad. Slightly over 100dF today in the desert, so we will hide for a few hours, and tonight after dark we will head for the hills, back over the mountains to the west coast again.


Well guess what folks? The second Beck Arnley condenser failed in 12 hours, only 6 miles. I replaced it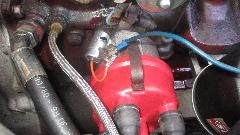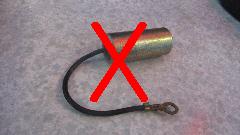 with a Lucas condenser DCB101C, because that's what I had on hand, and it fit into the P-clip on my Mallory distributor. I have one more in the trailer, and we are a day and a half away from another shopping trip to Moss Motors. I may have to start a drop-dead life expectancy list for condensers like I did with hydraulic brake light pressure switches.


Getting out of the hot central valley after dark, headed southwest on CA-41, 52 miles through the flat dessert to Kettleman City for a midnight dinner at Denny's. Then another 35 miles up the hills to camp on top of the mountain pass where it was a bit cooler.

Sunday June 18, 2017: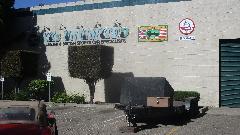 This morning a 54 mile run down the hills and a bit south on 101 for a quick stop at XKs Unlimited in San Luis Obispo, CA. Yes, I know it's Sunday and they are closed, but I can get the picture on the way by. Not sure we will have time to stop here next Friday on our way north.

A little farther down the coast by noonish we were going to visit Larry Long in Santa Maria, CA. Had a little "oops" here as he had moved, so we bounced off his old house before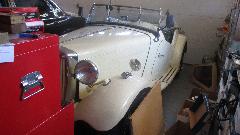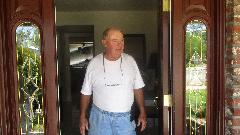 arriving at his new place. All is well, but he has been thinning out the collection some. He still has a very nice MG TD and I think an older MG NB hiding in a trailer. Had time for lunch and a nice chat before moving on.


Then forget US-101 as we were taking the scenic route south through the mountins on CA-1 with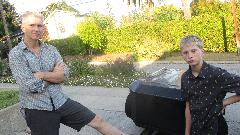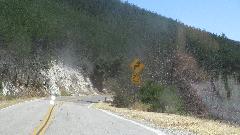 a personal cool-down stop in Lompac, CA. A good move, as we found another WIFI spot with wall power. From there another hour run down the coast for an evening visit with Andrew Flanagin in Santa Barbara, CA. Andrew has a very nicely restored MGA Twin Cam With original engine, and he loves to drive it.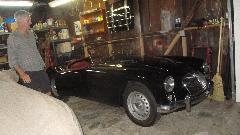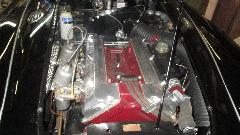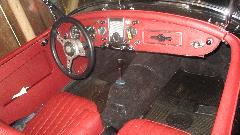 Monday June 19, 2017:
First business today was another stop at Moss Motors in Goleta, CA to re-stock the magic trailer. Some condensers, hydraulic repair kits, a heater valve, and a bunch of more minor service parts. For our own MGA, new seat slide rails to replace badly rusted ones, one tail light base, two tail light lenses to replace cracked ones, a fresh set of pedal cover pads, a spare speedometer cable, and return for exchange the second failed dipper switch. I cycled the new switch 100 times with power on, and it seems to work okay when new (time will tell). Moss finally got the correct pattern for the accelerator pedal pad, so all gold stars this time. While there, these blokes from San Diego on their way to the NAMGAR GT in Solvang just dropped in to see where all their parts money had been going.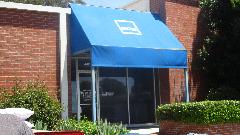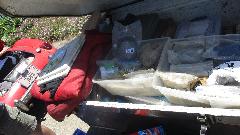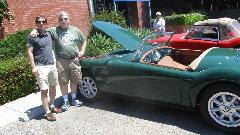 Then onto Solvang for the NAMGAR GT, the closer we got the more MGs we saw.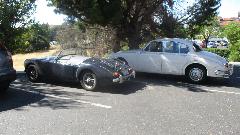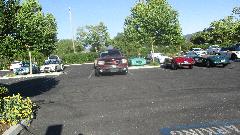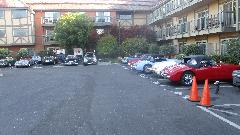 One of my favorite sports when little British cars get together is trailer hunting. This one looks like a light weight motorcycle trailer with narrow wire wheels and fiberglass box. Wheel bearings appear to be small sealed ball bearings, and it seems to have swing arms and torsion bar suspension for low stance with the large diameter wheels. No maker's name on the trailer, so I may come back to investigate this one later, if I can find the owner.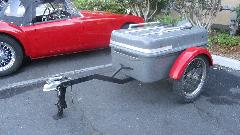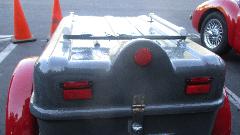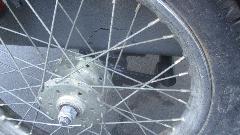 Nice to see the color coordinated trailers here: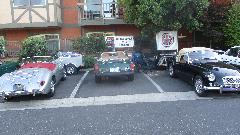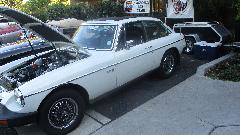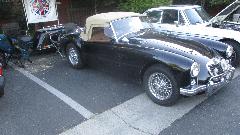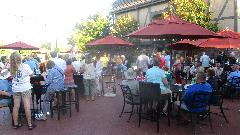 Arriving a bit late in the day I missed a tech session on "Facts, Myths and Lies" about MGA. Just caught the tail end of the hospitality suite before the jovialities moved to the car park, and then on the evening taco bar introduction party. It was a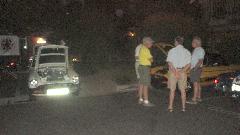 good time to bump into a bunch of old friends and make a few new ones. There seem to be about 30 first timers at this GT, not surprising since there are not many GTs held on the west coast. As the party was breaking up around 10-pm there were still a few die hard tire kickers talking tech before time to crash for the night.

Tuesday June 20, 2017: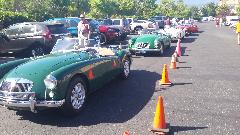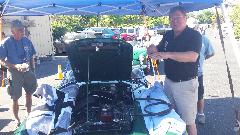 Skip the morning car wash and the coffee bar. Not a first-timer, so also skip the first timers reception. I've seen John Twist's rolling tech session multiple times, so maybe not this time (but someone sent the pictures).


No interest in vintage motorcycle museum, so skip that one as well.
There was a Magnette luncheon at a local restaurant which I was determined to attend, because these folks only meet once a year at the GT. On arrival there was a smattering of Magnettes in the car park.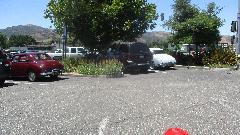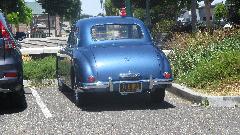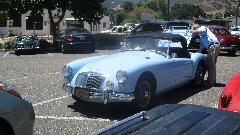 About 25 people in the dining room, nice folks, good food, and a comprehensive business meeting. Someone brought a collection of period magazine ads for the Magnettes, one of which also featured MGAs.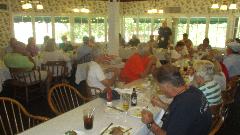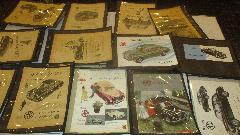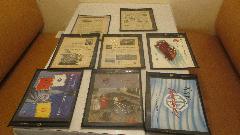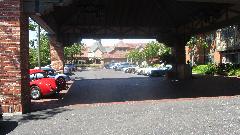 There was a road rally, but also some personal chat after the Magnette meeting before heading back to the host hotel, so miss the rally and head for the hospitality suite for more friendly chat. Being an MGA event, most of the people here already know the MGA guru, so plenty of tech questions to pass the time.


In the evening we were off to dinner at Standing Sun Winery in Buellton, CA. Good wine tasting if that's your fancy.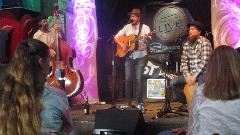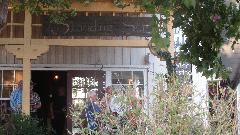 A variety of tacos for dinner, then live entertainment by a country band while we have more friendly chat, mostly about MGs. Around 9-pm back to the host hotel for more chat in the hospitality suite. There's a car show tomorrow, so get some sleep.

Wednesday June 21, 2017:
Skip the morning car wash and the coffee bar. There was a NAMGAR Board and Staff meeting, (not for me).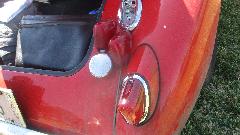 Car show day, parked my car on the show field early. While cars were still rolling in I took the opportunity to change a smashed tail light base and two cracked lenses. I have not much interest in reviewing cars and voting, so tear up the ballot to not waste my time, take some photos, and look for people who may want to chat. My favorite character of the day was Daniel Harrison from Westlake Village, CA. He is 20 years old, got the car when he was 15, and spent 5 years restoring it. Next was the 1962 Sebring MGA currently owned by John and Linda Wright from Slovang, California, USA. For those who like modified cars, well, you figure it out.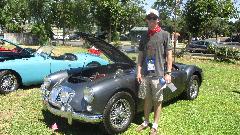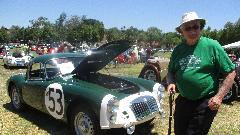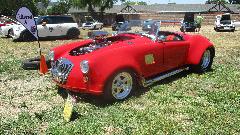 There was one MGA 1600-MK-II "Deluxe", but this one has a vintage and period correct Judson supercharger.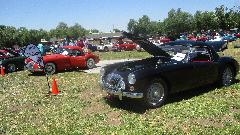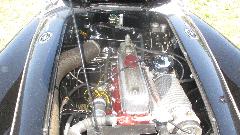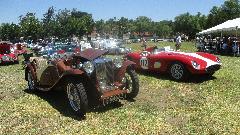 Being a national MGA Get Together, there were of course several rows of MGA 1500 and 1600 with and without wire wheels, and a few Twin Cams.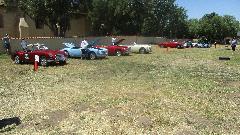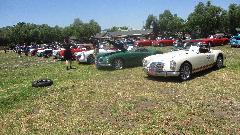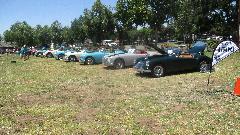 There were half a dozen MGA Coupes, an equal number of MG ZA/ZB Magnettes, and enough MGB to make their own class. The white sedan to the left of the MGBs is a Damlier V8 "something like 3.8-litre).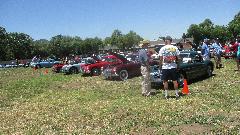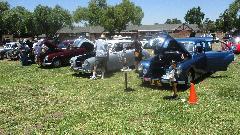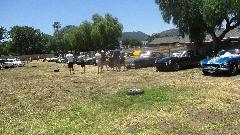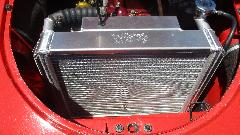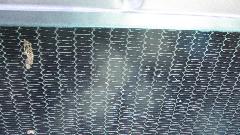 I always take some interest in the custom aluminum radiators, this one being a Wizard cross flow (left). I am not convinced that they work any better than an original cell core radiator (right). This alloy radiator (and the attached car) belong to a guy from Alaska who occasionally commutes between here and there while the car stays in California.


After the car show there was a 3rd Wednesday city event in the local park, vendor room open, and a chapter contacts meeting, all set aside in favor of a little cool down and chat time. Then we were all off to a BBQ at Nojoqui Falls Park, several miles out of town, a jolly good social indeed.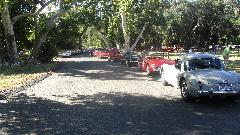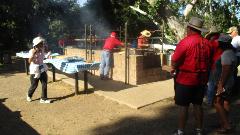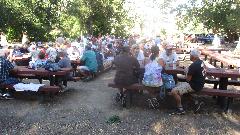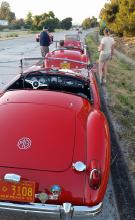 On the way back from the park we had three MGA hustling along when the lead car blew a core plug with an amazingly loud POP, and a veritable geyser of coolant sprayed on the second car while I was watching from behind.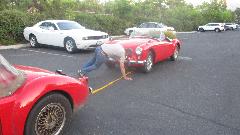 Easy analysis, then second car loaned us a tow strap so we could haul the disabled car about four miles back to the hotel (where I had parked my trailer with the parts and tools). By the time second car had done a car wash to remove the coolant spray and returned to the hotel, we had already installed a new core plug and topped up the coolant. Meanwhile half a dozen people were enjoying the impromptu tech session on how to install a core plug. Then on to the hospitality suite.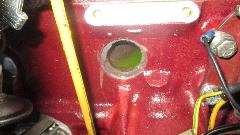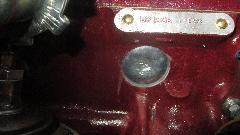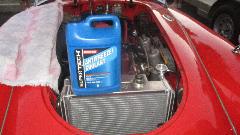 Thursday June 22, 2017:
All kinds of self guided sight seeing tours around Solvang today, plus Mendenhall's Museum of Gasoline Pumps & Petrolina, a brewery tour and a winery tour, all of which I skipped. I did here from one couple that managed to visit five wineries on one day. IN the morning I was catching up some WiFi work, then attending a tech session in early afternoon.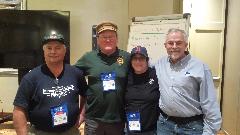 Kelvin Dodd from Moss Motors was chatting about history of MG Car Company from its roots and inception up through the evolution of MGAs. There followed a fair amount of interactive questions and comments in short order, and a requested photo opp. From right to left, Kelvin Dodd of Moss Motors, Cecelia Bruce of Scaroboro Faire, John Twist of University Motors, and yours truly of MGAguru. For MGA enthusiasts, this is sort of the parts and knowledge center of the hobby.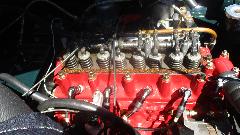 Then a fair contingent of folks toddled on down the road for a tour of the Moss Motors west parts distribution facility. I've been there several times (including just a few days earlier), so I spent the time on something constructive, retorquing the cylinder head on the class winning wire wheel MGA. Being another hot day, we soon retired to the hospitality suite for beverages and cool down.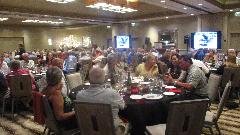 Evening was time for a social reception followed by the Awards Banquet. Lots of friends, good food and drink, followed by celebrations, door prizes, car show awards, and some additional special awards. This was the wind-down for the week of festivities, to be followed by another open hospitality suite. Tomorrow morning would be photo-op for the car show award winners and a farewell breakfast before the trips home.

Friday June 23, 2017:
Finished some clerical work, late start noonish heading north. Just a small side trip to go back to XKs Unlimited in San Luis Obispo, CA, when they are open this time.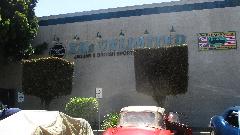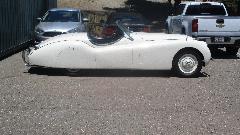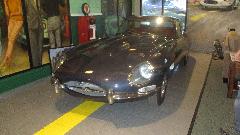 Stuff out front was just teasers. Inside, a hugh parts inventory, upholstery shop, and more Jaguars.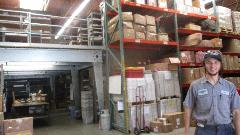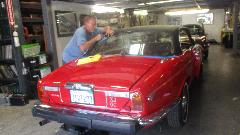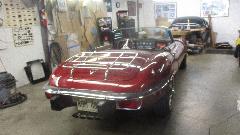 Did I say it was mostly Jaguar? Notice photo on the wall and car on the lift. Full service and restorations here.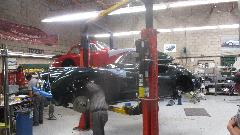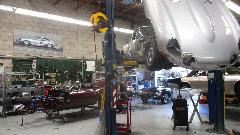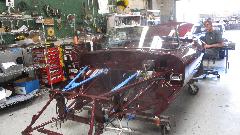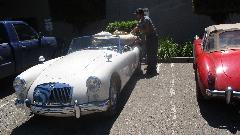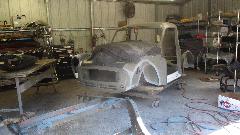 But not always Jaguar. That's a Morris Minor woody wagon being restored, and the car under wraps I parked next to was an MGA recently finished. Time is precious, so head north again.
Hauling on for a few more hours, we arrived half past five to see Tim and Gwen Clark in Capitola, CA. Tim has a very nice MGB, which we were soon following across town to visit Emile's Sports Car Performance in Santa Cruz, CA. This shop was recommended to us a few weeks earlier, except we didn't have the address.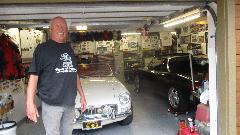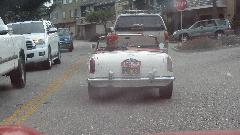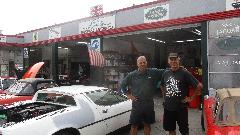 These guys love to work on British and European sports cars.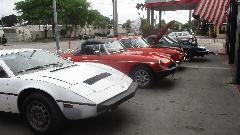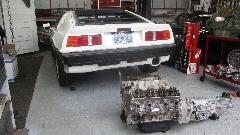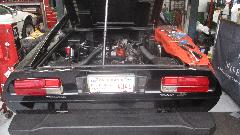 There was this pretty blue MGA under restoration, for which they were regularly consulting my web site. Then the white MGA pulled in, looking very familiar. This had very recently been purchased from a party in Arizona, and as it turned out I had worked on this car in Arizona two years earlier in April 2015 to adjust valves and give it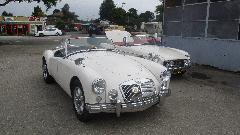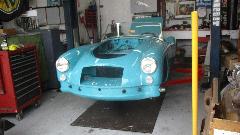 a tune up. It had a bit of air in the clutch hydraulics which we did not have time to fix. Today it still had air in the clutch hydraulics, which we did fix promptly.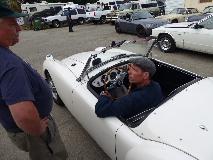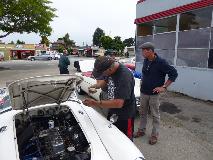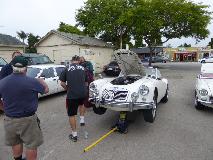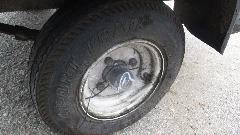 Then we had time for a little trailer maintenance. Seems like over night in the motel parking lot someone backed into the trailer, bashed the right side fender, and knocked the Bearing Buddy off of the wheel hub. Bummer. One good yank pulled the fender back into reasonable shape, but we couldn't find a grease cap that would fit the small trailer hub. A little plastic baggie and a tie wrap will have to suffice for now. Put a new Bearing Buddy on the shopping list.


Next was a bit of maintenance that was about 20 years overdue. I have been towing this trailer around intermittently since 1989, approaching a quarter million miles by now. I believe it was after the Alaska trip in 1997 that I had noticed a spring shackle that wouldn't move because the bolt was a smidge to high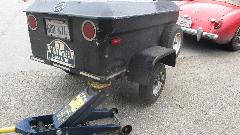 making the sliding spring leaf not slide (a factory origin defect). For an immediate fix I had positioned the spring leaf below the bolt rather than above it, and same for the other side so it would ride level. Then I forgot to go back and fix it properly. For 20 years since the spring leaf has been sliding against the bolt, which eventually has worn half through the bolts until one of them has broken. The trailer still works, just sits a bit crooked. It doesn't seem to have worn the spring leaf at all, so it is now back together with new bolts and may last another 28 years.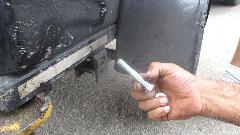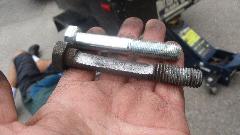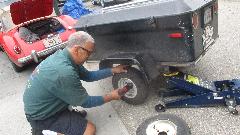 One last issue, a bit of a surprise. The left side trailer tire had severe wear spot on one side only, after only 1/3 of normal life expectancy (9000 miles). We think this must be due to an internal carcass failure of some sort. So we installed the spare tire and put the damaged one up for emergency only spare. Put another pair of trailer tires on the shopping list, which we needed soon anyway before heading north to Alaska.

Saturday June 24, 2017: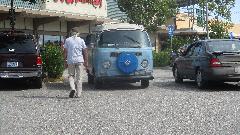 Clean up day. E-mail, BBS, tech questions, one new tech page, and our monthly report to the Chicago club. By late night just a couple hundred miles north, but expecting a lot farther tomorrow, like Oregon, maybe. Cancel any remaining appointment in California, especially shop visits that can't happen on a week end. We have a time and travel problem for the next ten days.

Sunday June 25, 2017: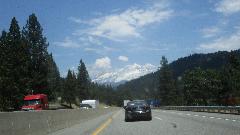 Heading north in California, mostly up I-5 to be making good time. About 75 miles north of Redding, somewhere north of Weed but shy of Edgewood we hung a left off of I-5 onto old Highway 99 to run several miles into Gazelle. Then another left onto Gazelle Callahan Road for 27 miles of delightful winding road through the mountains. Yes, we actually knew where we were going, you know, the scenic route that is a few miles shorter and several minutes longer and definitely not boring. As we were pushing hard up the hills and through the switchbacks in 2nd gear (with the trailer), navigator felt compelled to take a picture of the temperature gauge. The requirement for survival here is 7-psi pressure cap and 50% solution of glycol and water coolant, making the boiling point 255dF (slightly less at higher altitude). When the temperature gauge registers 82-psi it runs out of mechanical travel, at which time it is advisable to ease off of the loud pedal, because you no longer know how hot it may be. Then over the ridge we went, and on the downhill coast the temperature dropped like a rock back to 185dF where the thermostat keeps it from going too cool.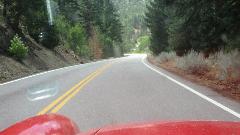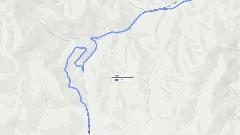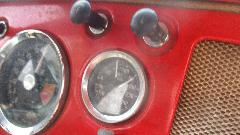 Finally a right at Callahan heading north up CA-3 for 12 miles into Etna, CA where we stopped to visit Michael Mitchell. Been here two years ago. Michael has a ZB Magnette with character, but today no charging. There was a new generator and control box on hand and not a big chore to change the parts. As always, test the generator first, which was shown to be bad. After removal it was determined to have a badly worn tail bushing and one damaged carbon brush. I had the small parts to at least attempt to fix it, but Michael insisted just install the new generator which we did, and all was right with the world. Send the unneeded new control box back for refund along with the generator core.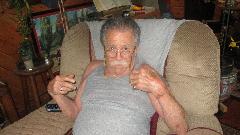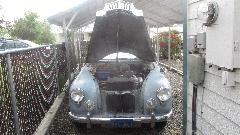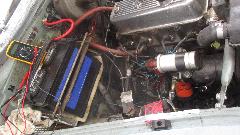 Then another 30 miles up CA-3, over the mountain ridge and back to I-5. Before sun down we were out of California for the firt time in two months, and by late night half way to Portland, Oregon.

Monday June 26, 2017:
Our one tentative appointment in Portland fell through when our friend was busy, and we scratched another possible stop in Sammamish, Washington for lack of time. Pushing on north we blew through Oregon and Washington state. The boxy little red car was a Datsun 210 (1979), excellent fuel economy but slow as a poke.


On 6/28/2017, RJBrown <!-rjbrown409 at gmail.com-> wrote: "Earlier versions of the "bluebird" cars were very much copies of the British Austins. Even the last real wheel drive 210 made in 82 showed it's British roots".


We crossed the Canadian border at Summas/Abbotsford at 9:30-pm. By 10-pm we landed in Chilliwack, British Columbia to visit Bruce Webster who has a 1959 MGA which he bought disassembled, now including 1800 engine and overdrive gearbox.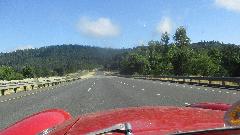 Late night catching up three days of photos and notes (while the MGA finally gets a rest). Navigator was downloading electronic maps to make the GPS work in Canada, but it also needs a memory chip to hold the new data.

Tuesday June 27, 2017:
Another friend visiting for the day. That's a 1962 MGB, very early pull-handle car. Off to lunch, then to the store to get a new cell phone that will work in Canada. Also find another store that has the required memory chip for the GPS. And find a bank that will exchange some U.S. currency for Canadian currency.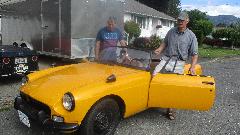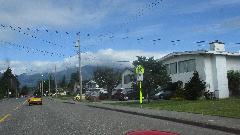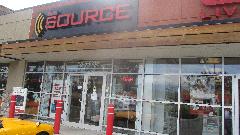 Then we were off to visit Doug Holbron at CRAP central (that would be Classic Restoration And Preservation) in Abbotsford, BC Canada. In recent years they have absorbed the remains of another shop and are now renamed All British Cars/West Highland Coach House. Lots of interesting toys here. That's an MGF (plenty of those in Canada). Also the Creosote Shedweasle MK-I, which is pretty much what it sounds like, wood floors, lots of parts scrounged from various cars, built in a shed.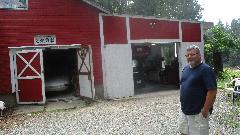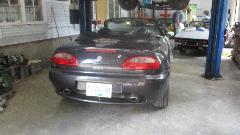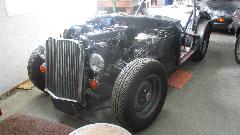 The yellow thing is an early Lotus Elan (although it does have four bolt wheels), followed by a slightly later Lotus Elan on the rack, and a TR8.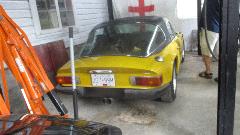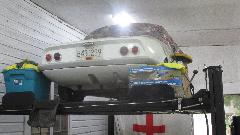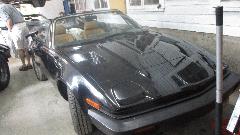 There was an MG TC that was picked up as a basket case completely disassembled, getting back together now, and a variety of other fun toys waiting their turn.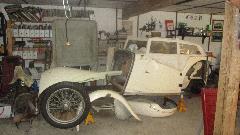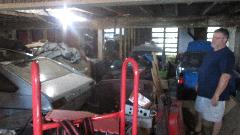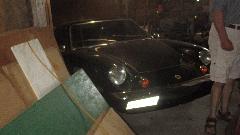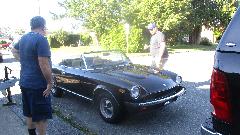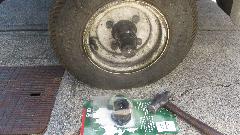 We had a stop at a NAPA store to pick up oil filters and a new Bearing Buddy for the trailer hub, and back to Bruce's place for a quick installation. Then Bruce's son showed up with a friend and a nice Fiat 2000, late 70's vintge.


And we got to paw around Bruce's garage (by daylight this time) to see his toys. There is an MGA undergoing restoration with body of to the paint shop, A Ford Model A, and Ferrari in a trailer mostly back together after being procured completely disassembled. Rest of the day was social, followed by catch up on clerical work and email.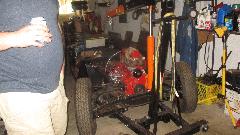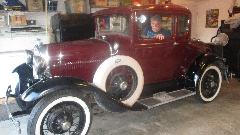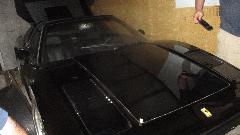 Wednesday June 28, 2017:
A short pause in the morning to pay up my car insurance for the next year (nice trick via the internet with no snail mail). Quick stop to pick up motor oil and a few supplies. Then it was travel day, heading north. British Columbia is a nice place (once we got out of the city), plenty of mountains, long roads, thinning traffic, being careful about where to find fuel stops. Enjoying the cooling weather and higher altitude. TC-1E 150 miles, Caribou Hwy/BC-97 200 miles, continue BC-97 about 75 miles to Prince George, 430 miles by day's end, second fuel stop here.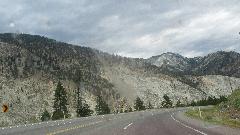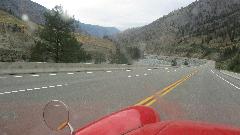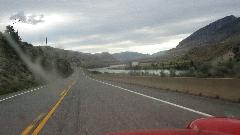 Thursday June 29, 2017:
Thursday morning hung a left and took the Yellowhead Highway 300 miles (yes this is the scenic route). Sailing along 70-75 MPH when possible (most of the time), or 55 up some or the hills are 7-8% grades in 3rd gear with the trailer, wonderful scenery, not much traffic. BC-37/Stewart-Cassiar Hwy 97 miles, Cassiar Hwy/BC-37 352 miles just into Yukon Territory. The wooden bridge floors are common here, easy local materials supply in the wilderness I suppose, but they might be wicked slick when wet. They appear to be patched regularly (fresh boards) and are a smooth ride. Look closely a bit to right of center, and you may spot the head of a baby black bear in the tall grass. We saw a few bears, but need to be quick with the camera. This one was being frisky in the road before before he got out of harm's way.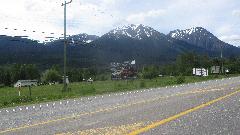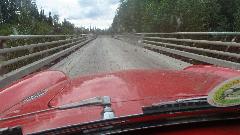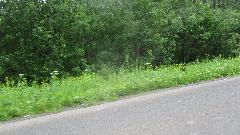 Hills getting steeper in this neck of the woods, 8% grades being common (and a few slightly steeper). Bugs abound. Three fuel stops in one day, sunset getting later every day, good visibility late night, so we kept driving. Last fuel stop in Good Hope Lake, BC at 9:45 pm. 15 minutes later and we would have been sleeping here for the night. This place was spotted by Garmin GPS from more the 200 miles away. What you see is what you get.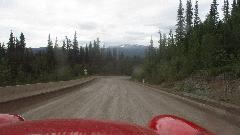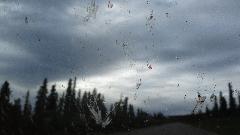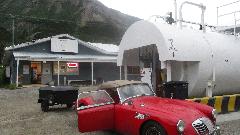 Passing into Yukon Territory at 11-pm, hung a left onto YT-1/Alaska Hwy and stop to snooze about 1-am, about 760 miles for the day with three fuel stops. As much as people fear the Cassiar Hwy I found it to be significantly better condition than it was 20 years ago. A little rough but doing 60 mph much of the way.

Friday June 30, 2017: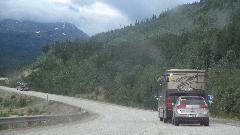 Off to a good start sailing through Yukon Territory. I recon half of the vehicles are either trucks towing travel trailers or motor homes towing cars. Lots of semi trucks of course, with single cars being in the minority. Traffic generally sparse, easy passing on the downhill grades. Breakfast stop in Teslin, Yukon was an interesting place, gas station, motel, restaurant, gift shop, wildlife gallery and Good Sam campground (maybe I missed a few).


Heading west, we blew through Yukon Territory for a bit, then back into British Columbia, then back into Yukon Territory. Lots of nice scenery. Also lots of bugs.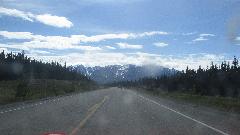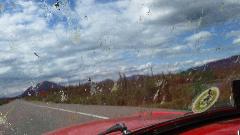 Alaska Hwy, somewhat deteriorated from 20 years ago, lots of frost heave and a million patches, constant undulations sometimes terminating with a harsh divot, hard on the suspension. Several short construction sites where the road swerves to one side through a 20 foot deep gravel pit to crawl up the other side, looks like designed to kill motor homes at anything more than 5-mph. Getting some confidence, hauled out of one of these pits at 10-mph and hit a huge pot hole and jump that finally buggered the suspension knocking the LF shock loose from the frame (been loose bolts for a while I suppose). Oops, a little camber error here. Two outboard bolts missing, one inboard bolt broken, one inboard bolt barely hanging on bent and stripped threads. Tried but failed to install a Heli-Coil in the inboard stripped thread, could not remove the broken inboard bolt (not enough space to work there conveniently). Installed two good studs in outboard holes, with lockwashers and good tight hex nuts, looks pretty secure, one hour roadside repair, and soldier on a bit slower, trying not to hit anything harsh.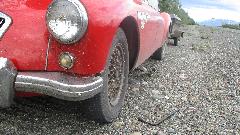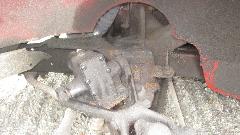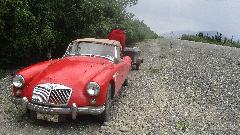 Stopped for fuel and bolt check, and discovered blown head gasket (between 3&4 like 2 months earlier). Two hours to R&R the head to install new gasket (last hour in the rain), navigator getting better with wrenches and repairs. During this process I noticed the "new" exhaust manifold was shrinking end to end so it was difficult to remove and would not go back on over the two end studs until I filed out the end holes a bit. Not particularly surprised, as the old original manifolds did the same thing. I just hope this does not eventually lead to cracking the manifold (a common malady). Soldier on.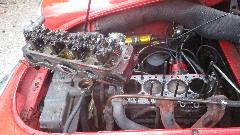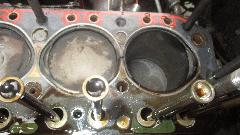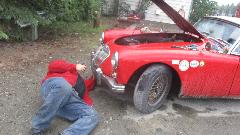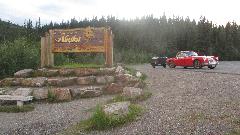 Crossed into Alaska on the stroke of midnight, setting clock back to 11-pm for the Alaska Time Zone. Found a spot to snooze, another 600 miles for the day. Tough day? Not bad considering 3 hours of repair delays. Our U.S. cell phone works again, 630-946-3841 if you want to call us. We have not had full access to internet for a few days, just uploaded photos and notes for three days. So if you haven't seen it yet, back up to Wednesday, June 28. Way behind on email and BBS.