The MGA With An Attitude
MGA LUGGAGE RACK mounting - AT-102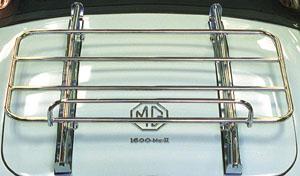 The original factory type luggage rack for the MGA has long steel straps front to back to distribute the load along the surface of the aluminum skinned boot lid. This allows for heavy loading without damage to the boot lid. Many aftermarket luggage racks are four-poster designs with no sucn straps, and just four bolts for mounting. These aftermarket racks can't carry much of a load before deforming the soft aluminum skin on the MGA deck lid.

The original type luggage rack can be assembled wrong, ending up in the wrong position on the deck. If the brackets are assembled backward, the rack will be positioned too far forward. It still works, but just looks funny to the trained eye. It may also put the load a little too high as well as farther forward, which may be of some hinderance to rear vision with the dash mounted rear view mirror. According to Anders Ditlev Clausager in "Original MGA" (page 89) a wing mirror was always fitted on the driver's side.


MGA factory type luggage rack
mounted right


MGA factory type luggage rack
mounted wrong

Find installation instructions at
www.mossmotors.com/graphics/products/instructions/244-700_244-705_INST.pdf.
Using metric fasteners on these new parts rubs me the wrong way, but at least
this one does not require carrying metric tools in yout traveling tool kit

---
Addendum November 2011:
See Faulty Parts note article FT-048 (incorrect fasteners).

On 11/29/2011, Kester Marsh <!-kestermarsh ar aol.com->wrote:


"To maintain the galvanic integrity between the aluminum, stainless steel and mild steel I added thin wall heat shrink tubing to the top 8 mm of the new 20mm long bolts and rubber insulation under the new 21mm dia washers".