The MGA With An Attitude
CIGAR LIGHTER as used in MGA -- AT-106C
This is an original style cigar lighter for MGA. Possibly the only thing unique about it is the knob design to match other dash knobs in the MGA. I suspect a lot of these were dealer installed, as factory records don't seem to record very many. Those installed at the factory may be only for special order cars.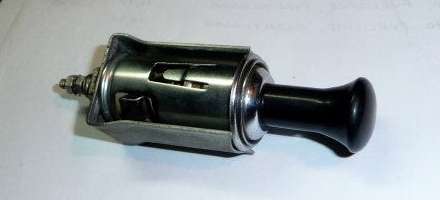 Note the single insulated electrical terminal on the back. The cigar lighter has to ground on the dash panel, so scrape a little paint off the back side of the dash.

On 3/15/2016, Frank Netterberg <!-fnetterberg at absamail.co.za.> wrote:
"A CASCO-TEX cigarette lighter was available as an optional extra on the Twin Cam. Does anyone know what it looks like, if it is still available, and where on the dash it is supposed to be fitted"?


On 3/15/2016, Bo Giersing <!-giersa at iafrica.com-> wrote:
"My YM2 554 was one of the very few cars fitted with a cigar lighter from the factory (CLtr officially), and the positioning as shown is original. The car still had its original vinyl dash cover when I acquired it. The positioning seems very arbitrary, but 554 was also fitted with screen washers, so there was no other place to put it. The lighter is the same as that fitted to the Jaguar XK 140, and can be obtained from a Jaguar specialist in the US, although it only includes the removable unit. (Look on ebay.com)".