The MGA With An Attitude
MGA RADIATOR BLIND -- AT-107
The radiator blind may be one of the most rare factory accessories for the MGA. In cold weather it may be advantageous to stop part or all of the air flow through the radiator to help the engine warm up (also heater and passengers).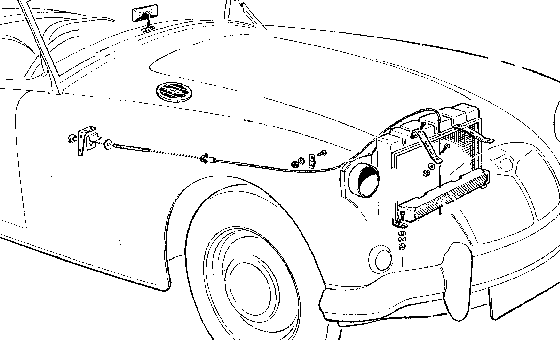 Radiator blind shown on Right Hand Drive pushrod engine MGA, pulling upward. For LHD installation the control cable would be installed on the left side.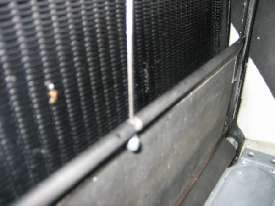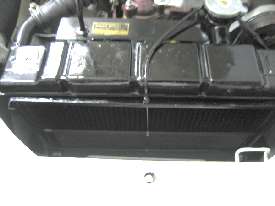 Thanks to Dominic Clancy, Switzerland for these pictures.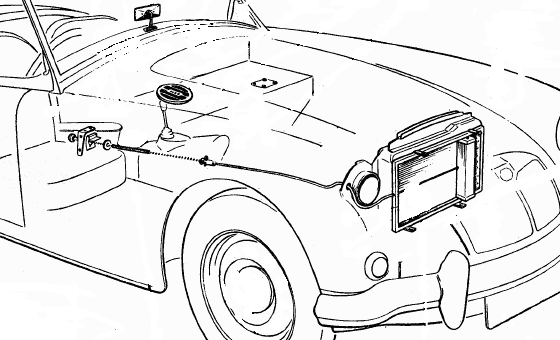 Radiator blind shown on Right Hand Drive twin cam engine MGA, pulling to the right. For LHD installation the control cable and related bracketry would be installed on the left side, and the blind would pull to the left.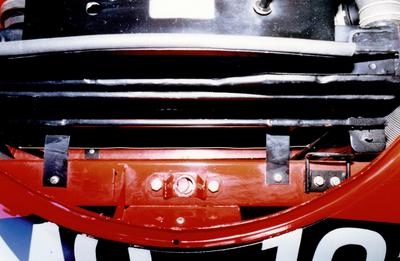 Radiator blind shown on Twin Cam MGA. Tough to get a good picture when installed. The Twin Cam radiator is positioned farther forward than in the pushrod engine cars. Thanks to John Barrett for this picture.

All indication is that no radiator blind was ever supplied for Austrailan bound cars. A word from Norway says that the radiator blind sometimes had freezing up problems there. This problem may be aggrevated by snow blowing in through the grille apperature.

In my college days in the late 1960's I used to cut a piece of corregated cardboard to exactly cover entire face of radiator core. I would cut two slits from the top halfway down to split the top half of the sheet into three sections. These three flaps could be folded down in different combinations to expose varying area of the radiator core as the weather might change. In sub-freesing weather most of the core could remain covered. I drove through a good portion of one particularly cold winter with 5/6 of the radiator core covered.

Using the factory type radiator blind it would be convenient to cover the entire radiator for faster warm up, and uncover a small portion as required only after warm up.

On Jan 28, 2015, Roel J. in Bovensmilde, Drenthe, Netherlands wrote:
"This is the blind that was installed on my car. There wasn't a frame to guide the blind. Maybe it got lost in the early days. There is also a tube behind the dashboard to guide a wire. You can fix the wire on the left side of the dashboard. The spring inside this blind is still very strong".