The MGA With An Attitude
Racing Screen, BROOKLANDS -- AT-109A
The traditional Brooklands racing screen with polished aluminum frame, safety glass and chrome plated brass mounting hardware.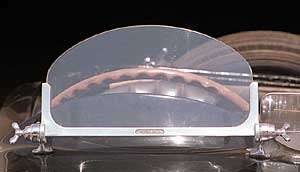 Being a period aftermarket accessory, I suppose you just position it wherever you like, drill some holes, and screw it in place. They would be period correct and seem to look the business on pre-war British sports cars, and post-war cars with generally of pre-war styling (like the MG T-types). For the MGA it just doesn't look right to my eye. Seems like the swoopy streamline styling of the MGA really wants the low, wide, curved sports screen.

First appearance of the MGA at Le Mans in 1955 in the Prototype class used a short wrap-around windscreen as a wind cheater. From that day forward the curved racing screen seems to be prefered for MGA. So you might be hard pressed to even find a picture of an MGA with Brooklands Racing Screen installed.

Then there was this idea, which also looks wrong for multiple reasons, but maybe it actually works as a wind blocker.