The MGA With An Attitude
COMPETITION SPORTS SCREEN -- AT-109
The competition sports screen windshield made by Auster was a factory option for MGA roadster models. This could have been installed at the factory on special order, or could be ordered through the MG dealer. If ordered as an aftermarket accessory I believe this would have been supplied as a complete assembly. In essence, it has cut down side bars (4 pieces), modified bottom rail (due to increased rake angle), standard bottom corner brackets, but no top rail (use good adhesive to hold the glass?). Of course you can forget about screenwipers or a rag top. Factory part number for this option is AFH 2591, which was priced at $65-USD in 1960.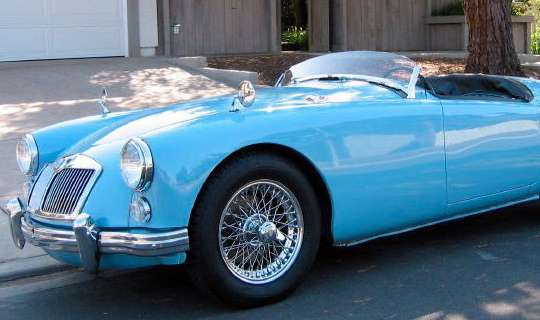 For a current supplier, hang onto your checkbook, and see here:
Competition Windscreen
Ragtops & Roadsters - 203 South Fourth Street, Perkasie, PA 18944



This is a factory NOS all alloy framed screen which has never been installed (photo compliments of Frank Graham<!-frankgraham at msn.com->). The side pieces are only 6.5" tall and are not drilled for the stock screen support pieces since the increased rake will not allow them to be used. The Perspex panel measures 14" at center. The intent was that it was easier to cut this down if desired than it was to make a taller replacement screen. With increased rake angle the bottom rail will be slightly different shape. Notice what appears to be a slight dip in the center of the bottom rail.

For more Spots Screen information, start with WT-201 in Windscreen tech.

For information about Plastics used in MGA see UT-111 in Universal Tech.