The MGA With An Attitude
FLOOR MATS, Off the Shelf - AT-161
Just a small sample, there will of course be many more than I have listed here.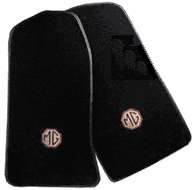 From Moss Motors: Custom tailored for a perfect fit, these mats are made with an ultra-dense plush carpet and non-slip rubber backing. They come embroidered with a 3-1/2" MG logo.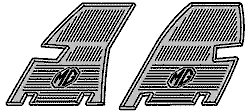 From Victoria British: They are made from heavy ribbed rubber. Floor mats contain "MG" Octagon logo.



From Victoria British: Plush Logo Mats (to the Rodeo Drive level). Mildew and moisture resistant, non-skid fire retardant backing. Embroidered "MG" logo white on black. Precisely fitted to your MGA.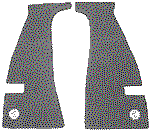 From Victoria British: These are from British Motor Heritage. Embroidered "MG" logo, custom fit, non-slip crumb backing, black with matching binding.

No word yet for any of these on how well they fit, or if there is any difference between 1500 and 1600 (high starter bump in the tunnel), or any cut-outs for accelerator pedal stop. J.C. Whitney sells rubber, vinyl, carpet, plush carpet, all custom fit for MGA. You can shop till you drop and never find all the sources for accessory floor mats for your MGA.