The MGA With An Attitude
RUBBER REAR SEAL for Three Main Bearing Engine - CS-202G
VIDEO INSTALLATION of Rear Seal by "Wheeler Dealers"
The rear seal installation is in 5 steps spanning 5 web pages.
Click green arrow at bottom to follow pages in sequence.
A - Modify rear plate
B - Machine slip ring
C - Modify Viton seal
D - Modify bearing cap
E - Assembly
F - Can I buy it?
G - Video Installation - (this page)
H - Follow-up notes

Wheeler Dealers restores an MGA, including
10 minutes of video on installation of the rubber real seal.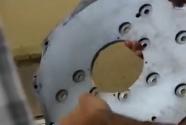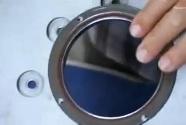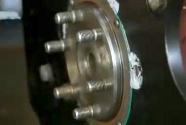 YouTube 40:38 - https://www.youtube.com/watch?v=A8poPcD5_fI
(800-MB mp4 video) - HD optimum viewing screen size -1280x720 pixels
	 0:54-1:42  -- Gerry Geraci's Twin Cam
	15:32-18:02 -- Main bearings and rear scroll seal
	18:03-20:17 -- Rear scroll seal introduction
	20:18-21:35 -- MGAguru rear seal machining
	23:53-27:26 -- MGAguru rubber seal installation
The video was a series of short clips (preview) from a Wheeler Dealers TV Episode on restoration and resale of an MGA.

Or the longer version as shown in TV in September 2015:
YouTube 55:15 - https://www.youtube.com/watch?v=gCODZJ5KmfQ

YouTube has removed the videos, apparently as a violation of TOS agreement. I suppose they saw it as a commercial advertisement. I have since recovered the first video and posted it on my own web site server so it still works.