The MGA With An Attitude
OIL DEFLECTOR FOR VALVE SPRING DOES NOT FIT -- FT-008
MGA and early MGB
Refer to Moss Motors part numbers:
433-020 Deflector, oil (on valve) - MGA and MGB to 18G4348 engine
460-205 Valve Retainer - MGA and MGB G-GF engines
This same problem may apply to other sources as well.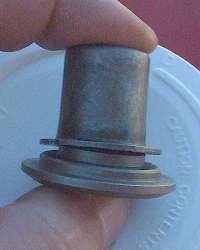 Original MGA and early MGB valve collar was 1H1319, used with oil deflector 1H1320. Pilot diameter inside of deflector should be 0.640-0.643 inch. Male pilot diameter on original collar should be 0.639 max.

Beginning with MGB engine G 4385 the oil deflector was discontinued. Valve collar 1H1319 was superceeded by 12H992, which did not use the oil deflector. The male pilot diameter for the inner valve spring on this part is 0.700 diameter, which will not allow use of the oil deflector. Moss Motors does not supply the original early type valve collar. Moss catalogs should be updated with appropriate notes with next issue (after October 2003).

After the first 4284 MGB engines the factory simply stopped installing the oil deflectors. If you wish to use the oil deflectors, you will need to use the original issue MGA or early MGB valve collars. If you need replacements for these parts you may have to source used parts. If you use the new valve collars you will not be able to use the oil deflectors.

For explanation of how valve seals work, and some alternative valve seals, see my tech article on alternate valve seals.