The MGA With An Attitude
MGA Bootlid RUBBER SEAL does not fit properly -- FT-016
At 04:47 PM 6/12/04 -0400, Pat Gedny of Northampton, England, wrote:
>".... source for a better MGA boot lid seal than that supplied by Moss (and indeed most other suppliers). The problem is that they supply seals to metric dimensions and which are marginally too fat (approx 11 mm) to allow the lid to close properly.

I have now found a source of an imperial size seal measuring 3/8 inch thick and which allows my boot lid to close properly, probably the same as originally fitted ex factory.

The company is Vintage Supplies, Happisburgh, Norfolk, NR12 0RX, (England) , Tel no 01692 650455, website www.vintagesupplies.com and the seal is reference SSSF (apparently a Bentley boot trim !! )"

Addendum May 10, 2005:
Also good dimensions on a boot seal from Macgregor British Car Parts in Ontario Canada

Addendum January 30, 2006:
Good dimensions reported on a boot seal from Bob West in the UK.
Also a good report on boot lid seal from Scaroborough Faire.

Addendum July 10, 2010: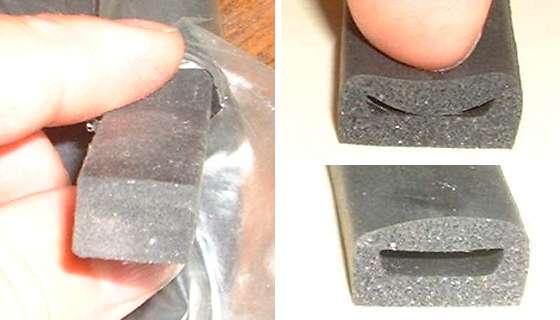 Moss Motors solid rubber seal on left. MacGregor soft and hollow seal on right. See the science in the BIG DIFFERENCE in article BD-116A in the body section.

On 9/25/2012, Kelvin Dodd of Moss Motors, Ltd, USA, wrote:
"Based on your comments Moss changed supplier and had new hollow type seal manufactured for this application. All supplies to both Moss US and Moss UK have been of this type since late 2010".