The MGA With An Attitude
PLINTH PAD, MGA 1600 - Too Small - FT-025A
Replacement for BMC part number AHH5918
On 12 February 2017, Dominic Clancy in Switzerland wrote:
" I have received a set of the seals for between the plinth and rear fender, but they are about a centimetre too short and about the same too narrow. They will be rejected back to Leacy Classics, but can anyone suggest a source of known good ones"?

To which "Bolney Coupe" in West Sussex, UK responded:
"I bought plinth seals from Moss and the fit was OK after some manipulation but no cutting".

On 21 February 2017, Dominic Clancy in Switzerland wrote:
"The Moss plinth seals turned up today, and are a world different.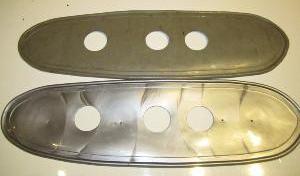 For a start they are silver plastic, and the Leacy ones look brown against them. Then they are a full 6mm longer than the Leacy ones, and 3mm wider along the entire length. Also the Moss ones have a uniform curve to the shape, and the beading around the edge is also constant in profile and width. The Leacy ones are irregular on all counts. Photo attached, Leacy seal at the top, fresh out of the bag. The Moss ones fit the plinths, the Leacy ones don't. So if buying ask for a check on the colour. If they are described as grey rather than silver, steer clear".

The Leacy part is the bad news. The Moss UK part is now the good news, showing that the problem on the prior page has been rectified.