The MGA With An Attitude
PLINTH PAD, MGA 1600 - Too Large - FT-025
Replacement for BMC part number AHH5918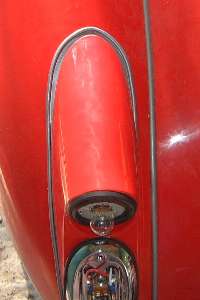 At 01:23 PM 6/25/05 +0200, David Henry wrote:
"AHH5921, this rubber pad is badly shaped, compared to my previous part (which is probably 10 years old). The new part is about 5mm longer than the original part and also too wide."

Click for larger image.
This part was sourced from Moss Motors UK.
David is in Kfar Bialik, Israel.

Addendum, Feb 21. 2017:
Looks like this one has been fixed. See next page.