The MGA With An Attitude
Master Cylinder RUBBER SEALS - Too Large -- FT-053
Rebuild Kit Part Number 180-970 from Moss Motors, Ltd.
Fits Lockheed 7/8-inch bore master cylinder.
This problem has been around for several years, possibly since the late 1990's, and it doesn't seem to go away on its own. Many people complain and comment on the problem regularly, but I suppose no one ever sends the bad parts back, so they continue on the market.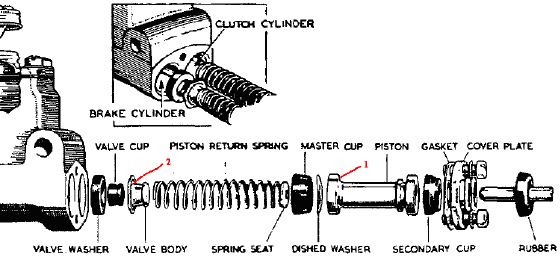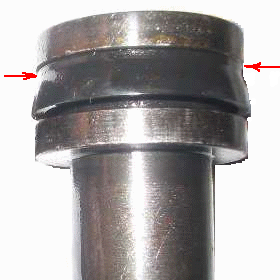 Problem is with the part called "secondary cup", or the outer seal that keeps fluid in the cylinder. This seal cup has a hole in the center, and it fits over the outer end of the piston. When installed the rubber material is to large in diameter, particularly at the point of the red arrows in the photo at right. I don't know if the OD of the rubber part is too big, or the ID is too small, but it has the same effect once it is stretched into position on the piston. The seal is too large and drags on the cylinder wall, which prevents return of the piston after it is depressed into the bore.

My standard advice to deal with this problem when it sticks is to push the piston in by hand, and blow it back out with air pressure. Continue cycling it like this until it will (hopefully) get worn in with less friction and will return on its own with spring force only. This may require dozens or hundreds of cycles. Most of the time it works, some times it never gets free, and all of the time it is a royal pain. Field installation commonly takes from half an hour to half a day (before the installer may finally give up if it doesn't work). Considering how many of these parts are replaced, it may add up to hundreds or even thousands of labor hours per year, and of course a horrible amount of frustration. I have dealt with it numerous times myself. I get so many comments and questions mailed my way that it sucks up a lot of my time responding to all the inquires. So I finally give up, and I am posting it here as a faulty part.

Moss Motors is being notified (one more time), and I will post any follow-up information as available. I think this problem is not unique to Moss Motors, as I had the same issue with a rebuild kit from Victoria British. I am hereby soliciting for feedback on which parts from which suppliers may have this problem, and more importantly, wanting to know if there is a vendor supplying parts that actually work as intended. All comments welcome.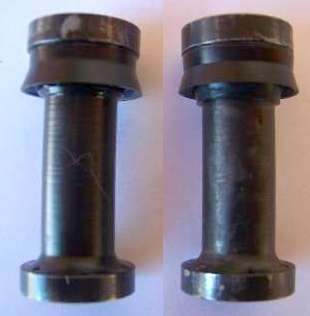 Photo at right is from Bob Brown in Tucson, Arizona, USA, showing the master cylinder piston with PBR secondary cup on left, and with Moss Motors secondary cup on right. Difference in diameter of the seal immediately below the piston end flange is immediately obvious. Piston with the PBR seal does not jam in the cylinder bore.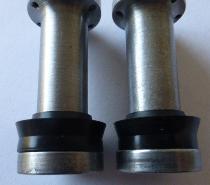 Photo on left from John Francis, Cowbridge, Wales, UK. <!-jh.francis at btinternet.com-> (Click for larger image). He writes:
"The AP Caparo ones are I think much better. Dimensions: Main seal diameter 23mm so slightly smaller than original Lockheed (23.66), but 9.4mm long, 1mm shorter than original. This hopefully will avoid the bleed hole getting covered. The diameter of the piston seal when fitted to the piston is 20.8 mm above the groove section so a good clearance from the 22.14 diameter piston. Pic shows B&G seals on left [too fat] and AP Caparo on the right [good fit]. Both were well worked into the groove".

On 8/8/2014, Steve Ross <!-notofworld at yahoo.com-> wrote:
"You are asking for feedback on suppliers with too fat of rubber MC kit bushings. Mine will not slide at all, from "Northwest Import Parts" Portland, Oregon".

On 2/21/2015, Chris Lloyd Owen <!-litcham at netcom.co.uk-> in the UK wrote:
"After a bit of pressure from me last year, and emailing them a snip from FT-053, Moss Europe did in the end switch to buying these seals from AC Caparo. I finally got them, and they were a perfect fit immediately".