The MGA With An Attitude
SPOKES for Wire Wheels - Too Large -- FT-054
Spoke, long, outer, Number 200-030 from Moss Motors, Ltd.
Spoke, short, inner, Number 200-040 from Moss Motors, Ltd.
For original 48-spoke wire wheels.
Applications: MGA, MG TC TD TF, Triumph TR2-4A, Austin Healey 100 3000.
I'm not sure how long this problem has been around, but it has only now come to my attention (October 2012). Replacement spokes for original MGA 48-spoke wire wheels will not fit through the holes in original splined wheel hubs, as the replacement spokes are too large diameter at the head end. (Click for larger picture).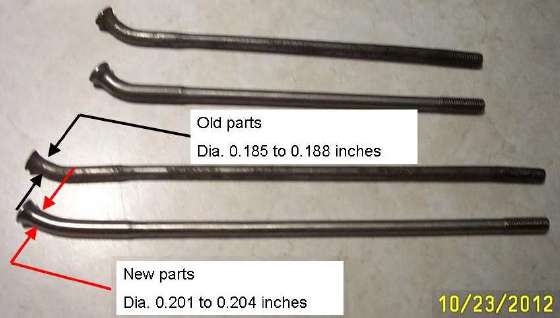 Moss Motors has been notified of this issue, but it is likely to also affect many other parts suppliers as they may procure these parts from a common manufacturer. The feedback so far is that the current replacement spokes are correct for current replacement wheels. That may be a perfectly legitimate situation if the new spokes were sold under a different part number that applies only to modern replacement wheels, and the parts are noted not to fit the original application. But as long as these parts are being marketed under the original application part number they must be considered to be faulty parts, as they will not fit in the original assembly.

Find more information about misfit wire wheel parts and how to handle the situation at WL-124 in the Wheel Tech section.