The MGA With An Attitude
BAD RUBBER - Swivel Link Seals -- FT-055
ACG4030 Seal for swivel pin - from Moss Motors UK
On 11/18/2012, Richard Porter <!-rvwp at yahoo.co.uk-> in the UK wrote:
"Attached are some photo's of seals I purchased from Moss in the UK in August 2011 and fitted later that year during my Chassis rebuild. The pictures were taken yesterday [after 15 months in storage]. The car is undergoing restoration and as has not yet been out of my workshop, yet the seals (and also the new bump stops purchased at the same time) are badly cracked and perished and will need replacing".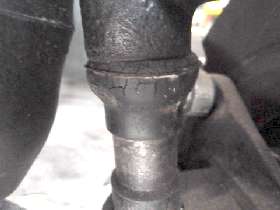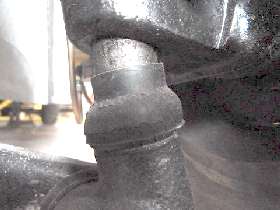 On 11/27/2012, Richard Porter wrote:
"I did report the problem to Moss-Europe, and their response is copied below".



Richard,

I have just received an email from our tech guys and they are saying that they have only had a couple of reports of rubber failure similar to yours and both times the cars were undergoing a full restoration. They go on to say that cars that are in storage are more susceptible to this kind of thing as the rubber will dry out. Cars that are on the road generally don't suffer from this type of failure as the rubber is lubricated by the cars movement. They advise that customers who are fitting rubber parts to cars undergoing rebuilds, smear the rubber with a thin coat of grease to avoid it drying out. Th I apologize for any inconvenience this has caused you and we will of course offer to replace free of charge the perished rubber parts. Would you be kind enough to list all the parts that need replacing and the address you would like them sent and I will arrange dispatch.

Kind Regards,

Russell Scott
Moss Europe Ltd



Call it like it is, it's a crock. If the seals work properly they are supposed to be dry on the outside, in which case they will deteriorate just as quickly in service as in storage (or maybe faster in service). Considering the amount of work required to replace these seals, there is no way I would install another seal set from the same supplier, until they have done something to improve the parts. Moss UK has been notified, and they chose to do nothing. Do not buy these parts from that source until they fix the problem.

Meanwhile, there is at least one source of good parts.


Moss Motors USA


281-388 - Seal set, 4 pin seals and 8 link seals

On 10/31/2012, James Alcorn <!-autovint at pacbell.net-> from Autovintagery wrote:


After hearing the trouble some of us have had with king pin seals 281-388, I did some investigation. A batch of rubber seals marked RN0994 deteriorated badly and were taken out of circulation in 2004. If any are still in circulation, they should be returned for replacement.

Seals made from a DuPont compound and marked ACG4030 have proved very successful. Since 2007 of the hundreds of sets sold, Moss [USA] has had no returns or compensation request on these 281-388 seal sets. - Twin Cam Jim



Addendum, December 2012:
We now have a more appropriate replay from Moss UK:


"We have been happy with the quality of both the AAA1323 and ACG4030 for the past few years. We did have a problem which was addressed several years back, as you may or may not know we buy several years worth of stock at a time we have never seen the stock deteriorate whilst on the shelf. But It seems that the manufacturer has let us down once again on these. We have now decided to drop the AAA1323 and will only be stocking the AAA1323X neoprene version; we will do the same with ACG4030 very shortly".