The MGA With An Attitude
PUSH RODS, Break At Top End -- FT-067
MG Owners Club part number 11G241
BMC part numbers 1G2380 Fin.(e)GB5503,
11G241 Com.(e)GB5504 and all 1600 & 1622 engines,
12H1306 (alternative part number)


on March 15, 2014, Ken Klay in London, United Kingdom wrote:
"The engine started to run like a bag of poooo, banging and clattering, when I went to pull away at a junction. Had to be recovered home on the back of a lorry". After examining the other rods I'm less than happy with the finish of the cups, some are a tad rough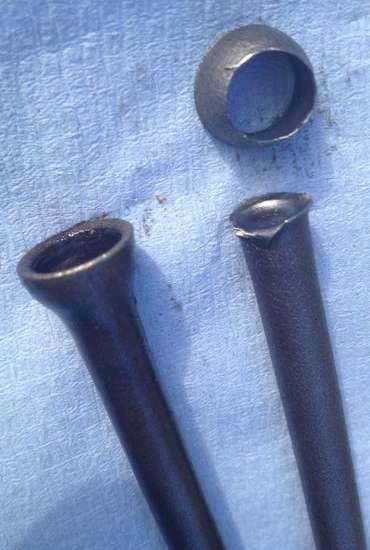 This pushrod (procured from MGOC) appears to have been poorly formed or improperly machined, having very thin wall at the base of the top end socket. It broke in service after only 1300 miles during a casual drive at moderate engine speed.

The problem has been reported to MGOC. Suggest not buying or using these parts until we get an inventory inspection report and resolution from MGOC.