The MGA With An Attitude
BAD RUBBER - Boots on Tie Rod Ball Ends -- FT-068
Moss Motors USA part number 263-288.
BMC part numbers ACH6168 or 8G8452.
The second BMC part number had change of rubber boot and retaining ring.


On 7/4/2014 Simon Terry <!-sterry at bell.net-> wrote:
"I purchased a set of tie rod ends from Moss, part 263-288 in 2012. Parts are "made in UK" on the customs papers. Installed finger tight last winter, no grease or solvents. I just noticed today that the rubber on both has split around the outer circumference, typical deteriorated rubber split with crumbly edges. The frame has been on jack stands the whole time in a garage, no direct sunlight".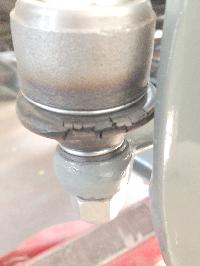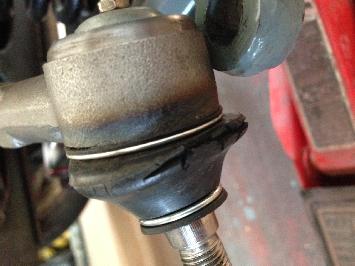 Bad rubber has been a rampant problem in recent years, especially for rubber parts made in China. This assembly was made in UK, but not sure about source of the rubber boot. More recent issue tie rod ends from Moss may have different rubber seal. The currently supplied parts have no grease fitting and are too long, requiring modification before installation.