The MGA With An Attitude
THROTTLE PEDAL BRACKET, RHD, Wrong Hole Size -- FT-074
Moss Motors, UK part no: AHH5302
Replacement for BMC AHH5302 Bracket - Pedal Mounting - RHD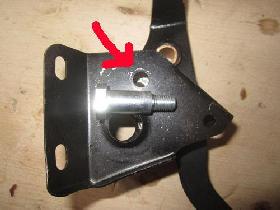 Here the pivot for the throttle pedal is a shoulder bolt. The thread is 5/16-24-UNF, while the shank should be about 0.002" smaller than 7/16" nominal (0.4355"). Holes in the bracket need to be 7/16" on the left side and 5/16 (or a smidge larger) on the right side. This replacement part has the small hole on both sides, so the shoulder bolt cannot be installed. The field fix for this is to enlarge the hole on the left side to 7/16" diameter (drill or ream).

On October 25, 2014, Chris Lloyd Owen <!-litcham at netcom.co.uk-> in Kings Lynn, Norfolk, UK wrote:
"Moss Europe sent a replacement part, and sure enough the holes ARE drilled correctly on the replacement part".