The MGA With An Attitude

MGAguru.com
MGAguru.com
Carpet INSTALLATION With MAGNETS -- INT-101M
On 3/14/2017, Richard Day <!-rich.day909 at icloud.com-> in Bristol, UK wrote:
"A problem with carpets glued down with a felt underlay in a roadster is that they retain moisture after a rainy soaking. Many cars have suffered rust problems because it's not easy to dry out the carpets. Despite the advantages (heat and sound insulation) I did not want to fit felt underlay. I also wanted all my carpets to be easily removable.


I have devised a method of fitting removable carpets: The front floor pieces are fitted as originally with the LTD fasteners. The rear floor pieces, under the seats are left loose. The rear bulkhead carpet piece is glued to a shaped ply hanger which is screwed with two 2BA set screws to the top of the plywood bulkhead with washers and wingnuts accessible under the battery cover. All of the rest of the carpet is held in place with neodymium magnets.


My method of carpet fixing with magnets is more easily explained with photos than text. Basically there are ribbed rubber backing pieces cut to fit to the steelwork along the inner sides and the gearbox/trans tunnel. Strong magnets are let into the rubber and glued in with superglue. I have used rectangular magnets because the cutouts are easy to make and the magnets are 5mm thick, the same as the rubber sheet. With the rubber pieces fitted in position in the car the carpet pieces are then very firmly glued to the back of the magnets and to the rubber. (Note: a good way to temporarily hold the carpet firmly down to the magnets whilst the superglue is setting hard is with another set of magnets on top which jump into position most helpfully).


When I get back from a wet weekend with the car in the garage the first job is to rip out all the damp carpet and hang the pieces around the house to dry. It all goes back the next day - no trouble at all!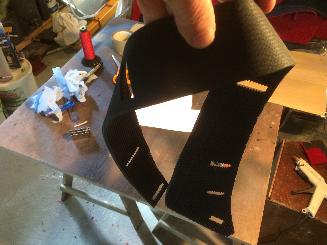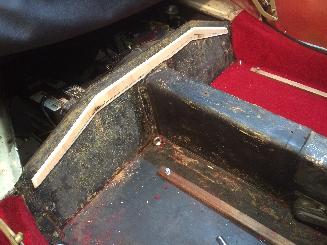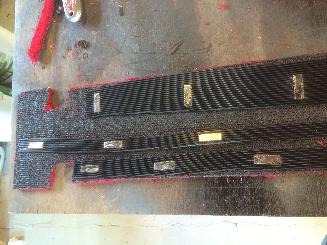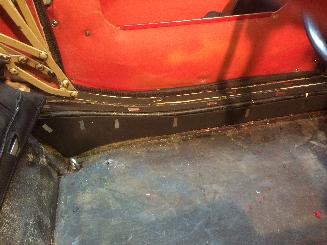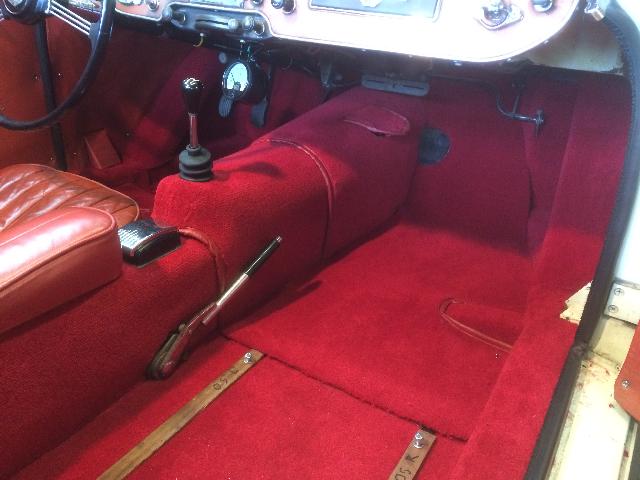 Yes, the 5mm thick rubber is not such a good heat insulator as felt but it's not too bad. I have run this setup a few thousand miles and in some hot weather and in comfort and have never noticed too much heat coming from the transmission tunnel. I do have a heat shield above the exhaust on the left side front. I admit there is a small weight penalty using rubber as underlay.

The tunnel carpet is secured in the same way - that is with a row of magnets near the lower edges on both sides. (I think because my carpet is glued to the rubber it to holds its shape well.) For the boot (sorry, Trunk) the rubber is first just cut to fit the various depressions in the floor then the carpet is glued firmly to the rubber. No magnets needed. It doesn't move.