The MGA With An Attitude

MGAguru.com
MGAguru.com
BATTERY COVER Handle With Rubber Cover -- INT-101H
Part way into MGA 1600 model production there was a change of design of the convertible top frame and canopy, and also the battery cover at the same time. This happened at (c)78249 in October 1959 for all roadsters (including Twin Cam). Refer to Confidential Service Memorandum MG/294 and the Service Parts List.

On 5/16/2017, Mark Wellard <!-wellardm at optusnet.com.au-> in Australia wrote:
"Attached are some pictures of the remnants of my original rubber cover for the handle on the battery cover. The handle has a bend towards the front of the car about 1/3 of the way up. The rubber is a single piece, smooth on each side, that followed the shape of the handle. The pressure of the side screens has distorted it somewhat".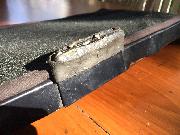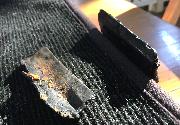 This is a simple part, 38% of all MGA had this part, and they all need replacement. At time if this writing, this rubber handle cover is not known to be available as a replacement part.