The MGA With An Attitude

MGAguru.com
MGAguru.com
MGA Tool Roll STRAPS -- INT-102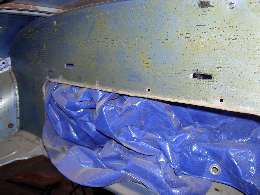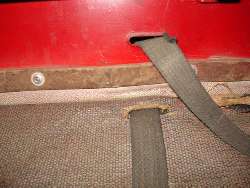 Apparently there are at least two different setups for installing the tool roll straps in the boot of the MGA. The picture at right comes from Steven Clarke's Twin Cam built in June 1959. I also have a picture of a mid 1958 roadster without the brackets. The picture below left comes form the Operator's Manual for the MGA Twin Cam, which should be the same body setup as other MGA (not 1600 Coupe) in this area. The image below right shows routing of the straps through slits in the carpet cover(s). There is a picture in "Original MGA" (pg 32) showing this same arrangement, but not mentioning the vintage of the car in the picture.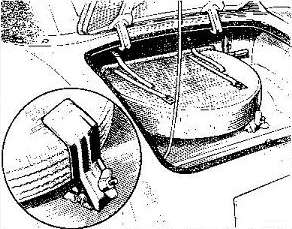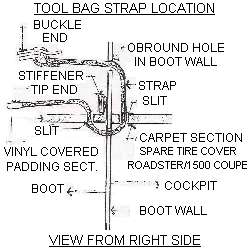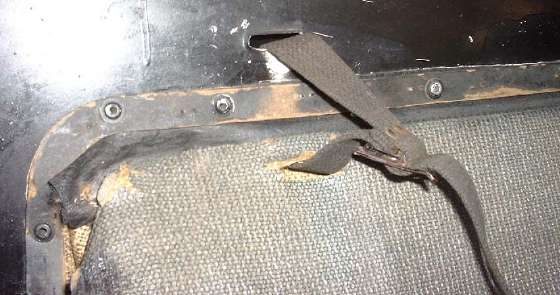 ---
The pictures below come from my 1958 Roadster (built in August 1957). This has small brackets which look like miniature drawer pulls attached to the front face of the bulkhead panel with grommet head screws. The tool roll strap is passed through the slot in the bulkhead, wrapped around the bracket, and passed back through the same hole in the panel.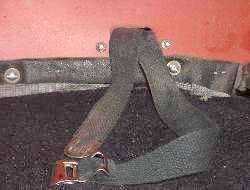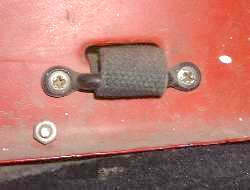 Tool roll straps in the boot. - - - Attaching brackets on front of bulkhead.
I am pretty sure these little brackets are original. In the late 60's I owned three MGA in one year, a '56. '58, and '57 in that order. They all had the little brackets for the straps. On the first car (the '56) the DPO had moved the brackets and the straps to the kick panel area on the inside walls aft of the seats. Here the straps were useful for holding back the folding legs of the soft top frame so they wouldn't move forward to poke the seat backs. This problem was relieved somewhat with a change of design of the top frame about at the beginning of 1600 production (maybe a little earlier) when the frame would fold a little farther back, and the side curtain bag would sit on top of the battery cover.

Again in "Original MGA" there is another picture (pg 33) showing the closed bulkhead of the 1600 Coupe (and Twin Cam of the same vintage) which has the spare tire positioned farther back fully in the boot. This application obviously cannot run the tool roll straps through the carpet slits, as there is no large aperture through the bulkhead. I'm not clear yet on how the straps are routed in these cars.

I will be further investigating this feature in the near future, hoping to determine where the production transition points occurred, and what method was used for the 1600 Coupe.

---
On 5/22/2010, Bill Graham in Scottsdale, AZ wrote:
"My car doesn't have these brackets or holes to anchor them. The VIN #HDR42/18573 is pretty early. I am sure it is original".