The MGA With An Attitude

MGAguru.com
MGAguru.com
MGA Seat Belts - Shoulder Harness Bracket Retrofit #2 -- INT-120A2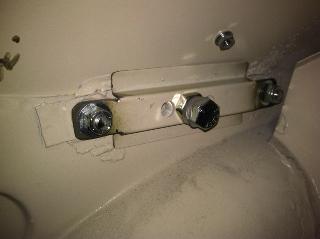 On 6/22/2014, Sandy Miller <!-smillersc5 at aol.com-> wrote:
"I wanted to send along a photo of my solution for the shoulder seat belt attachment point. I have not liked the original process to attach the upper to just the sheet metal at the cockpit rail, so I decided to cut down the Clarke mount, and drill to bolt down to the two fender mount bolts. This may be similar to the coupe install, but it will be about eight inches out and down from that original roadster location. I am happier about the strength, and I think the location will be okay".

This may be a matter of personal preference, as it affects the way the shoulder belt lies across your body. Placing the shoulder harness attachment point on the fender bolt joint positions it farther outboard. The belt then bears on the shoulder farther outboard rather than across the chest. There is greater risk of it slipping off the shoulder or twisting the body in case of frontal impact. The coupe mounting is on the inner fender, a few inches farther inboard and lower.