The MGA With An Attitude
VELOCITY STACKS #5-- PP-104D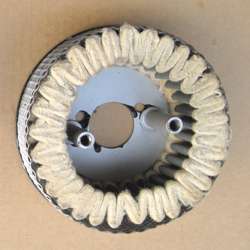 Original Volkes air filter assembly on left.
New air plate in K&N filter housing on right


On 15 November 2011, Cam Cunningham in Lancashire, UK, wrote:
"I have just fitted and road tested the 3rd set of Steve Gyles' prototype stub stacks. I found that I had to open out the holes to allow it to fit into the K&N filter. I also checked with the original filters and the holes were too small for them too. It only required a few millimetres to be carefully filed away but you might like to check this on your prototype and increase the hole diameter so it will fit all types easily out of the box. I have attached the photo of the two air filters for comparison with the stub stack in the K&N. Just been for a 25 mile drive to road test them, and the throttle response, in top gear particularly, is very noticeable over 2000 rpm. It makes the 40 to 60 mph acceleration noticeably better and more fun to drive".