The MGA With An Attitude
1950cc CROSSFLOW With FUEL INJECTION - PP-300
On December 12, 2006, Tim Sullivan in Sydney, Australia, wrote:
Finally got the engine into the car. .... As you can see from the photo Iíve fitted a HRG head from Moss. The engine is a 1950cc 5 bearing MGB engine, running a Piper 285 Cam. Lots of internal works done to make the lump run as well as you can, steel crank and conrods etc. I also sinned by fitting a programmed EFI system, but it makes the motor a lot smoother under load. According to the dyno its putting out close to 140 BHP at 6000rpm, I canít wait to hear what it sounds like and how it drives on the track. I realize the engine wonít comply with historic race rule, but I donít care.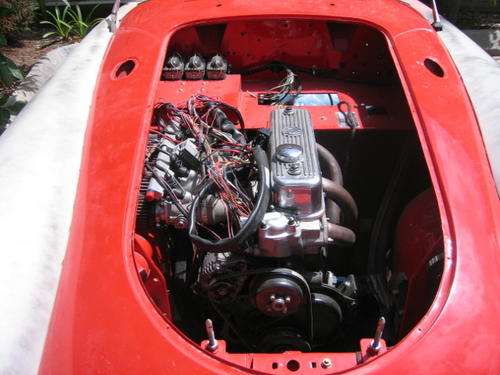 On December 13, 2006, Tim Sullivan wrote:
"I used the Wilwood pedal box and fitted Wilwood discs to the four corners. The front suspension is the Moss coil over system, at the rear I have Koni shocks with the single leaf composite springs and a panhard bar. I'm not sure what size sway bar, I think 1" is too big, maybe a 7/8 or 3/4 bar, I might buy and try both as they are not to expensive.

"I know its not too historic or original but I wanted a classic car that could keep up with modern traffic and surprise a few guys at the club track days, but no way I wanted a Nissan etc engine."

On December 21, 2006, Tim Sullivan wrote:
I realize the Moss head is only a reproduction but that didnít really worry me too much. I understand with a lot of work the head gives more torque than a standard head. I donít intend to go historic racing so not being 100% original didnít worry me and Iíve made lots of other ďimprovementsĒ which would make the car ineligible anyhow. I got my roller rockers etc from the UK.

It's only got a compression ratio of 11 or 12 to one (canít remember what I was told). I wanted to be able to fill up on 98ulp and not have to find special fuel. I understand that the EFI will make the car a lot smother to drive than Webers or SUís, the costs about the same. Iím looking to hear how it sounds and how it drives, hopefully will have some soul and go ok.

With a little coaxing, on May 28, 2007, Tim Sullivan wrote:
The MGA is going to have a race exhaust fitted next week, then some plumbing works such as the aluminum radiator etc. After that there's some wiring before it goes for the paint job.

Jim the guy who built the engine only builds race engines, and did a lot of work on the block head etc. It's designed to run on 98ulp, as race fuel is such a pain to get here you need a license now as its leaded and can only use on the race track. The compression is therefore not as high as it could be, only about 10:1. It's 1950cc with off set bore and usual stuff. Jim told me that a proper EFI system would be much better (more torque) than SU's or Webers and cheaper though not very historic. I loved the look of the A but didn't want to have the doors sucked off by an econo-box like a Smart car. I think it should have about same power and weight as a Lotus Elise is, which isn't too bad. I felt it was just wrong to put something other than an MG engine in an A. I know some guys put Chevy and even Honda motors into an A, but then it no longer an MGA. The engine has about 140 BHP and 130 Lf-Ft torque with a Piper 285 cam. I was told we get a few more BHP with a 300 cam but lose too much torque and would need to rev ring out of it. With a 285 cam the dyno shows its got over 85% max torque at 2,500rpm. I've designed the car for events like Targa Tasmania and Classic Adelaide where being 100% historic isn't an issue.

I've also fitted 4 wheel Wilwood disc brakes and Moss coil overs up front with composite springs, Konis and a panhard bar at the rear. I'm looking forward to seeing how it goes as I'm working in the unknown, and give you and up date when it's up and going.

Regards from Sydney,

Tim Sullivan