The MGA With An Attitude
BMW 2002 Engine and Gearbox Conversion - PP-512
On December 30, 2011, Cliff Jacobson<!-Cliff at spraychem.com-> in Chico, California, USA wrote:
"I just purchased a 57mga roadster and did a complete disassemble. The engine is shot. I found a BMW 2002 series 4 cylinder with just a couple thousand miles since overhaul. It appears to be about the same size as the 4-cylinder currently in the car. I'm considering doing a swap of engines because I think the finished product would fit really well and not look to unnatural".

January 17, 2012 10:15PM
"Well, I gave it a lot of thought and decided to go for it. I have the car completely down and have located and procured a four cylinder 2002 series 1976 BMW engine and a Getrag five speed. I've began the transformation. It looks like the hardest part is going to be building the header around the existing MGA frame. The engine is 2.0 liter and with Weber side drafts a nice cam, and proper tuning I should be around 150 horse. The engine is actually a little lighter than the 1500 because it is an aluminum head. The five speed gives 1-to-1 and 0.85-to-1 in fifth which should make it nice on the highway. It actually looks pretty good setting in the frame".

January 18, 2012 09:14AM
"I have a water jetted exhaust plate coming that is built by Jerry Stal the retired header guy. Apparently he still has a small shop and a great contact I found for BMW race parts got it for me. I'll be using this as the start of my new header build".

January 18, 2012 11:53AM
"The reason I went with the 2002 series four is because they still race them and parts, including performance are available from many sources for reasonable prices. The engine can easily be build for daily driving and put out 150 to 170 HP. It also keeps the car European. Besides, it just looks cool setting in the engine bay".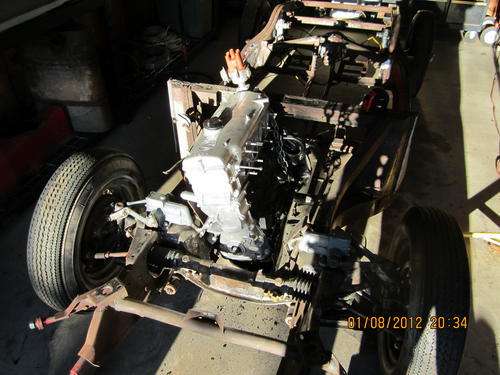 January 18, 2012 01:18PM
"I respect all of your opinions. Actually, I have been many things in my life. For example, 9 years as an aviation structural mechanic. 45 years building and restoring cars on the side. Doing most of the work myself. To put your mind at ease a little in the "butchering of the MGA". I have a very nice shop 40 by 90 with plasma cutter, TIG and MIG welder, lathe, car lift, milling machine, etc. etc. Nothing that I do is half-assed. If I do it right the only thing you will notice is that the tires look a little wider than stock".

January 18, 2012 01:56PM
"I intend on using the same master as all that really matters in hydraulics (as far as a slave cylinder is concerned) is that there is enough volume transfer to move the slave cylinder enough to properly release the clutch. I won't be changing anything there unless I have to. On the slave end that's no problem. I already have a new one on the tranny".
"I plan on replacing all of the wheels with good quality so power to the ground won't be compromised. My Jag has the exact same rims and tires as I plan on using and its around 300 HP with the Thorton power loc rear. They will stand up easily to 150 HP in the MGA".

February 06, 2012 02:43PM
"Almost through with mount mods on the frame. I set the body on and there is actually plenty of height for the distributor. The passenger side frame arch is just setting in place until my header arrives so I can position it to ensure clearance. Then I will match the other side to keep it looking good. I decided to keep the rear banjo axle and am ordering a new Quaife LSD. If I replace the wheels with new wires and hubs it should stand up OK to the drive train. The rear axle on the MG is 4.3 but with my 0.8 overdrive Getrag 5 speed I think it will still cruise nice at 65".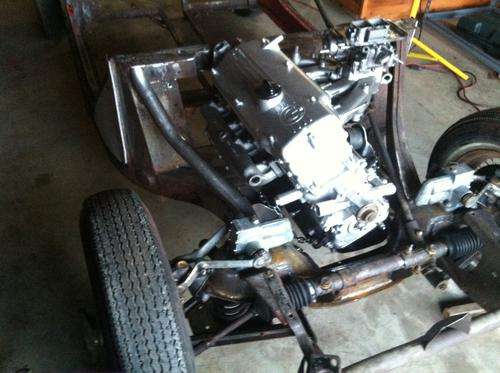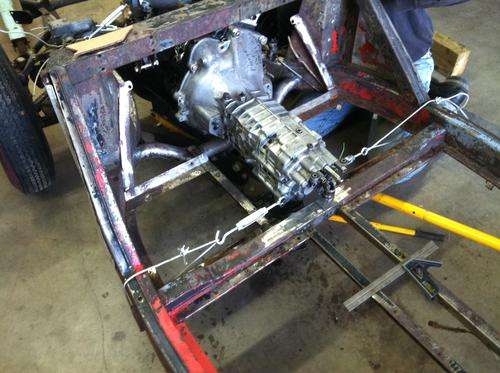 February 10, 2012 04:18PM
"The header is not as good as a full race header but it fits the exact space as the stock manifold without the air smog pump stuff and only weighs about half the weight of the stock manifold. It is polished stainless from "Top Speed" here's a picture".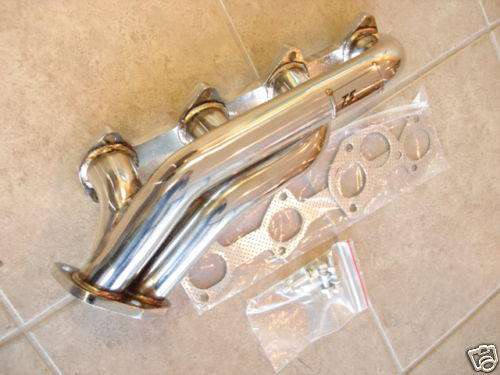 June 04, 2012 01:57PM
"The engine and tranny are in and the chassis is completely rebuilt. The mounts worked out really great and the engine fills the bay really nicely. I was able to find a donor body that had been converted to an AC Cobra style so I'm going to abandon using my original body as this one was way to cool to pass up. I also converted the rear to an MGB Salibury with 3.90".