The MGA With An Attitude
Asahi Japanese Tin Litho Friction (1/16 scale)
1950s MGA 1600 Convertible with Removable Roof
This gets a litle extra attention because it is one of the more premium models. 9-1/2 inches long (1/16 scale) tin toy with friction motor. Being offered on eBay in January 2017 for US $335.75, used, after 15% discount from US $395.00 (chuckle).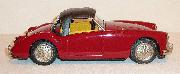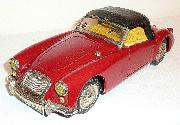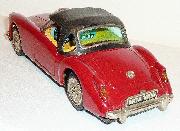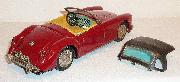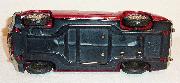 From the ad: "Excellent original condition. Has a few minor paint abrasions, and a paint rub on the driverís door. The tin bumpers, grill, trim and hubcaps are lightly age tarnished. The interior is flocked with a fuzzy sprayed-on material, and some of the flocking has worn off. The original plastic removable top is excellent. The friction motor works well. The rubber tires are excellent plus". Ideal sales speal from a true used car salesman.

For as long as the original listing link may work, you can see the sale ad on eBaly.