The MGA With An Attitude
BODY SILL Inner Box Panel, Moss Motors - RT-411M1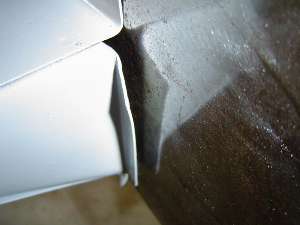 On August 28, 2012, John Terschak <!-lesleyjohnter at embarqmail.com-> in Kill Devil Hills, NC, USA wrote:
"I obtain two outer sills from Moss, but I really didn't care too much about the craftsmanship".

On August 29, 2012, John Terschak wrote:
"It is 18 Gage sheet metal and the angles were correct, but those end caps were off, not only on the bends but gaps in the corners. I talked to Moss and was told that there's a lot of water that comes up into the sills so it didn't matter about the gaps and I could hand bend the the flanges of the end caps to go against the panel, (which I was going to do). As for the inside gussets for the rear B post they where off, towards the back by an inch. As for the top flange the angle was off. It should have been 90 degrees from the top of the sill, but the bend was more. Enough for a small gap at the top flanges edge to the inside sill face.