The MGA With An Attitude
FRONT VALANCE, Fiberglass Race Style, Moss Motors - RT-435M1
Concensus of opinions is, this one is not so good and requires a lot of work.

On September 13, 2012, Taylor Blair <!-taylor_blair at sbcglobal.net -> in Austin, Texas, USA, wrote:
"My front panel fit horribly and with a LOT of modifying. It's the fiberglass valence from Moss. It was a mess when we got it, way to wide. We basically had to section it and re-bow it. It has it's issues but I'm thinking of putting welting between it and the body/fenders to hide some of the fitment issues".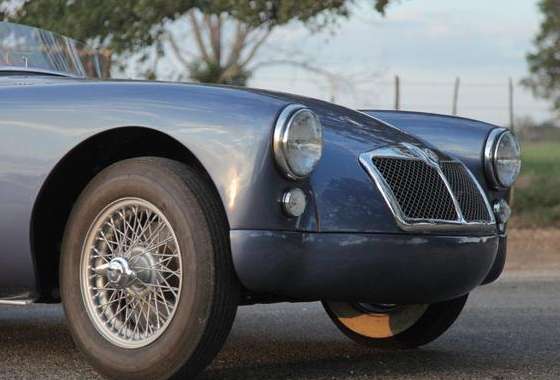 ---
On September 14, 2012, Jeff Sienkiewicz in New Milford, CT, USA, wrote:
"I've had the Moss valance sitting on my workbench since last year. I had planned to bolt it on from the front, using springs behind to set the adjustment. But even with that, and shaving the top flange, it fit very poorly. I got that foam insulation spray that's used to fill holes and gaps in home construction. With the valance fitted on the car, and plenty of painter's tape to protect the paint, I used the foam to build up the low areas, both on the front of the valance and on the top, where there was a gap that I could not overcome. When the foam stuff dried, and with the valance still mounted to the car, I shaped the foam with a bread knife so that the contour of the foamed valance matched the contour of the car. Then I took it off and fiberglassed over the foam. I smoothed it up with a rasp and sanding and then used a fiberglass resin jelly to smooth".

---
On September 14, 2012, John Larsen <!-john at fellerheating.com-> in Lynden, WA, USA, wrote:
"I got the Moss one too, and was not impressed. As a young man, I cut my teeth on fiberglass boat building and was involved in plenty of mold production. This one is very poorly done. It is different from side to side and I had to correct many flat/low spots in the panel itself. It came with a flange on it, and I cut slits along it to help bring it in. However, stress cracking still occurred, but I got it as close as I could without cutting the entire flange off. In the end, the poor lines on mine really dont draw much attention".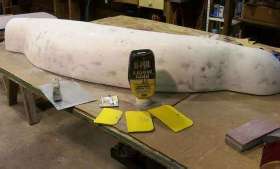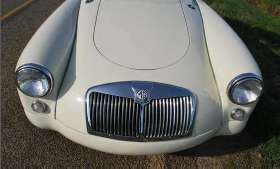 David Friswell in Boca Raton, FL, USA wrote:
"Did a test fit of the Moss "racing apron" today. As others have noted, it's not a great fit out of the box. The top flange will require trimming back for starters. Looks like I have some work ahead of me.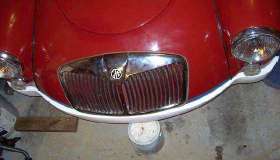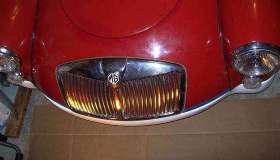 "I used my Dremel with a router bit and cut the top flange down to 3/4" depth following the leading edge of the valance. Still have a little trimming to do but it's looking a lot better".