The MGA With An Attitude
STEERING RACK END SEAL Replacement - SR-114
On 6/4/2010, James Morris wrote:
"My next job is to replace the steering rack boots, so I will be looking to see if you have a note on that job as well".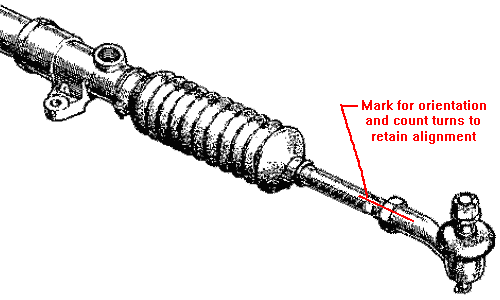 Start by cleaning dirt off the tie rod and ball end. Loosen or remove two clamps on the boot. Mark along one side of the tie rod, jam nut and rod end to identify the original orientation.

Break the jam nut loose. Unscrew the tie rod from the rod end, counting turns as you go. Unscrew the jam nut from the tie rod, again counting turns to double check original position. Remove boot and clamps. Ditto opposite side if required. Clean steering rack parts if required. Dirt inside is a no-no.

Reassembly is reverse of disassembly. Install boot and clamps first, leaving outboard clamp loose. When installing jam nut, count turns to return it to original position. Then screw tie rod into rod end, again counting turns to return it to original position. Realign tie rod and jam nut to original position, tighten jam nut, and tighten boot clamps.

If you have not changed the rod end or inner joint shims, original wheel alignment should be retained. If you have changed the rod end, alignment would depend on the new part being same length as the old part, which is not always true. Check, verify, or adjust toe in afterward.

Install 6-ounces of 80W90 gear lube inside the rack housing via the Zerk fitting on the rack main housing. With correct amount of oil inside you can hear it gurgle through the end boots when steering is turned full lock side to side. Put two shots of grease in the Zerk fitting at the pinion shaft input point. The Book says gear oil, but the pinion shaft seal is felt, so grease should work better here as oil and dust seal.

Addendum April 2013:
Beware that recent issue replacement parts for the rack boots and clamps are sometimes not as original. On occasion the "rubber" compound has been inferior and may deteriorate rapidly. More commonly elastomer may be different material, may be thinner than original, or may be thicker than original in the area of the end clamps, so original lamps may not fit. Replacement end clamps supplied may or may not fit the replacement boot, and may or may not fit original boots. Refer to Faulty Parts report FT-060 for more information.