The MGA With An Attitude
STEERING RACK, Installing Oil - SR-114C
This question has been getting kicked around a lot, so here are some suggestions. The original prescription was a small grease gun that was original issue as an optional factory tool for MGA. It was intended for grease, but can also be used for oil to pump into the Zerk fittings on the steering rack. The rack needs six fluid ounces of EP80W90 gear oil (same stuff you put in the differential). So you can fill the little grease gun, and pump the whole load into the steering rack, reaching in behind the radiator. For MGA Twin Cam and "Deluxe" cars the Zerk fittings will be on the bottom.



Tecalemit GB2802 grease gun. This one is from a December 31, 1958 MGA.

Moss Motors sells another "palm gun" that is ideal for this job. Plastic body with maybe 8-ounces capacity. Fill it up and pump away. I find this one tends to leak when stored, so it is a good idea to pump it down to empty when you are finished with it.



Modern aftermarket plastic oil gun.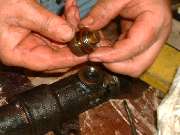 Another suggestion is to remove one of the snubber caps on top of the rack housing, extract the spring and damper plunger, and pour the oil in that way. This will be inevitably slow, but if you have enough patience it can work.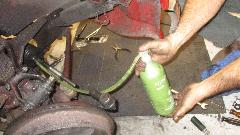 The next suggestion is to remove one of the band clamps from the rack seal (convoluted rubber gaiter on the end), and inject oil in that way. There are various techniques here, possibly a hypodermic needle, a trigger pump oil can, or a washing soap liquid pump bottle (large stye pump).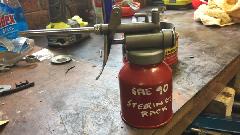 On 09 April 2017, Mike Ellsmore in Victoria, Australia wrote: "Supercheap Autos sell an ideal oil can for this job in Oz for a few bucks".

Sweet, I like it.