The MGA With An Attitude
STEERING RACK END SEAL, Original Style - SR-114B
On 4/22/2015, Peter Black <!-peterblack at iinet.net.au-> in Australia wrote:
"Attached is a picture of what is the correct boot available out of Australia.
Boot has what I have been told elsewhere is the correct number of ribs, 11.
Overall length is, 6 1/4"
Large ID is, 1-14/16"¯
Small ID is 7/16"
Flat area on both ends to accommodate clamp width is 11/32" wide¯.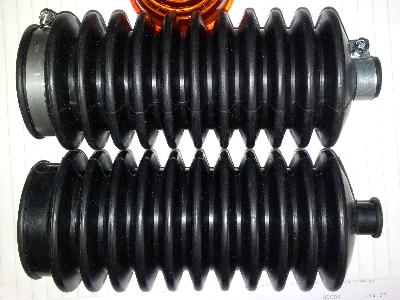 At first glance the Moss clamps appear to not fit on the boots. But when the boot is installed the rubber ends stretch into place, and the Moss clamps work well.

"The gentleman who supplies this part is in suburban Victoria, second generation family business and knows his apples. A lovely man to deal with.
email: jwclassicparts@yahoo.com.au
+613 97626025 Office
+613 97622958 Fax

Jim Withers (JW Classic Parts)
PO Box 360
Kilsyth Vic. 3137
Australia.