The MGA With An Attitude
Converting to COIL OVER SHOCK Front Suspension - FS-401
I do not personally recommend the procedure for a daily driver car, as it requires irreversible cutting and welding modification to the original MGA frame. Suspension motion configuration remains essentially unchanged, and unsprung weight is not much different. For no holds barred competition there may be some advantage to using adjustable tube shocks, but this may also put your car into a different racing class. Read the rule book first. Many vintage racers get along well by changing shock oil viscosity or valving in the original Armstrong lever shocks to affect dampening changes.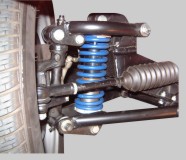 If you were really intent on doing this sort of thing to your MGA, you can buy the parts from Hoyle Engineering in England. Here is a complete kit to do an MGA front suspension conversion to lighweight A-arms and coil-over adjustable shock absorbers. It should go well with their Independent Rear Suspension setup if you feel the need to spend a lot of money.

The kit was originally developed by Hoyle for the MGB. British Automotive then adapted Hoyle MGB kit to be installed on the MGA. Hoyle subsequently produced the (almost) identical kit for the MGA with different mounting hole pattern and a spacer for the top plate. Hoyle recommends converting the MGA to MGB kingpins, and there is no special top arm for the MGA (yet), so the MGA top trunion still needs to be modified. BA has since stepped back from MGA parts to concentrate on MGB, so these parts are likely no longer availabe from BA. For either MGA or MGB the conversion requires cut and weld on the front suspension cross member that is NOT easily reversible.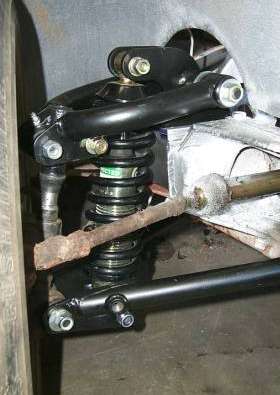 Doug Jackson's British Automotive web site has a good tech page on how the parts were adapted to the MGA. Photo at right shows the first installation for the developement work on the MGA. This conversion was finished on one side only, then later disassembled. I don't know if BA actually sold any of these kits for MGA. This car was ultimately sold to an intermediate party, then sold again recently (2007) to Bill Colisch <!-bcoli at charter.net> in Grants Pass, Oregon, USA, who procured the parts, modified the second side, and installed the whole kit. The car is not on the road yet, but hopefully soon.

The parts are available directly from Hoyle in the UK. If anyone who does not have a vested interest in selling these parts should happen to do this conversion, I would like to have a user report.

On July 05, 2013, Gavin Vincent in Sydney, Australia weote:
"Caught up with some Guys at the race shop yesterday ... Hoyle IFS & IRS going into an "A". This is a straight bolt in proposition that uses the existing holes and mounting points in the chassis. The guy at the shop that I spoke to gave it a big 'wrap'".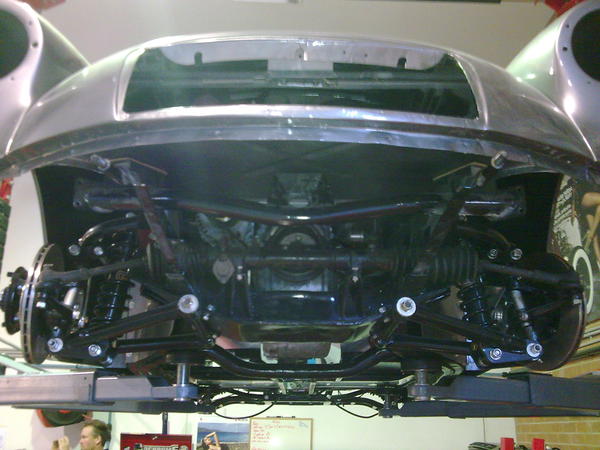 See alao Independent Rear Suspension.