The MGA With An Attitude
SCREWDRIVERS - TF-113
These are screwdrivers from the travel kit tools.


Most common King Dick screwdriver
This one from 1956-1957


Shelley screwdriver - Period tool from a swap meet.




Screwdrivers from Dec 31, 1958
Top one with no brand name is thought to be original, but may be a replacement.
Bent wire screwdriver is definitely King Dick.

---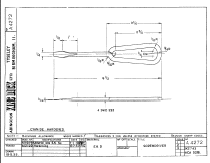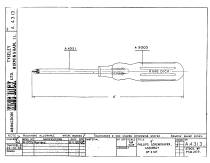 Click for higher resoluton PDF copies of the drawings. Thanks to Rodney Fisher in Australia for copies of original factory drawings of these tools.

---


This one is from John E. Bender <!-jeredneb1 at verizon.net-> in Pittsburgh, Pennsylvania, USA. It is in an original tool kit with a 1960 MGA, in the family since new, known to be original. Script on the shank says, "TERRYS MADE IN ENGLAND". It is not known for sure why it is Terrys instead of King Dick. Most likely a factory substitution, not very likely to be an aftermarket replacement.