The MGA With An Attitude
Engine Carrier -- TS-201 - (Pg 1 of 5)
TS-101 gives pictures, a drawing, and instructions for building the ENGINE CARRIER and transport fixture shown below. If you ever have need to pick up an engine without a hoist, or to transport one in the back of your wagon or van, this may be the solution for you. It's a collapsible wooden box with hand holds for two people to pick up an engine for carrying. It fits around the oil pan of a MG B-series engine. It would also serve as a wide stable base for transporting an engine in a vehicle.

It is a handy device indeed. A friend and I picked up the engine (and the engine stand along with it). The board at the back will fit between the rear plate and the back of the oil pan, and the weight is carried on the oil pan attachment bolt heads at the front and rear of the engine. The bottom surface of the front and rear boards is below the lowest point of the oil pan at the drain port, so it can sit on a flat surface without damage to the oil pan. With the engine rear plate attached to the engine, a couple of wood screws can be run through holes in the rear plate and into the rear board of the carrier to better secure the engine in the carrier for transport in a vehicle.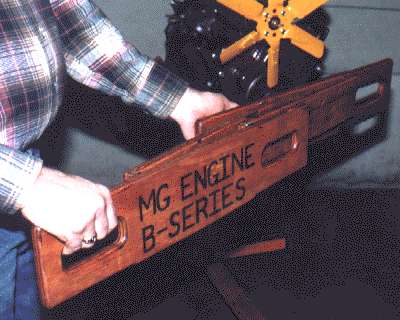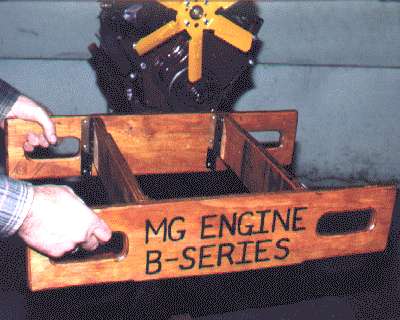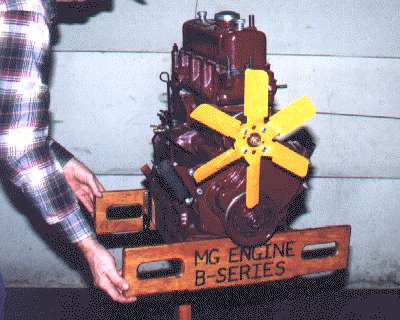 Construction details and more pictures on following pages.