The MGA With An Attitude
TWIN CAMS from the Production List - TC-107-502- Engine 16GU303

YD1.502 - PMO325
This short note from Safety Fast, October 1985, written by Phil Richer:

However, while at Waddesworth Hall, an excellent relaxing event put on by the MGA Register, I met with John Hughes of Sussex and he advised me that he is the owner of YD1.502. Well, that put me back on my heels, because I had always associated Doug Briarley and PJB147 with that chassis. But John said, "well I have owned the car since back in 1962, and I am the second owner,,. "The previous man owning the car for a relatively short time when the M.G. Car Company had finished using the car as a demonstrator under the registration number PMO 325". "Oh", said I, "That fits the record, so which car chassis does Doug own". Well we are awaiting a reply from Doug and John has promised to bring the evidence along to Beaulieu so that it does not get lost in the post. We will keep you advised on that matter.

---
In March 2012, John Hughes joined the MGA Twin Cam Enthusiasts Group (on the Yahoo Groups server), verifying that he does indeed own this car.

---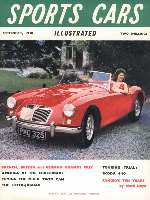 Trying The MGA Twin Cam
Sports Car Illustrated, September 1958