The MGA With An Attitude
CLUTCH SLAVE Push Rod for Twin Cam - TC-225
On 12 Jan 2015, David Hanson"<!-dahanson at wi.rr.com-> wrote:
"My car is YD3-2405. The engine was out of the car at one time and I purchased it complete, but not functioning, no hydraulics. I rebuilt the transmission at John Twistís technical session at University Motors about 7 years ago. I kept all of the parts that were replaced. The one that I removed is shorter (2-27/64Ē) than the replacement (2-3/4Ē) I received from John. I donít know if the one I removed due to a worn hole in it was original or a replacement also. Iíve attached both photos with measurements. It will be interesting to see if the long one works when I get it back together. Any questions or other measurements required, let me know and Iíll see if I can help out.


| | |
| --- | --- |
| 2.42" | 2.75" |
---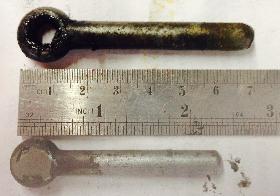 On 1/16/2015, Neil Burnside <!-neil1burnside at hotmail.com-> wrote:
"I have four twin cam boxes on the floor all with shorter rod as in photo".
On 1/25/2015, David Hanson wrote:
"I took measurements from the hole to the end of the rod and added the radius of the hole to come up with a length. Obviously the old part was not completely round, but close in diameter. You can see the wear on the old pin also. The old rod is 9/32Ē in diameter and the new one is 41/128Ē a strange size I thought".