The MGA With An Attitude
SHIMS For Tappet Adjustment - TC-317
Flat Shims 9/16-in diameter (AEH401) for MGA Twin Cam tappet adjustment have been unavailable for a long time through the normal British car parts suppliers. This leads to considerable discussion of alternate sources for suitable shims that will work in the MGA Twin Cam engine.


These shims should be 0.562-in or 14.2-mm diameter (maximum), originally flat.


A bit smaller diameter, like 14-mm, does not seem to cause any problem.


Cup shims fitting close on the valve stem (.31175"-.34225" diameter stems) may be smaller outside diameter.

Original part numbers for Tappet Adjustment Shims:
Thickness - Part No. - Identification No.
(.086") - AEH400 - 1
(.088") - AEH040002 - 2
(.090") - AEH040004 - 3
(.092") - AEH040006 - 4
(.094") - AEH040008 - 5
(.096") - AEH040010 - 6
(.098") - AEH040012 - 7
(.100") - AEH040014 - 8
(.102") - AEH040016 - 9
(.104") - AEH040018 - 10
(.106") - AEH040020 - 11
(.108") - AEH040022 - 12
(.110") - AEH040024 - 13
(.112") - AEH040026 - 14
(.114") - AEH040028 - 15
(.116") - AEH040030 - 16

On 3/28/2011, "Dan" in Australia wrote:
"I understand (from a reliable source) that the following shims are available in England at least but not here in Australia.


FERA Tappet Shims, part number 35-14530.


13.5 Peugeot and Citron. Sizes 1.62-3.62.
Has anyone used this type with success, and if so where can they be obtained in smaller quantity than having to purchase a box full which would service 20 Twin Cams"?

On 3/29/2011, Garry Kemm wrote:
"A huge range of shims to suit many vehicle applications including MGA Twin Cam can be sourced from Precision Shims Australia. For example the 13.8mm diameter flat shim is available in about 80 different thicknesses and can be purchased individually. They export worldwide. Special sizes can be made to order.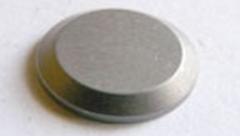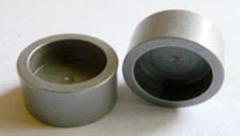 On 3/29/2011, "Van Ussel" wrote:
"Buy a bar silver steel, cut the shims to a range of thicknesses, heat them up cherry red and drop them in oil. Then grind to a range of shims. This way You can very cheaply build your own shim chest! -- Dirk/Antwerp

On 3/29/2011, Bill Spohn <!-WSpohn4 at aol.com> wrote: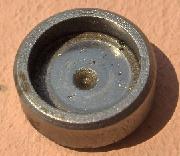 "Alfa are still the easiest shims to obtain and have the advantage of not being able to slide out of place [cup shape shims], something that none of the flat shims can claim.


While the valve stems have to be hardened on the pushrod engine, I have successfully shortened valves to suit the Twin Cam even though it cut through the hardening. Because there is zero side to side component to an OHC engine, as between stem and cam follower (the cam follower and head still have to deal with small side to side issues) the stems won't wear as long as the tip is still hard enough to take a force straight down. It is normally the rubbing force that wears stem tips out".

On 3/29/2011, Mark Hester wrote:
"Before everyone takes the Alfa option as gospel, and just to play devils advocate, what are the down sides to Alfa cup shaped shims? What are the tolerances on the cup portion of the shim. i.e. can it come in contact with the collets or the spring retainer, thus introducing new problems? The Jag engine is similar to ours and as I understand it they did not progress to cup shims".

To which Bill Spohn replied:
"Nope, they just sit on the tip of the valve stem and come nowhere near the spring retainer or collets. I've been using them for 30 years at engine speeds just under 8000 rpm at times without any problems.

Some suppliers of tappet shims:
Precision Shims Australia - Croydon, Vic, AU