The MGA With An Attitude
SPECIAL NOTABLE MGAs - VT-105
10106

First MGA out of the factory - Maynard's Garage
The first MGA to be dispatched from the factory. Also the first exported to North America. Recently restored by Maynard's Garage. The process has been recorded for video documentary. Photos of the work have been added to their web site.

10111

Another first MGA out of the factory? - (Dispatched same day as 10106). Maybe the second earliest MGA to be found North America. Currently owned by Steve Chaffee <!-sl.chaffee atyahoo.com=> in Orange County, California.

100,000th MG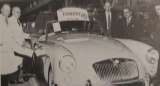 The historic 100,000th MG, 1956 1500, rolled off the assembly line on 16 May 1956.

100,000th MGA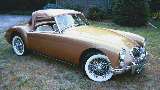 The historic 100,000th MGA, 1962 1600-MK-II with gold metallic paint, white leather interior, white lamb's wool carpet, special insignia.

Congresswoman

MGA owner and Member of Congress, Florida 5th district, Ginny Brown-Waite, running for re-election in 2006.

Elvis Presley

MGA in movie. The car is now in the Graceland museum in Memphis, Tennessee.

Mary Berry Coupe

Owned by noted food writer and television presenter Mary Berry.

New MGA from Parts

An all new MGA built from all new replacement parts as an advertising effort.

Skirts?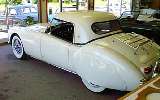 1962 MGA 1600 Mk II with fender skirts and a Parish Hardtop, looking rather Jaguar XK like. Sold by McLean's Brit Bits in 2003

"Wild Orchid"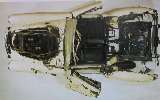 A real work of art. This MGA was owned by Charles Wilp. In May 1963 Arman, a French artist, created an explosion inside this MGA after which the remains were exhibited in several museums. Watch the video.