The MGA With An Attitude
Special Bodies on MGA Cars - VT-106D2
Rebodied MGA Twin Cam YM1.1701 - by D.N. Stephenson
Supplied by Abingdon as a running chassis only.
Road and Track magazine, 1960: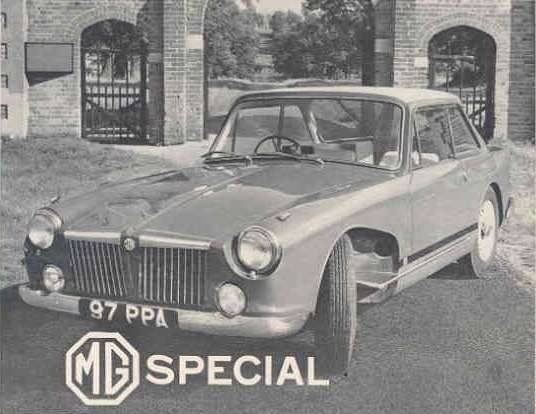 A BRITISH DESIGNER'S SHOWPIECE


| | | |
| --- | --- | --- |
| What does an aspiring young British industrial designer do when he's dissatisfied with state of his craft in his homeland? IN D. N. Stephenson's case, he designs an automobile to his own ideas and uses it to publicise his case. | | After graduating from London's Central School of Arts and Crafts' industrial design department, Stephenson quickly discovered a real lack of opportunity for the free-thinking fledging designer. "Joining a motor manufacturer as an employee is out of the question", (continued) |
Twelve cubic feet of luggage space are accessible through
the lifting up rear window. Controls are grouped in the central console.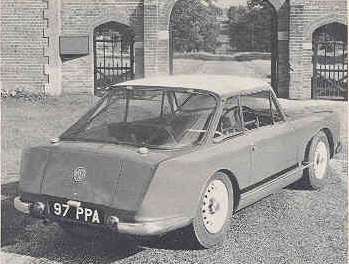 Large Perspex rear window opens into the luggage compartment,
while another opening leads to spare tire and tools.

he comments, "because a trained designer will either get no responsibility at all for the first few years or else will be fitted with a transatlantic unbillical cord and be told to try his hand at a supersonic safety catch of possibly an heraldic device to be made in vacuum-plated Perspex.


Stephenson aspires to the status of a consulting designer to small automotive manufacturers; also, he would like to have his own coachbuilding works for teh manufacture of a few special-bodied machines each year. Naturally these would be to his designes. "Regardless of how talented a desigber may be, he muct put out at least two complete new designs each year and have them manufactured -- if he is to keep abreast of his competitiors overseaas," Stephenson explaines.


"The proper forcing ground for his designs should be the coachbuilding induastry. Unfortunately the British coachbuilders would rather go out of business than be seen in the same decade as anyone else, and for this reason employment here offers even less scope for the young designer."


To demenstrate his own abilities and what he considers modern British desigm ("It is foolish to suppose that British are, as a race, nationally incapable of designing smart and distinctive motor cars that can compete successfully in the increasingly style-concious markets of the world"), Stephenson turned out the MG-A design pictured here. Based on the production line MG-A Twin Cam (R&T Road Test, Nov. 1958) chassis, running gear and drive line, Stephenson's design called for all new body and trim. The latter was accomplished in a very neat manner by Pannelcrft, Ltd., a coachbuilding firm. Only a few of the standard components were altered to accomodate Stephenson's design; most of the changes were to the betterment of the original design.


The steering column was shortened 4 in. to provide more comfortable driving position and a spring-rim wheel was fitted. The hydraulic operating cylinders for clutch and brake were lowered from their original position to allow a lower hood line and the handbrake was moved to a more accessible position. Stephenson's rear end styling called for more drastic rearrangements. The standard fuel tank was replaced with two side tanks of 15 gal. total capacity, and the spare wheel and tools housed vertically at the extreme rear in a separate compartment. These alterations give a 12 cu. ft. luggage space, where standard production MG-A has only 5 cu.ft.


Luggage access is through a large swing-up rear window of Perspex which is counter-balanced and positively supported when in the open position. The body is of aluminum-over-steel framework, and is extensively soundproofed. The interior is finished in leather and haircord carpet with a washable plastic headliner, and teh seats are aluminum buckets upholstered in foam rubber over elastic straps. In addition to the usual horizontal seat adjustment, both rake and vertical height are variable.

(More next page).