The MGA With An Attitude
Special Bodies on MGA Cars - VT-106F
Tornado Typhoon - part MGA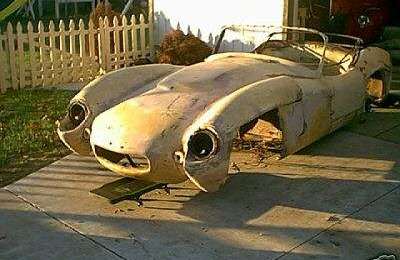 This fiberglass body appeared on eBay in early December 2005, claimed to be for an MGA chassis. It was thought to be (maybe) a vintage race car, but it obviously has a grafted on frame for an MGA Coupe windscreen and a folding frame for a rag top, so it may have once been a street car.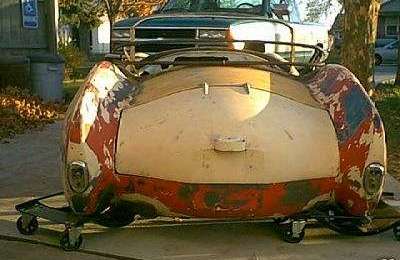 The body is a British-built Tornado Typhoon kit car body from 1957-1960. They used their own chassis set up for BMC, Triumph or English Ford Anglia engines.

The Typhoon was available in a few different configurations, including Roadster, Coupe, and Sportbrake (of all things). Follow these links for more information, and much prettier pictures:


| | | |
| --- | --- | --- |
| Typhoon Roadster | Typhoon Coupe | Typhoon Sportbrake |
http://www.motorbase.com/vehicle/by-id/158/gallery.ehtml
http://www.astruc.s.easynet.co.uk/tornado_register/photo.htm
Toronado Typhoon Roadster, 400 produced, 1958-1962
Toronado Thunderbolt Coupe, 1 produced, 1960
Toronado Tempest, 10 produced, 1960-1962
---
Addendum:
On 18Jan08, Dave at OldSchool Restorations in Alabama wrote:
"I ultimately bought the Typhoon you have here. It was never on a MGA frame, in fact it was on a tube frame with TR components and shorter wheelbase than MGA. The windshield frame was originally molded with the body, and not an add on. It left my shop www.race-cardrivers.com/shop.htm bound for Germany, atop a TR4 parts car."