Young Andy Rich is a wanderer. A decade ago, he went to a trade school on auto mechanics. Then he shifted gears by graduating from Northeastern University's business school with a degree in "entrepreneurship and new ventures." He worked for Ford Motor Company in Britain, then wandered back to put in a few years at a New England MG restoration shop called Automation. Today he has his own business, Composite Autobody, specializing in the restoration of fiberglass-bodied British sports cars, especially Elvas, TVRs, and Lotuses.


It may not be apparent at first glance, but Andy had a purpose to all this wandering beyond the immediate step of opening yet another incredibly specialized British car repair shop. Like many another entrepreneurial mechanic, Andy Rich wanted to build and sell his own dream car. It's just that his dream car is a little different from say, Colin Chapman's or Carroll Shelby's. It's also a lot more than it seems at first glance.


Andy starts with a clapped-out MGA, one that's too far gone to restore. He salvages the frame rails -- always the last part to rust out -- plus the steering and front suspension. Everything is stripped and restored. In the rear, he fits an MGB axle, complete with brakes. The wheels are 15-inch 72-spoke Dunlop knock-offs made for the MGC and they are fitted with oversize Michelins.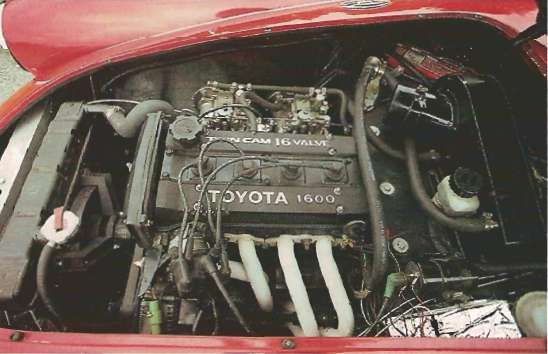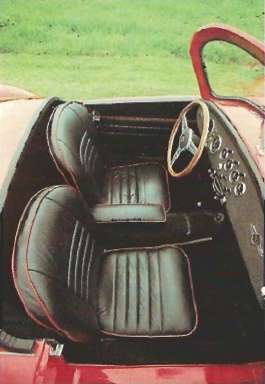 Into his hybrid MG chassis, Rich drops a 1,600cc, 130bhp, dohc four cylinder from Toyota's Corolla GTS. Aside from reliability MG owners can only dream about, the Toyota offers 130 bhp at 6800 rpm. A far cry from the MGA's anemic 68 horses. Andy fits the Toyota 5-speed as well, though with a stock MGA shift knob. The only significant change to the engine is the replacement of the stock fuel injection with a pair of 40mm Weber-like Mikuni carburetors and a set of handsome equal-length exhaust headers. Both carbs and pipes look neat, add horsepower, and most importantly, clear the hood and frame rails.


The interior features restored MGA seats, a wood-rimmed Moto-lita steering wheel, and VDO gauges mounted in a wrinkle-finish dashboard. There are little convenience touches -- such as an eight-fuse box mounted in the passenger compartment -- that are better than anything MG ever dreamed of.

COMPOSITE BODY


The trick part of Andy's car is so trick that you'll never believe it. What looks like a beautifully restored, stock MGA body is actually a replica. A replica with honeycomb and foam cores, carbon fiber in stress areas, and nine-ounce Kevlar cloth throughout. Ted Von Dusen of Composite Engineering and aerodynamicist Wayne Kirk engineered the body. Composite Engineering usually works on IMSA GTYP and Indy cars, so Andy Rich's MG is state-of-the-art.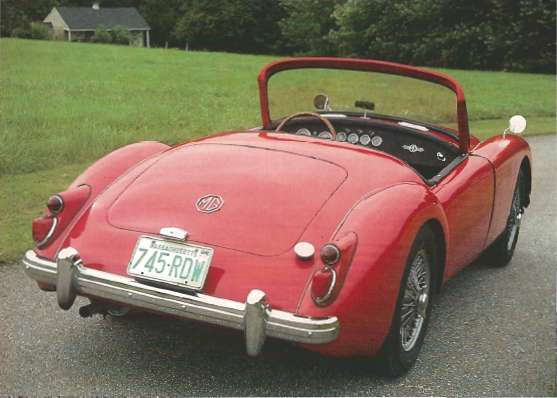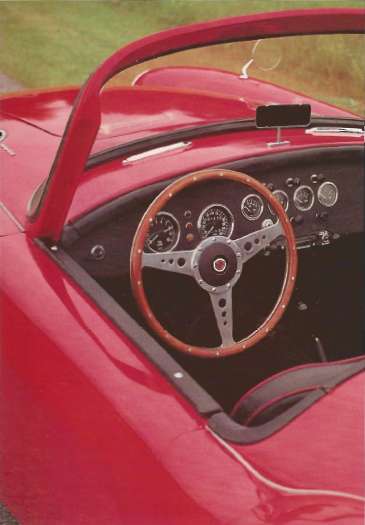 Among other things, the new body makes this the first rust-resistant MG ever built. It's also strong enough to stand on, and the massive windshield frame could serve as a rollbar. Best of all the combination of the light weight Toyota engine and composite body takes better than 500 lbs. off the MGA. Andy's car weighs only 1550 lbs. ready to run, which is precisely 1,000 lbs. less than a Toyota GTS with the same power plant. And that begins to sound most interesting indeed.


The seating position is stock MGA, which means a form-fitting bucket seat -- sort of like sitting in a real bucket -- with the Moto-lita steering wheel up close and personal. The wheel is almost precisely vertical, a forgotten luxury compared to the bus-like horizontal wheel in many of today's cars. All the instruments are logically placed and, of course, visibility is unlimited. You can easily heel and toe the pedals, an impossible task in many modern sports cars.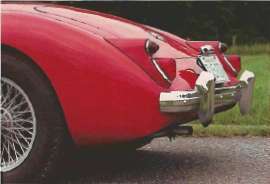 NOSTALGIC RASP


The Toyota engine starts with a flick, then rasps out a nostalgic exhaust note more reminiscent of a Lotus Twin-Cam than an MG. The gearbox and clutch are superb. If you're used to driving old MGs, you'll burble off at part throttle in Andy's car, shifting at 4,500 rpm and wondering what the big fuss is all about.


The secret is to use the throttle pedal. Run the engine up to 7,000 rpm redline before shifting, and the car is transformed. With the big Mikunis, the power doesn't come on till 5,000 rpm. But then you accelerate like no MG -- nor any Toyota Corolla for that matter. As long as you keep it in the powerband, this ultra-light machine will accellerate as fast as you can move the shift lever.


Handling is classic, thanks to nearly perfect 53/47 front-to-rear weight distribution. There's enough power to boot the rear end out, while the light weight makes it easy on the brakes. Andy is still fiddling with spring and shock rates, but the overall feeling is like driving a race-prepped old sports car -- with none of the drawbacks. It tracks perfectly in a straight line, turns in sharply, and unwinds gently toward the outside apex. Smooth road ride is excellent; rough roads uncover the limitations of a stiff suspension with minimal travel. Overall, however, both ride and handling are a giant step beyond those of a stock MGA.


Andy is calling his dream car the Twin Cam Deluxe, and you can buy it as a roadster with a stock MGA windshield and top, as a fixed head coupe -- a line-perfect replica of the timeless MGA coupe -- or with a removable version of the coupe top that clips to the Kevlar windshield frame as shown on our test car. Instead of side curtains, all three models have sliding Lexan windows reminiscent of the ones Colin Chapman fitted to the Lotus Elan Series I. These are light-weight, foolproof, and highly durable windows.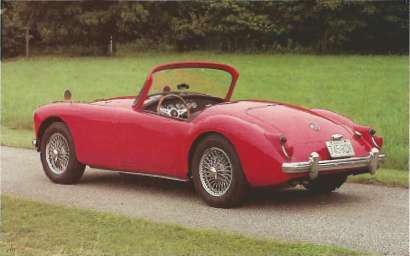 The Twin Cam Deluxe carries a $25,000 price tag, which isn't bad for a high-tech new sports car. Because he uses the stock frame, suspension, interior, and trim, Andy has gotten permission from MG in England to use their logos and badges. The MG boffins call his car "an elaborate restoration," because it does in fact start with a real MGA and carries a legitimate MGA serial number. So far state motor vehicle departments have followed the same logic. Which means, among other things, that Andy's Twin Cam Deluxe avoids all the hassles faced by both "real" manufactures as well as kit car builders.


Within six months, Andy plans to replace the old MG frame with a new Kevlar composite frame that will be both stronger and lighter. It will also eliminate the last significant MG part on the car, but also allow Andy to branch out into other body styles -- either different replicas or original designs. The initial question for insurers and license bureaus will be, if a car looks like an MGA, but has virtually no MG parts, what is it?


We can answer the: terrific. Andy's off-beat dream car is a British/Japanese/American hot rod that's in some ways more technologically advanced than any 1990 production car, quicker and faster than all but the most exotic sports cars, and far more satisfying to drive than the overweight, underpowered Miata. It's what the Miata started out to be -- a handsome, old style roadster with modern reliability and performance. Unfettered by corporate quisling, Andy Rich has built the car that Mazda missed.


An MGA still looks surprisingly good today -- smooth, small, and precise. Only you will know that your lovely MGA is built of Kevlar and powered by a Toyota twin cam. In it's own way, that's neat too. Talk about subtle. All that is gold does not glitter. Not all who wander are lost. Take young Andy Rich, for example.


For more information about the Twin Cam Deluxe, contact Andy Rich, President, Composite Autobody, 277 Baker Avenue, Concord, MA 01742.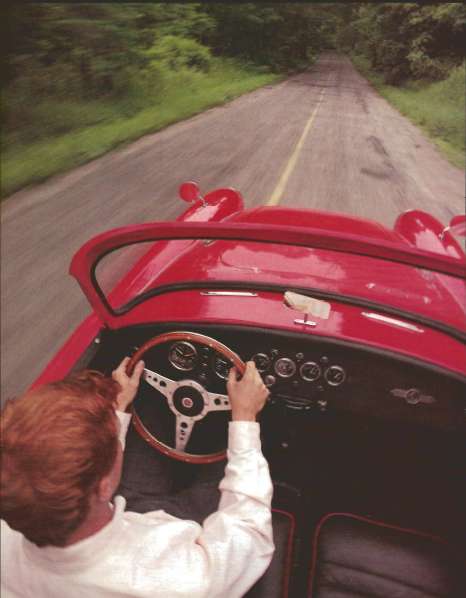 From SPORTS CAR INTERNATIONAL magazine -- October 1990