The MGA With An Attitude
Special Bodies on MGA Cars - VT-106H
Vantage Motorsports MGA
This looks like a perfect MGA roadster with a coupe windscreen, but the rest will surprise you. How -FAST- can you say 1525 pounds and 145 horsepower? And it is a production model.



This starts with a carbon-graphite composite body which is a direct drop on replacement for the original MGA factory body. Persuing the kit car concept a little farther, you can install a Toyota MR2 1600 cc twin cam engine and in-line five-speed gearbox. Follow this with a perfect MGA Coupe body shell or a bolt-on hardtop for the roadster in the same configuration as the coupe roof. For the die hard performance enthusiast there is a carbon-graphite composite frame which will accept Toyota Supra all independent suspension four wheel disc brakes, and a wide assortment of wheel options.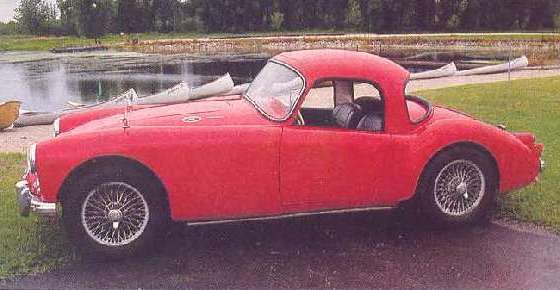 On the following pages are three articles reproduced from:
SPORTS CAR INTERNATIONAL, October 1990
KIT CAR ILLUSTRATED magazine, February 1991
KIT CAR magazine, January 1992
If anyone has seen one of these cars, PLEASE CONTACT ME.
Thanks for the heads up and scanned magazine pages sent by Bill Spohn.

The one and only prototype car has been listed for sale on eBay in November 2007.
It did not get an opening bid at $12,000-USD (let alone make reserve).

The individual responsible was Andy Rich. His recent endeavors can be found at www.linkedin.com/pub/andrew-rich/11/5b6/691