The MGA With An Attitude
MGA Police Cars - VT-110-LAN-877VTF
Lancashire police district
Giovanni Delicio
1961 MGA 1600-MK-II Roadster
Chassis: GHN2/101841

Original Engine: 16GC-U-L 1561
Current Engine: 16GC-U-L 1561
Body: B33670
Original Color: Black
Current Color: ?
Original Trim: Red
Current Trim: ?
Original Hood: Grey
Current Hood: ?
Original Reg: 877VTF
Current Reg: ?
Country of first Reg: UK
Date Acquired: 1985 in UK
Current Owner: Giovanni Delicio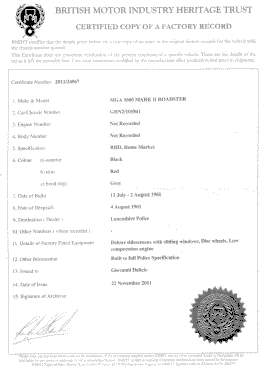 Status: Currently under restoration. Did not know it was a police car (Lancashire Police) when first acquired.

Heritage certificate at right. Click for larger image.



On 12/18/2012, Giovanni Delicio wrote:
"I received today a picture from a retired policeman and, you wouldn't believe it, MY car is in the pic! It's the first time that I see the car as it looked like when it was "on patrol". -- Giovanni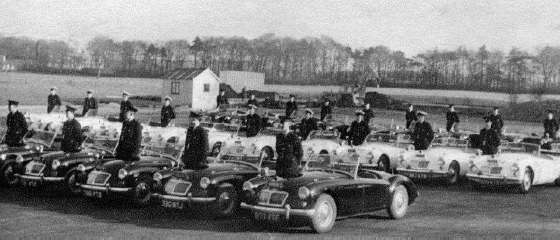 MGs On Parade, 1961
This picture was originally thought to be 1959-1960 until 887VTF was spoted front and center (first black car on the right). This is the car now belonging to Giovanni Delicio. By the Heritage certificate above the car was produced in August 1961.